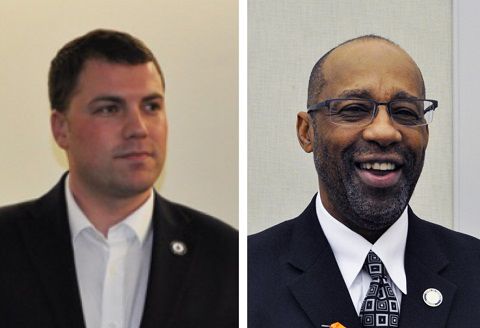 Two Leesburg Town Council members are disputing media reports and trying to distance themselves from recent statements related to allegations against Mayor Kelly Burk.
Councilmen Ron Campbell and Josh Thiel, who jointly called a special council meeting on June 1 to address unsubstantiated claims of drunken driving and public intoxication against the mayor, have waged public relations campaigns denying statements made in reference to the allegations.
Citing a voicemail left on Burk's cell phone, the Times-Mirror reported last week that Thiel called the effort part of a smear campaign.
After the story was published, Thiel denied that he ever called the effort by Campbell a "smear campaign."
" … I never stated Ron was doing this as a 'smear campaign,'" Thiel wrote on Facebook, also claiming the Times-Mirror's story contained "flat out lies."
The newspaper is in possession of the voicemail left on Burk's cellphone where Thiel twice refers to the meeting as part of a "smear campaign." (Click here to listen to the voicemail.)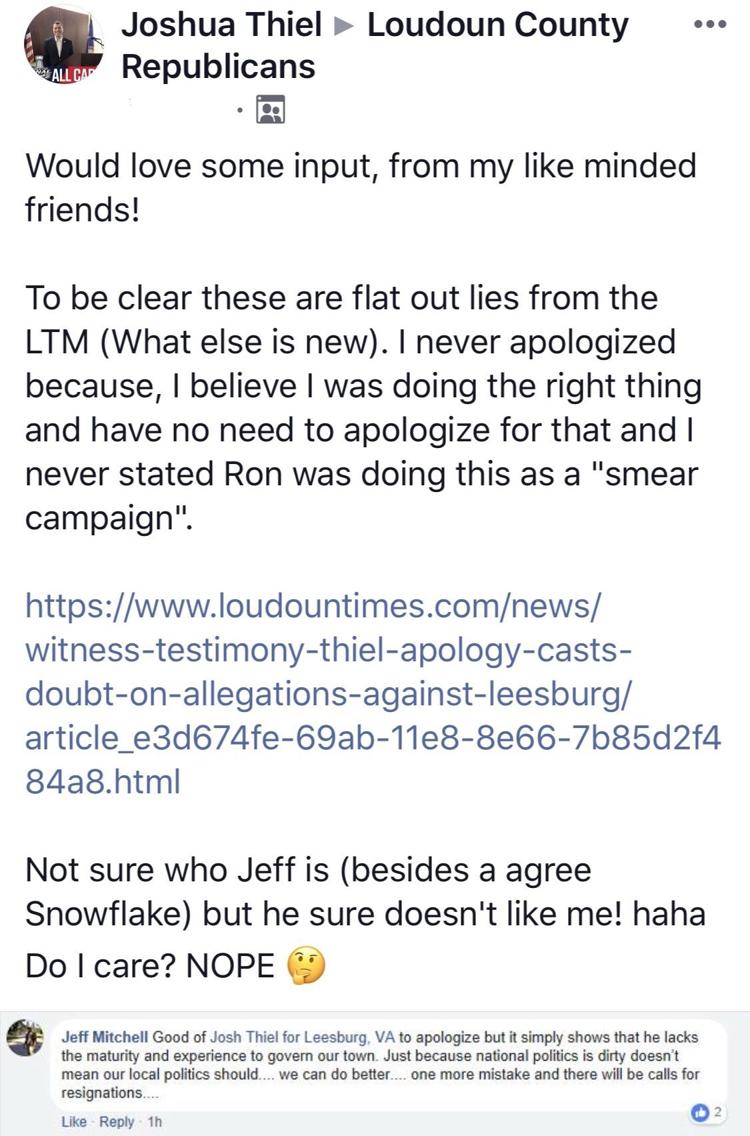 Thiel has not responded to numerous requests for comment about the voicemail.
Meanwhile, Campbell, who is running against Burk in November's mayoral election, called a press conference Tuesday to deride last week's report and say he's the one who is a victim of a smear campaign.
Campbell has claimed that he never discussed the allegations against Burk publicly, despite the fact he spoke with reporters about the specifics of the allegations immediately following the June 1 meeting.
Burk has since denied the allegations, and a restaurant manager at Tuscarora Mill – the eatery where the alleged incident took place – has disputed the claims, describing security video footage to the contrary. Campbell has yet to produce evidence the reported behavior, relying on what he said were witness accounts.
Campbell too did not respond to a request for comment on this story.
During the June 1 meeting, a majority of Leesburg Town Council voted against discussing the allegations behind closed doors.
Leesburg Councilman Tom Dunn, a conservative who is also running for mayor, called the allegations a "new low in Leesburg politics."
Both Campbell and Burk consider themselves Democrats and have previously run for office with the Loudoun County Democratic Committee's endorsement, while Thiel was backed by the local Republican committee during his campaign. While the town's elections are officially nonpartisan, most candidates seek major-party endorsements and use the local committees' organization to assist their campaigns.