In August, the Leesburg Town Council asked town staff to look at options for the Liberty Street Parking Lot in Leesburg's Historic Downtown. On Thursday evening, a group of about 40 community members gathered at the lot to discuss the future of the space.
The meeting was led by Leesburg Economic Development director Russell Seymour, who said the goal in the coming months is to solicit ideas for the lot before the Town Council begins the decision-making process.
The Liberty Street Lot consists of 2.3 acres and is zoned B1 Community Downtown Business District, he said. It is also the site of the former Leesburg Town Dump, which operated from about 1920 until 1970.
"It is a site owned by the town in the middle of a high growth area which is important to all of us," Seymour said. "So it's wide open, and anything is on the table."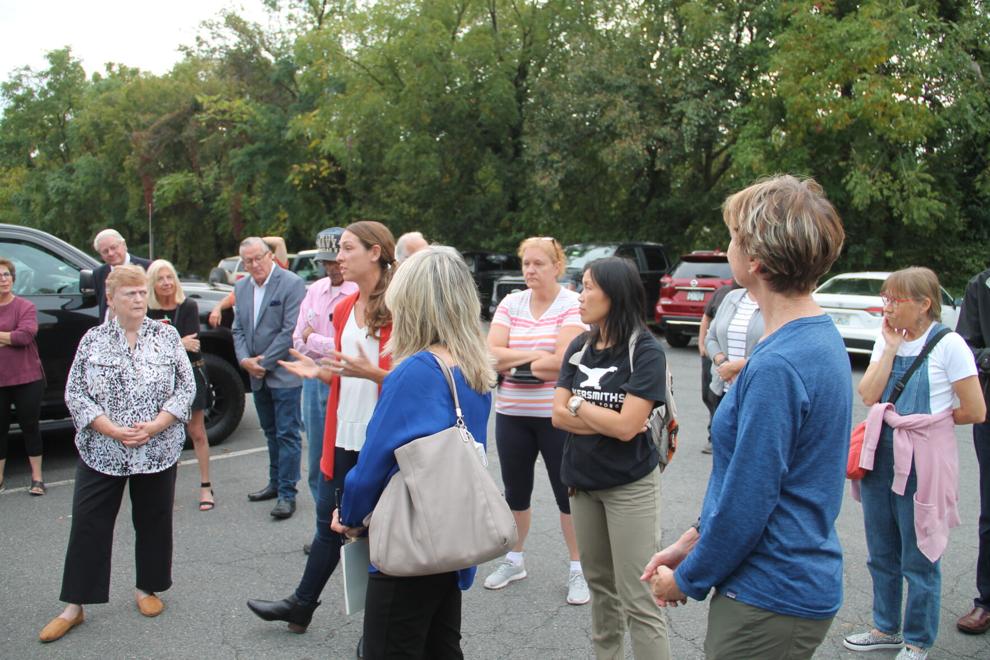 Scott Parker, the town's senior planning project manager, was in attendance at Thursday's meeting. As part of the Legacy Leesburg Town Plan, which is being reviewed by the planning commission, the Liberty Street site is considered an opportunity area for infill redevelopment.
"There's been numerous things that have been floated about this particular two-acres and some parcels around here, but there's not an application that's been made and at this point it's all open for consideration," Parker said.
Parker said the fact that the lot is a pre-industrial dump site could complicate the issue, as it is not clear if there are any contamination issues that would need to be determined by the Department of Environmental Quality (DEQ). The building height limitation for the site is currently at 40 feet, he said.
"If it's pre-industrial and there is no brownfield contamination, you do what is called a closing, which means you take all of this and take it to another dump. But if it's determined with the evaluation after you open this up that there are some brownfield type of things, post-industrial chemicals, then a different mitigation strategy has to be employed," he said.
Brownfield remediation is the process of removing contaminants so that a site may be used again without health concerns, according to the U.S. Environmental Protection Agency.
One proposal which has generated interest among area residents over the past few months is the idea of building a 450-seat performing arts and convention center along with a 150- to 160-space public parking facility. On the west side of the property, the proposal suggests building 80 to 100 senior affordable housing units.
The proposal is being coordinated by a group led by Leesburg attorney Peter Burnett along with several design and engineering professionals.
The proposed housing would be built by a private entity that specializes in such types of projects, with approval from the Virginia Housing Authority, according to Burnett.
Burnett's idea — which will be submitted to the town in the coming weeks — suggests the proposed performing arts and convention center could be funded by a combination of town, county and private funds.
Several residents at the meeting on Thursday who had learned of the performing arts center concept spoke in favor of it.
"I really endorse the idea of a performing arts center," said Leesburg resident Martha Semmes, who has a long career working in town government in Loudoun County. "I have been here for many years and it's something that has been a dream of everybody in the county."
She does, however, share the concerns about traffic in and out of a potential arts center.
"This really is part of the grid system. That would obviously probably not go away. So I think you are absolutely right about the traffic and figuring that out is really going to be key," she said.
Another resident expressed concern about using the space for a mixed use residential zone, as he feels it is getting "a little squished in the area."
"It would be wonderful to see something that is consistent with something cultural, but I'd stay away from mixed use," he said.
Others discussed the issues of heavy traffic in the area and narrow roadways as well as a need for more public parking.
Seymour said from a timeline standpoint the town is currently in the information-gathering phase. He encouraged the community to offer public comment and ideas at www.leesburgva.gov/liberty-lot.
"Any other thoughts or ideas, please continue to keep them coming in," Seymour said. "Think about what we're talking about and if you have questions, we will certainly do our best to answer them."