Loudoun County is planning to expand its courthouse complex in Leesburg in the winter, but the nearly $73 million project is raising concerns among nearby residents.
On Tuesday, representatives from the Loudoun County Department of Transportation and Capital Infrastructure and the Town of Leesburg heard questions and shared updated information about the project. Most of the worries focused on construction hours, traffic congestion and parking.
"It's already hard to live on Cornwall Street and North Street, and visitors park wherever they want—it's going to have a major impact," Leesburg resident Kimberly Cox said.
The expansion of the courts complex includes a new 92,000-square-foot courthouse, renovation of the existing courthouse and historic Valley Bank building and adjusted parking lots and pedestrian access to the courts buildings, according to county officials.
The project will impact lots in Pennington, Semones and Church Street, with an expected construction period of two and a half years.
The nearly $20 million Pennington parking garage is expected to be completed July 22.
Like his wife, Leesburg resident Frederick Cox followed the garage construction that started in 2017. He plans to monitor the blasting for the expansion project closely.
"We have a 70-foot, hand-dug well, a historic well, and if they blast it could cave in the well," Frederick Cox said. "Blasting is an issue, and truck driving could be an issue too."
County officials are expected to award a construction contract in mid-September.
Construction is scheduled to run from 7 a.m. to 9 p.m. on the weekdays and 8 a.m. to 5 p.m. on the weekends. The schedule is subject to change based on the contractor.
"That's a long time," said one Leesburg resident who attended Tuesday's information session. "There is a lot of construction going on. If they could limit that pile-driving to maybe after 9 a.m., because the noise is my concern."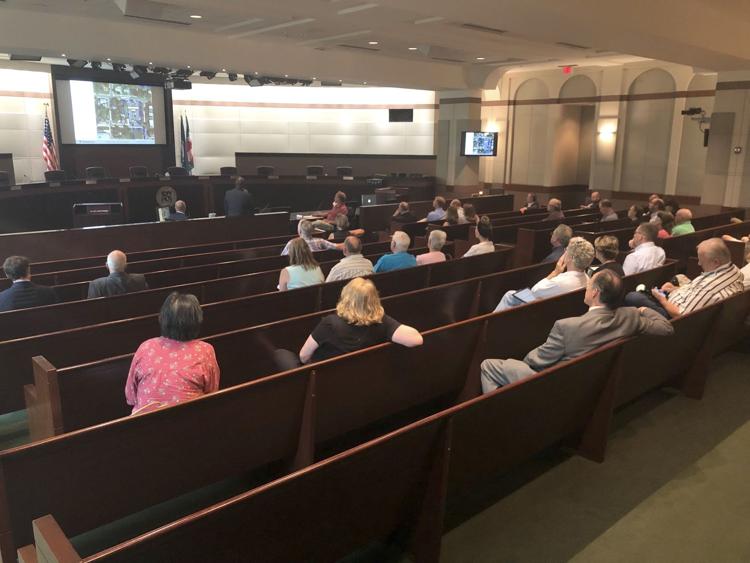 Some downtown parking spots will be eliminated during the project.
One local resident suggested stepping up parking enforcement to assist residents who park on the streets.
County staff and architects said before construction begins an archaeological investigation will be conducted along Edward's Ferry Road. The area sitting below the project area may include remains of the 1839 Fenelon Slack building.
Some of the project proffers between Loudoun County and Town of Leesburg include road improvements to Church Street, sidewalk improvements to Church and Cornwall Streets and placement of underground utilities along Church Street and Edwards Ferry Road. Additionally, reserve residential parking spaces will be made available and cash in lieu for intersections at North and King streets and Edwards Ferry and Catoctin Circle.
More information about the project can be found at loudoun.gov/courts-expansion.