A final decision on Church + Market, the downtown Leesburg development that would bring 116 apartments, about 12,000 square feet of commercial space and a parking garage, is on hold after Leesburg Town Council voted Tuesday night to move discussion to a future work session.
Council members cited concerns about the height of some of the buildings at 65 feet and the parking situation, but the largest concern by far was traffic.
"I don't want to lose our charm and the authenticity," said Mayor Kelly Burk. "I originally was pretty excited about this project [but] … I need some more time to think about this, and what is the impact to the downtown and what it's going to look like."
Using the historic Loudoun Times-Mirror building on East Market Street as the first floor of an office and retail space, the development will be a cluster of brick and stone buildings that stretch from East Market Street along the one-way Church Street to Loudoun Street. Buildings will be three to six stories tall, with gardens and terraces scattered atop. Walkways and plazas will create a pedestrian-friendly area, project representatives said.
On Tuesday night, representatives added more details about the apartments themselves. At least 40 units would be 525 square feet with one bedroom, with the rest at 1,250 square feet and two bedrooms.
"This project would deliver non-transient residents," said Landmark Commercial Vice President Blair White, the lead developer of the project. "[Residents] who spend money, who actually live in downtown Leesburg."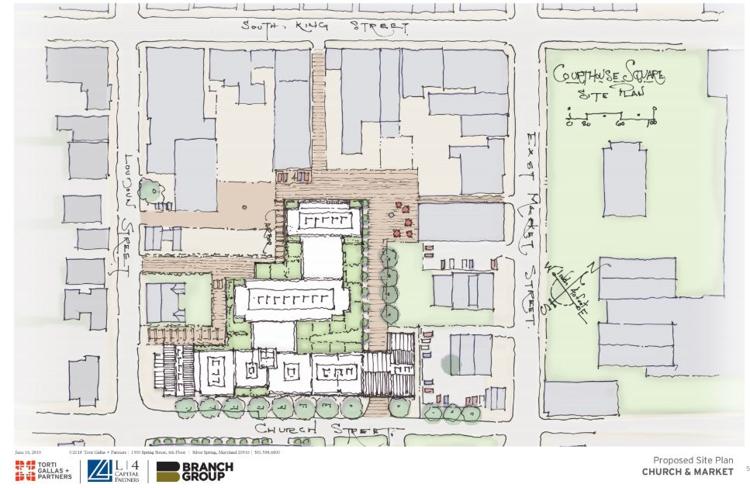 Council was presented two options for the parking garage, hidden behind the façade of one of the buildings. The first, a garage of 169 spaces, would be reserved for office and retail parking but would open to the public after 5 p.m. Residential parking spaces would be permanently set aside, as well.
The second option would have 145 regular spaces and an additional 57 reachable by a semi-automated vehicle lift system, which would be most likely reserved for apartment residents rather than the public. This option could include a shared-use arrangement with the town to provide public parking.
Staff and White both admitted that the development would increase traffic but emphasized that because it has a residential component, it would create less congestion than a purely commercial development.
"There is going to be an increase in traffic. There's no question about that," said Leesburg Senior Planning Project Manager Scott Parker. "But it's not going to blow up the road map."
The four citizens who spoke during the public hearing all agreed that traffic would be an issue.
"This will change Leesburg," said Dentist Cary Birkitt, whose building on Loudoun Street will be affected by the development. " … This will add more pedestrian traffic, more vehicle traffic, but it will also add to businesses."
Landmark has agreed to provide parking for Birkitt's patients both during and after construction should the development go forward.
Council spent more than an hour asking questions of staff and developers. Councilman Tom Dunn said he didn't like the outside appearance of some sides of the development, and Councilwoman Suzanne Fox had reservations about the parking.
White maintained that the development was the most cost-effective given current town ordinances. He said that as it is now, the empty buildings provide a "donut hole" to be filled.
Council voted 5-2 to move a final vote to a future meeting, with councilmen Ron Campbell and Fernando "Marty" Martinez preferring to vote on Tuesday.