Though some may consider a distaste for politics antithetical to work as an elections official, Loudoun County General Registrar Judy Brown thinks it makes her the ideal person for the job.
"My goal here is to make sure we have elections, and that everybody who wants to vote has the opportunity to do that through voter registration and at the ballot box," Brown told the Times-Mirror. "We do it in a fair, nonpartisan way. Everybody is considered the same."
Brown, a lifelong Loudouner and current Lovettsville resident, likely could not have foreseen her eventual career path when she first registered to vote while attending Loudoun Valley High School in Purcellville. Neither of her parents had voted before, and when she arrived at the Round Hill fire station to cast her first ballot, she was "scared to death."
"I had no idea what I was supposed to be doing," she recalled. "We had the big, clunky machines that you took and pushed the lever, and the curtain closed behind you, then you pushed the little things, and I didn't know whether I was supposed to push them back up when I got done."
Voting technology has obviously evolved since Brown first joined the Loudoun County Office of Elections prior to the 1984 voting cycle, when President Ronald Reagan was elected to a second term. She started as a temporary worker in the office, where the only employees included the general registrar and two others.
About 30,000 voters were registered back then, according to Brown. As of Wednesday, she estimated more than double that number — between 67,000 and 68,000 — had already cast their ballots at early voting sites across the county for the 2020 election.
"I've enjoyed being in Loudoun and watching the growth," she said of a county in which the population has since catapulted to more than 400,000.
Having become a full-time elections worker after her stint as a temp, Brown spent her first few years on the payroll engaging in what she called the "seasonal business" of voter registration: sitting outside grocery stores and libraries to get people registered, manually typing and mailing voter cards to the state and other tasks which the advent of the internet has since helped expedite.
When she was appointed general registrar in 1991, Brown's staff was still relatively small, so she largely maintained focus on the smaller, day-to-day operations such as processing registration forms. As the county welcomed tens of thousands more residents over the years, her staff grew, and she was able to delegate many of the clerical tasks to new employees.
However, Brown said a significant part of her job has remained constant over the years: interacting with "disgruntled voters" who are having trouble with the process.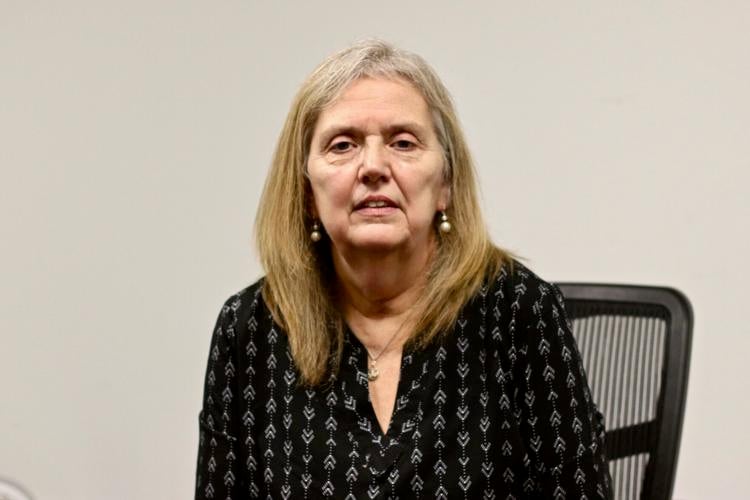 Still, whether in person or electronically, she aims to approach each voter's needs and concerns with seriousness and a helpful attitude.
"I actually still respond to all of the people that send in emails … and I still oversee all of the ballots that are mailed to the people who are in the military and overseas," she said. "I actually email them and let them know when we receive the ballot back, because they don't have the ability to track them."
Of course, with new, more streamlined means of voting in place, Brown and her office have had to constantly adapt. She said Richard Keech, her deputy director, has been a major force in introducing new technology to the county's polling sites and has tackled other pressing tasks.
"He does the budget. I don't have to try to forecast what's going to happen and how much we need, and he's really good at that," Brown said.
"Judy's good at letting people handle what they're good at," Keech told the Times-Mirror. "If it weren't for the dedication to building that strong team, none of us would be where we are today."
Keech commended Brown for her adaptability, saying such a trait is not terribly common in their line of work.
"Elections people are stuck in their ways many times, and she's been willing to entertain new ideas and new ways of doing things … which is necessary when you're growing at the pace that we are," he added.
As it turned out, that resilience is perhaps more crucial than ever this year, as the COVID-19 health crisis has forced elections workers nationwide to be creative and tenacious in soliciting votes. Along with implementing strict social distancing measures and curbside voting apparatuses at polling locations, the Office of Elections has sent out more than 75,000 mail-in ballots, nearly 50,000 of which have already been processed.
Brown and her office were fortunately able to get a feel for how to conduct business in the shadow of the coronavirus during town elections earlier this year, as well as the June primary. Further, the Virginia General Assembly's decision to not require an application for early, in-person voting has been a boon to operations.
"If everyone had to fill out an application before they voted, we'd probably have lines," Brown said. "We were already anticipating an uptick in the number of people who would vote ahead of Election Day, but nowhere near the volume that we've seen."
Earlier this week, the Times-Mirror reported 60 percent of Loudoun voters were expected to vote prior to Election Day, according to Office of Elections projections. Just a few days later, Brown said she anticipated that figure would rise to 80 percent.
The unforeseen number of early voters have been accommodated by an estimated 1,100 to 1,200 elections officers across the county, and Brown largely credits the ease of the process to Keech, particularly his push for new forms of technology to be used at the polls.
"At any given time, we can have 20, 30, 40 people working in this building, doing what we need to do. We have people out running the early voting sites for us and keeping everything under control there," she said. "I'm very lucky to have the people that we have working here."
Brown added, "We're very lucky here in Loudoun County. The county administrator believes in what we do, and what we're doing is one of the most important things that the county is tasked with doing. That makes it very good for us in getting the resources that we need to be able to do our job successfully."
Loudoun's longtime registrar may consider herself largely apolitical, but that mindset doesn't hamper Brown's belief in the importance of voting — and not just every four years. While presidential elections are often more ubiquitous and glamorized, she considers the less clamorous voting cycles in between just as important.
"Yes, the president does make decisions that impact our life, but your local Board of Supervisors or School Board members, those are the people you really need to be voting for," Brown said. "They have a larger impact on your day-to-day life than the things the president does, and those are people you can reach out to when you have issues and problems."
As long as participants wear masks, respect social distancing protocol and one another, Brown hopes every registered voter has the opportunity to make a difference with their ballot, no matter how hard COVID might try to inhibit the election.
"Everybody needs to have their voice heard, and every vote does count," she said. "It doesn't matter how you vote — we just want you to come out and participate."