After months of divisive political rhetoric leading up to last week's heated midterm elections, Republican and Democrat officials and members of the public came together Sunday to honor the nation's veterans at the Leesburg home of a historic war hero. Guests and participants at the George C. Marshall International Center's Veterans Day ceremony celebrated veterans past and present who fought to defend the American way of life.
The event was held at Gen. Marshall's Leesburg residence, known as Dodona Manor, where he lived from 1943 until his death in 1959. As secretary of state, Marshall helped develop the economic and political Marshall Plan that helped Europe recover from World War II.
Major Gen. John M. Epperly, commanding general of the 29th Infantry Division, was the afternoon's keynote speaker.
"Odds are, everyone here today has a close affiliation with at least one veteran," Epperly said to a crowd of roughly 100 people. "Through every point in American history, our citizens have answered the call to serve and protect our republic."
Epperly continued, "Remember, honoring our veterans is about more than what we say or do one day out of the year. It's about recognizing and supporting their sacrifice and that of their families every day of the year. That's the sacred trust between America and all who defend its ideals."
Veterans Day this year was especially poignant, as it fell on the 100th anniversary of the end of World War I.
"Over the last century, America has honored her veterans and their sacrifices in many ways," said Epperly. " … In the end, World War I would mark a major turning point in human history, with both positive and negative effects. One of the most positive and enduring effects of the last 100 years has been the contributions of Americans military veterans."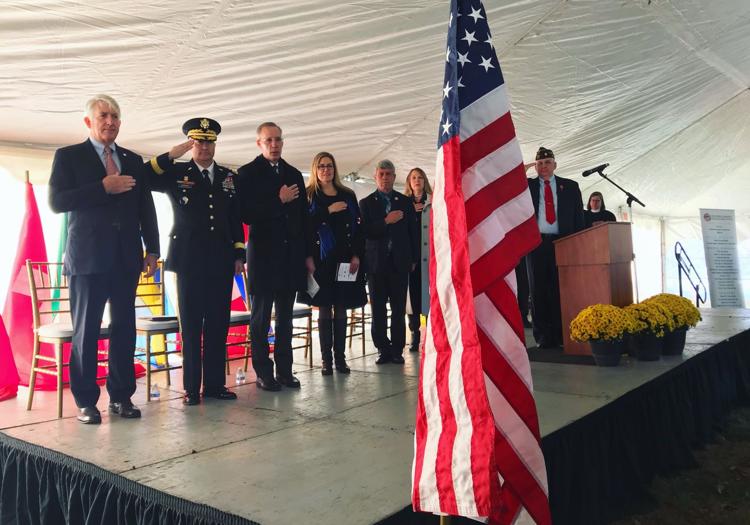 Elected officials on stage included Virginia Attorney General Mark Herring (D), state Sen. and Congresswoman-elect Jennifer Wexton (D), state Dels. Wendy Gooditis (D-10th), David Reid (D-32nd) and Dave LaRock (R-33rd), Loudoun County Supervisor Ralph Buona (R-Ashburn) and Leesburg Mayor Kelly Burk.
Epperly praised the Leesburg-based George C. Marshall International Center, which aims to preserve and advance the legacy of Gen. Marshall, one of America's "most influential and impactful veterans," for hosting the annual event.
The Briar Woods marching band performed during the festivities, and Army Maj. Dennis B. Boykin IV served as master of ceremonies.
"Veterans Day is when this great nation says thanks, so on behalf of that nation, I thank all my fellow veterans and their families," Boykin said, before thanking those who attended.