As more historical markers are being placed across the country to remember lynching victims, Virginia is confronting its dark past and seeking to document as many cases as possible.
Researchers have already documented over 100 cases in the commonwealth including three in Loudoun County that are expected to be memorialized in the future.
However, for the amount of support there has been for memorializing those lynched, there is also a congregation that questioned the concept at a community discussion Thursday in Leesburg.
"It's been this long, why should we?" asked another.
Those were among the questions posed at a discussion event sponsored by George Mason University graduate students from the School for Conflict Analysis and Resolution. Some attendees discussed where the memorial sites would be located and how it could be used for educational tourism purposes. Others expressed concern with the security, vandalism and intention of the memorials should they be built.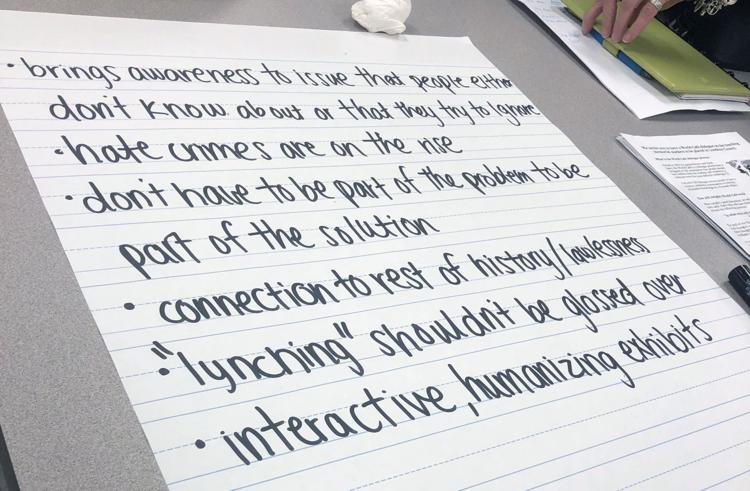 Dominion High School senior Genna Wolinsky, one of the discussion leaders, and two of her classmates attended the event that provided an opportunity to interact with approximately 100 people.
Wolinsky hoped her attendance would make a difference.
"[One man] said since he himself wasn't a part of slavery, then why should he have to apologize for it, and I feel like this is a sentiment echoed by many today and is the reason that society hasn't made as much progress as possible," Wolinsky said. "Like my group discussed tonight, just because somebody wasn't a part of the problem doesn't mean they can't be part of the solution."
All Dulles Area Muslim Society Center Board Chairman Rizwan Jaka called the memorials an act of "justice" for those who were lynched.
"This is all about justice and honoring the memory of people who did not get justice," Jaka said.
Priscilla Martinez, an advocate for interfaith and civic engagement, said she supports remembering those lynched.
"Just because there isn't a rope involved today like there was back then doesn't mean people's lives aren't being literally taken away early from them," Martinez said. "Whether it's systemic racism, unfairness in law enforcement and criminal justice, peoples' lives are still being taken away, so how is that not lynching happening today?"
Close to 100 local leaders and residents packed the school's lunchroom, including Leesburg Supervisor Kristen Umstattd (D), state Sen. Jennifer Boysko (D-33rd), Leesburg Mayor Kelly Burk, Vice Mayor Fernando Martinez and Councilman Ron Campbell.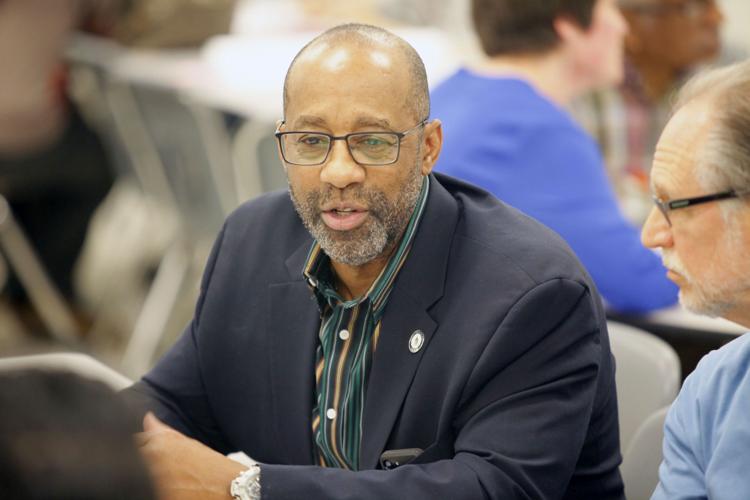 Attorney General Mark Herring (D), who shuffled around to hear different groups, said he enjoyed the dialogue format that allowed attendees to share their input with everyone in the room.
" … What I heard was that a lot of people thought this was really important to do so that we are telling history more accurately—more fully," Herring said. "Too often it's been romanticized and if we are going to have reconciliation and promote healing and address ongoing inequities, then we need to be honest about our history and not think it was something that happened somewhere else. It happened right here too."
Herring is still trying to recover from his own race-related controversy. Following Democratic Gov. Ralph Northam's yearbook photo scandal, Herring disclosed that he too wore blackface in the 1980s while dressing up as a rapper for a party.
The attorney general has apologized and said he wants to work to further racial understanding and reconciliation. 
The panel discussion comes shortly after the General Assembly passed a resolution for Virginia to acknowledge "with profound regret" the existence and acceptance of lynching in the commonwealth.
Democratic Sen. Jennifer L. McClellan from Richmond introduced the resolution co-patroned by Sen. Boysko. Democratic Del. Delores McQuinn (D-70th) introduced a similar resolution in the House.
McClellan, who is also the chair of the Dr. Martin Luther King Jr. Memorial Commission, said after the anti-lynching statute was passed in 1928, lynchings continued to occur through the 1950s without any prosecution.
"We cannot heal as a society and achieve racial reconciliation if we are not honest about the trauma that occurred in our commonwealth to African-Americans to Native Americans, and to get beyond the trauma we have to talk about it in order to heal," McClellan said.
The Richmond-based Dr. Martin Luther King Jr. Memorial Commission and Department of Historic Resources are selecting sites for markers to document lynchings.
The commission will also compile the names and stories of victims of lynching in Virginia and create programmatic outreach to raise historic awareness.
Locally, Phillip Thompson and researchers say three lynchings of black men occurred in Loudoun County between 1880 and 1902: Page Wallace in 1880, Orion Anderson in 1889 and Charles Craven in 1902. All were between the ages of 18 and 25.
In August, Thompson announced a project to establish markers at the three lynching sites.
The incidents reportedly occurred along Route 15 near Point of Rocks, in the former Potter's Field at the corner of East Market and Catoctin Circle in Leesburg and at the old train station near Tuscarora Mill, also in Leesburg.
The project moved forward in September when Leesburg Town Council unanimously approved a memorial marker at the former Potter's Cemetery, now the intersection of East Market Street and Catoctin Circle, to remember the lynching of Craven.
Thompson is still working with county officials to establish the remaining two markers.
Once the project is completed, the soil from each site — like many across the country — will be collected and sent to the new National Memorial for Peace and Justice, also known as the National Lynching Memorial, in Alabama. The memorial, which was created to honor the victims of lynching, was founded by the Equal Justice Initiative (EJI) and opened in April.
Thompson moderated a panel discussion Thursday, as did NAACP President Michelle Thomas, Loudoun County Historical Preservation Planner Heidi Siebentritt, longtime Loudoun County resident Shirley Carpenter, Journey Through Hallowed Ground Partnership Founding President Emerita Cathleen Magennis Wyatt and Sen. McClellan.