From a speaker's platform at the front of the gymnasium at Loudoun County High School in Leesburg, retired Navy SEAL Chief Boatswain's Mate Kenneth Stethem posed a question to a crowd of students, teachers and community members gathered for the school's 12th Veterans Day assembly on Thursday.
"What is it about the American veteran — these men and women — that causes them to answer the call of duty?" Stethem asked. "... To risk their life and run into danger when other people would run away?"
"I would humbly suggest to you," he continued, "that it is an understanding and a love of God, country and the ideals that our country is based upon — freedom, liberty and independence."
LCHS' Veterans Day assembly is the only one in Loudoun County that invites a veteran speaker from the community and asks them to deliver remarks before students, teachers and community members, according to LCHS' student engagement and activities coordinator, Matthew Prince.
"I'm excited to hear what [Stethem] has to say," Prince told the Times-Mirror in a conversation on Wednesday. The school community rallies together on Veterans Day in part because its Navy Junior Reserve Officer Training Corps is one of the most active groups at LCHS, he said.
NJRTOC cadets are "involved in so many different things we do," Prince said, including "freshman orientation, parents' night. They're there for any leadership, honor, or service activities." He said LCHS has four pillars of traits it hopes to instill in students: character, honor, leadership and service.
"I can wholeheartedly say that NJROTC instills that in their cadets throughout the entire process," Prince said.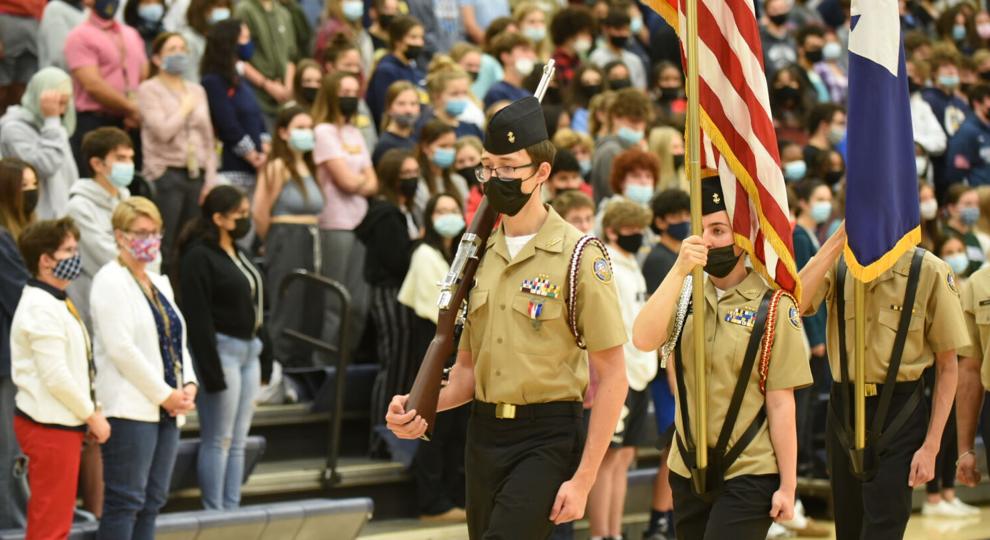 NJROTC students played an integral role in the Veterans Day assembly Thursday. Members of the cadet color guard entered the gym carrying the flags of the United States and U.S. Navy at the beginning of the ceremony, and students from the school's chorus sang the "Star Spangled Banner" as the color guard stood in the center of the room.
The assembly also featured performances from LCHS' drill team, a performance of each branch of service's signature anthem by the school's chorus and a trumpet rendition of "Taps" — which is commonly heard at military funerals — by LCHS student Ryan Theiss.
NJROTC Cadet Commander Danielle DeBolt, who is in her senior year at LCHS, served as MC for the assembly. In her remarks, she said LCHS makes "a conscious effort to honor the members of our faculty and community who stand as examples of service and sacrifice to us all."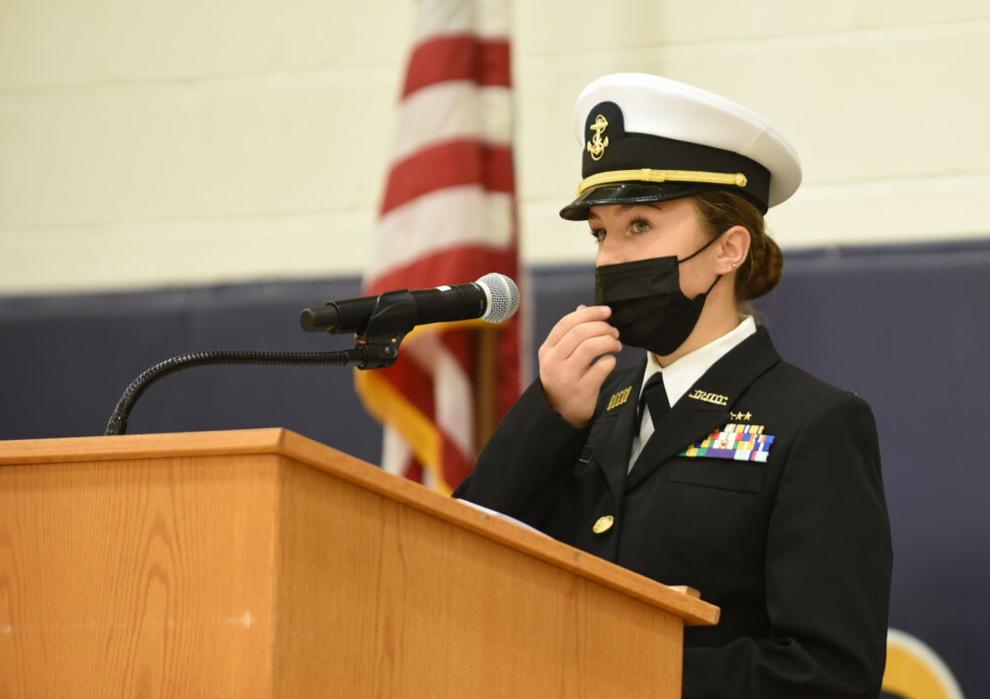 "These men and women have served proudly in our armed forces and paid a price for the continued freedom and security we enjoy as citizens of this country," she added.
LCHS senior Charlotte Penberthy said she is a Cadet Master Chief, and serves as captain of the drill team. She highlighted being proud of newcomers to the drill team who performed at the assembly, despite having had little time to prepare.
"I'm proud of our performance and to show what military precision and dedication looks like," Penberthy said. Her participation in the NJROTC has helped her "Learn how to be a good follower and a leader," which she said "has been really beneficial to me, and I'm excited to carry that on to the rest of my life."
NJROTC Operations Officer Bennett Vaughan is a senior at Loudoun County High. He said the school's JROTC program is the only one of its kind in the Loudoun school district, and that "it gives our school a better perspective on the veterans and how much they do for us."
"As I've evolved as a person and in the unit … I've understood more the maturity and ... what veterans mean to us," he said.
LCHS senior Jessy Yoo is a mentor and Chief Petty Officer in the NJROTC program. She said that while she doesn't plan on pursuing a career in the military, her participation in the school's NJROTC has earned her medals for marksmanship as well as ribbons for color guard and drill team.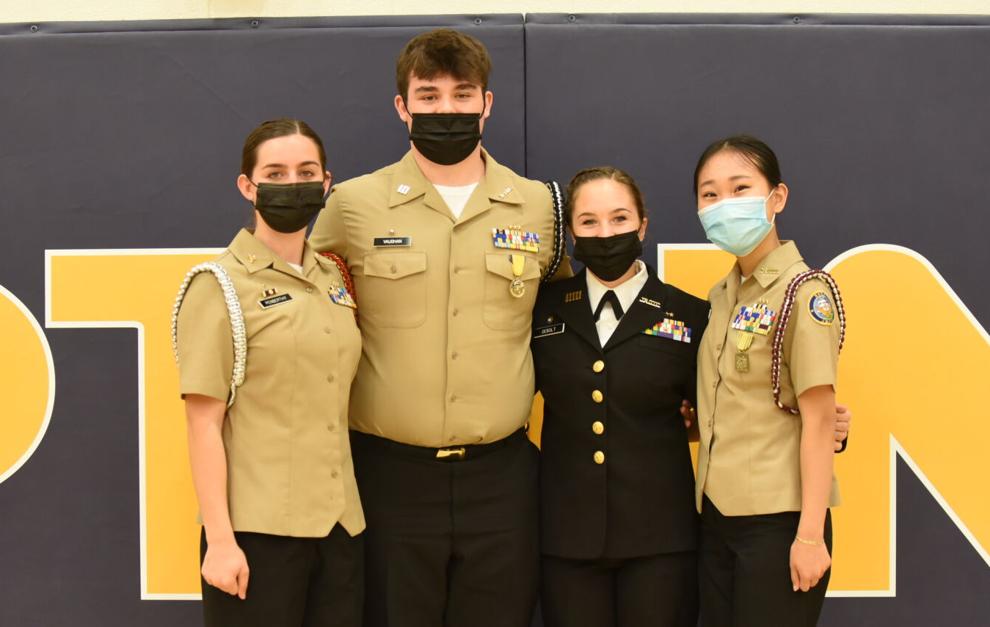 After graduation, she said she plans "on going to a four-year college in a chemistry major and I also want to work in the government."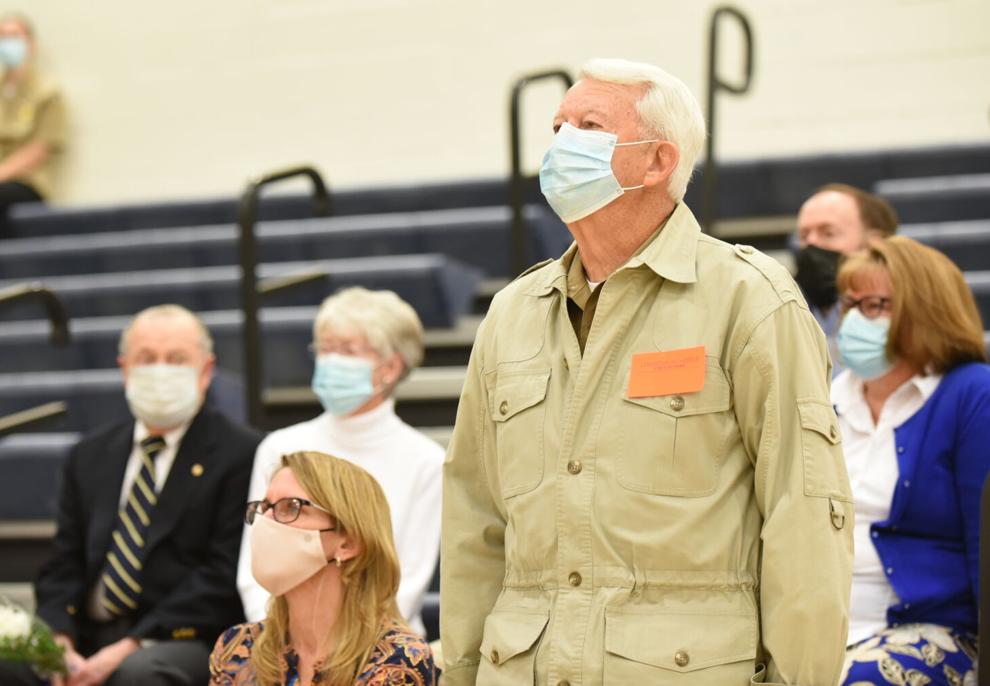 Robert Barnhart, a native of Hagerstown, Maryland, served in the Air Force for 30 years — first as an enlisted airman, and then as an officer after completing an ROTC program. "The reason I'm here is because my grandson is a student here," he said.
"I'm overwhelmed," Barnhart said of the assembly. "I never, ever have experienced anything like this before. I get a lot of folks coming up to me when I wear an Air Force sweatshirt, or something like that, and they thank me for my service."
"But never anything" like LCHS' assembly, he said.