"We are continuing to do everything in our power to keep Loudoun safe and healthy," Loudoun County Board of Supervisors Chairwoman Phyllis Randall (D) said to open the briefing, which live-streamed on the county website. "It will be the people of Loudoun County ... working together who gets us through this challenging time."
Randall said she and county officials plan to support residents' vigilance against the virus by remaining transparent, keeping residents informed and executing necessary preventive actions "based in facts and in science." She also urged listeners to follow U.S. Centers for Disease Control guidelines for hand-washing and hygiene, calling it "the number one thing we need from the public right now."
Loudoun Health Department Director Dr. David Goodfriend followed Randall and detailed the presumptive positive case, saying, "We treat any presumptive positive in Virginia as a true positive." The person in question, a resident in their 40s, submitted to testing after coming in contact with a D.C.-area priest who had tested positive. The local resident is currently quarantined at home.
"This individual did everything right. When the individual felt sick, they went to receive medical care," Goodfriend said.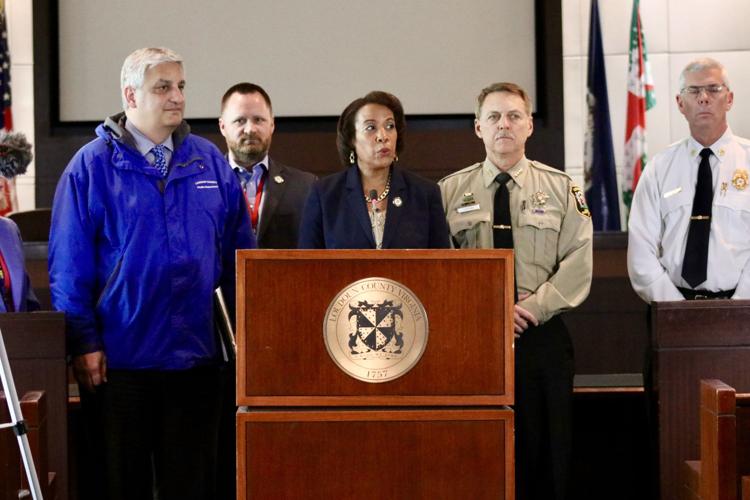 He added Loudoun's ever-increasing population and traffic have led his department to anticipate such great public health ordeals for many years. "We have been preparing not just since January, when this became an issue ... but we've been preparing for the last 15 years, knowing that in northern Virginia, and being home to a major international airport, we're always only one flight or one car ride away from any infection that's around in the world."
The floor then opened for questions from attendees, warranting answers from Randall, Goodfriend and Sheriff Mike Chapman (R), the latter of whom described preventive measures taken at the Loudoun County Adult Detention Center. "We're doing extensive background [checks] on the bookings coming in ... and we check for the coronavirus for people that are coming in," he said.
The detention center, he said, also has a 48-hour holding facility with exterior ventilation for new inmates as an added safeguard.
When asked, Goodfriend said state-sponsored testing for the virus does not involve drawing blood but is often restricted to a throat swab. Only those feeling sick should call their doctor with virus-related concerns, he said, barring special circumstances.
"If people are feeling healthy, there's not a good reason to be tested unless you're a contact of a known case," he said.
After he recommended those who feel sick first "rule out the common stuff" by getting tested for the flu or strep throat, Goodfriend added it is possible to have both the flu and COVID-19 at once. "The same things that will keep you safe from coronavirus hopefully will also keep you safe from the flu," he said.
Responding to the Times-Mirror, Randall said the county, unlike Loudoun County Public Schools, has not yet planned or prepared to implement Internet-based telework procedures for applicable government employees. "As far as Loudoun County employees ... if you feel sick at all, stay home, let us know and make all the appropriate calls to Dr. Goodfriend," she said. "We have no plans right now to limit or to shut down Loudoun County government in any way."
Tuesday's meeting, which was called at the same time the first presumptive positive case was announced, comes a day in advance of pre-planned briefing for the public and members of the Board of Supervisors. That meeting will be held at 5 p.m. Wednesday at the county government center.