The Loudoun County Board of Supervisors voted Wednesday night in favor of amending its county ordinance in hopes of curbing the number of stray bullets striking homes or landing in adjacent properties.
County officials say at least 20 instances of errant gunfire have occurred in recent years, and in three of those cases people were struck. Three people have been charged in those cases, though none have been convicted.
One of the major challenges for the board was finding a legislative way to assist law enforcement and investigators in prosecuting instances of multiple shooters using the same gun.
After lengthy public input Wednesday, the board voted 6-3 to update Section 684.03(d) of the county's codified ordinance to include in the 100-yard discharge ban "all occupied structures" and to adopt Section 684.03(e), which will make it a violation for projectiles to leave the boundaries of a property unless permission has been given by the adjacent property owner. (See full motions below.)
Supervisors Geary Higgins (R-Catoctin), Suzanne Volpe (R-Algonkian) and Vice Chairman Ralph Buona (R-Ashburn) opposed the measures. Buona and Higgins said the board's action won't solve the problem.
"It added another layer to the codified ordinance, but it still does not solve the problem that is essential to the issue, and that is who actually fired the round, wherever it went," Higgins said. "I don't know of anyone from law enforcement or the commonwealth's attorney's office that said this is any more enforceable than the other reckless discharge of firearms [charges], because unless you know who fired the round and pulled the trigger, you don't have the evidence to prosecute."
Buona added, "It doesn't solve it. You still have the same problem that we have right now if this passes because if five of you were out there ... and one round goes off, how do they know which one of you was firing? They don't. We have that problem right now. That's why we haven't prosecuted ... but the fact of it is it doesn't solve the core problem of who fired the weapon. And until you know that you really can't prosecute somebody … "
Broad Run Supervisor Ron Meyer (R) disagreed. He offered the motion to adopt the amended changes.
"This is lowering the burden of proof, getting rid of reckless so you don't have to prove recklessness, and also saying that people have to shoot in such a manner as they contain the bullet in their property," Meyer said. "That means you don't necessarily have to tie the bullet directly to the shooter, you have to show the shooters were shooting in such a manner that would have led the bullet to have left the property. So, that is different, and that's exactly why we crafted this the way we have."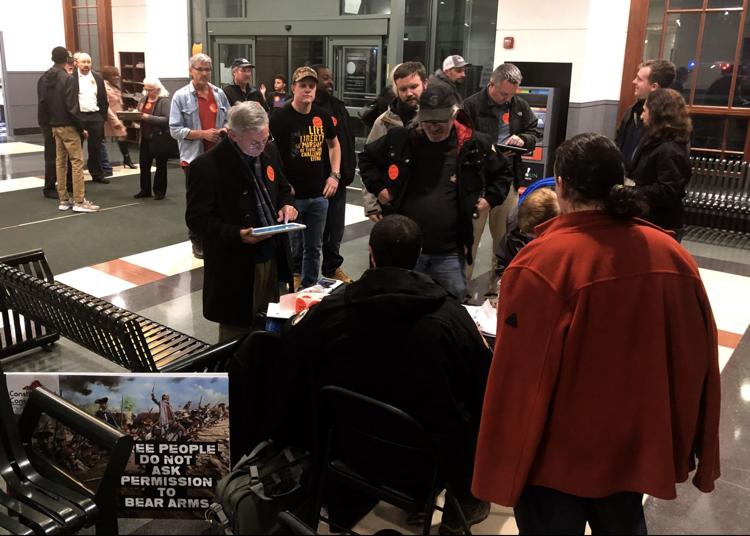 Forty-five speakers signed up for Wednesday's public hearing. Most speakers opposed the proposals. They suggested additional education and further called for Loudoun to become a "Second Amendment Sanctuary."
Across the commonwealth, several counties have recently declared themselves "Second Amendment Sanctuary," meaning in essence law enforcement won't comply with new or stricter gun regulations.
Supervisors have not formally taken up any matters relating to a "Second Amendment Sanctuary."
Virginia Constitutional Conservatives Director and Loudoun County resident Chris Anders presented the board a stack of petitions against new gun regulations.
"It is truly a violation of good governance that I, as well as many here today, have to petition the county from infringing on our individual rights," Anders said. "For you see, in a republic, a mob rule does not exist. However, that is exactly what some this crowd believe they are here to do, to force you to vote away my individual liberty and private property rights."
Hillsboro resident George Melik-Agamirian questioned Chairwoman Phyllis Randall (D-At Large) after she stepped off the dais to a take a personal call from a family member. He called the proposals "racist" and "a crime."
"… why are you pushing racist gun control decrees on Loudoun County residents, especially you, Koran [Saines] and Phyllis Randall, who ran out of the room. You are doing the work of the KKK. Yes, I said it, the KKK," Melik-Agamirian said. "You two owe your seats on this board to the countless thousands of civil rights activists who fought for justice. If not for their sacrifice you would still be riding in the back of the bus, and now with these ordinances, these incremental steps, you are turning back the clock to the bad old days."
Randall and Saines are African American.
Leesburg resident Julia Holcomb, meanwhile, represented those in the boardroom who supported the proposals. She further agreed with a recommendation made by Blue Ridge Supervisor Tony Buffington (R) last month to include "a method of containment" language in shooting restrictions. 
" ... you learned when you were five to keep your hands to yourself, to keep the projectiles from your firearms on your own land ..." Holcomb said. "I'm with Mr. Buffington. Any reasonable and thoughtful and properly using gun owner knows that already. They really shouldn't need to be told it, should they?"
Buffington reiterated in his comments that the board's action is to update the ordinance language, not to take away any property or hunting rights.
"We are absolutely not voting away private property rights. We are saying shoot on your property, but don't infringe on your neighbors right to have your bullets fly through his property or her property," Buffington said.
Randall wrapped up remarks by saying the subject has been a challenge for her since discussions started last summer. 
"The berming idea was a bad idea," Randall said. "Once I really went and researched that, I realized it was a bad idea and a really costly idea, and so I realized that probably shouldn't happen. But rounds leaving people's property, I don't think that should happen either—so I will be absolutely supporting this."
The board directed county staff to move forward with providing information to the public on the ordinance changes, the importance of using firearms safely, identifying safety training opportunities and providing locations for shooting venues.
________
Motions approved on Dec. 11:
-I move that the Board of Supervisors approve and adopt amended language to the Codified Ordinances of Loudoun County Section 684.03(d), "the discharge of firearms is prohibited within 100 yards of a building with a current occupancy permit and/or regularly occupied structure, unless the owner or authorized agent has given permission" as provided in Attachment 1 to the December 11, 2019, Board of Supervisors Public Hearing Staff Report.
-I further move that the Board of Supervisors approve and adopt new language creating new Section 684.03(e) in the Codified Ordinances of Loudoun County stating, "The discharge of firearms for recreational or target shooting purposes shall be conducted in such a manner as to ensure that projectiles do not leave the boundaries of the property or parcel upon which the shooting is occurring, unless permission to do so has been granted by the owner of the property or parcel upon which the projectile lands. A projectile leaving the boundaries of the property or parcel shall be prima facie evidence of a violation of this section" as provided in Attachment 1 to the December 11, 2019, Board of Supervisors Public Hearing Staff Report.
______________
Timeline:
Stray gunfire has become an increasing concern in Loudoun County. Here's a rundown of the issue over the past 18 months:
-May 6, 2018: Three homes in Loudoun hit by stray bullets from a machine gun traveling a third of a mile. No charges were brought forth because law enforcement could not determine which of the four people fired the firearm.
-June 21, 2018: Proposal to change the county's weapons and explosives ordinance turned down. A working group is formed to study the safety concerns identified by the board.
-Dec. 4, 2018: Board of Supervisors opts against ordinance change, passes on working group report, sends matter to Land Use and Transportation Committee for review. At least eight incidents of stray gunfire striking a building reported since May.
-Feb. 25: Land use committee considers requiring target shooters to use backstops to capture gun discharges. Committee recommended the board update Section 684.03(d) of the county's codified ordinance to include the 100-yard discharge ban for all occupied structures. Item stalled.
-April 29: Times-Mirror learns via email from county staff that the firearm safety is expected to be on the land use committee agenda in May.
-May 28: Item not included on agenda for land use committee.
-Sept. 8: A woman reports being struck by an errant bullet in the 39600 block of Gable Farm Lane between Leesburg and Hamilton. Woman treated for minor injuries. Sheriff's office says a charge is pending.
-Sept. 24: Land use committee forwards firearms ordinance amendment to full board; measure would require some form of backstop for private shooting
-Nov. 7: Board of Supervisors directs staff to advertise for ordinance change to include "bullet trespass" language.
_________
Here was Supervisor Matt Letourneau's (R-Dulles) takeaway from the vote and the new ordinance: