The Loudoun County Board of Supervisors appears poised to support the prohibition of firearms in county buildings, public parks and recreational community centers.
On Tuesday, the board voted 6-2-1 to direct county staff to develop an ordinance related to the prohibition and to return before the supervisors with recommendations.
Supervisors Caleb Kershner (R-Catoctin) and Tony Buffington (R-Blue Ridge) opposed the motion. Dulles Supervisor Matt Letourneau (R) abstained.
Algonkian Supervisor Juli Briskman (D) proposed the motion after county staff returned with a review of several gun control measures that were signed into state law. She said the board will have an opportunity to review the proposed ordinance after county staff returns with recommendations.
"Citizens do not need to personally carry guns to come into public buildings to pay their taxes, file a marriage license or zoning application or even to give public comment at a meeting," Briskman said. "They don't need have guns at playgrounds, libraries, parks, recreation centers. Our citizens have the right to feel safe in these publicly owned facilities and spaces."
In May, county staff was directed to investigate how the state legislation will or could impact the county.
Several gun-control bills from Richmond were signed into law by the governor this year, including SB 35 and HB 421, which allow localities to regulate firearms in public buildings, parks, recreation centers and during permitted events.
Buffington wondered aloud why he shouldn't be allowed bring a legal firearm to a park to protect his family from a "bad guy" with a gun. He said the so-called bad guys with a gun aren't going to abide by the proposed regulation or any existing firearm laws.
"I think it's stupid," Buffington said. "I think it makes us less safe. I'd rather have good guys with guns wherever I go."
The western Loudoun supervisor asked Briskman to remove public parks from the motion, but his suggestion failed 3-6.
Letourneau, who said Briskman's motion was "very broad," supported Buffington's proposal along with Kershner.
"I think we're trying to address a problem here that we really don't have here in Loudoun County," Kershner said. "If we had a problem, I think we could look at it a little more serious, but we just don't have it."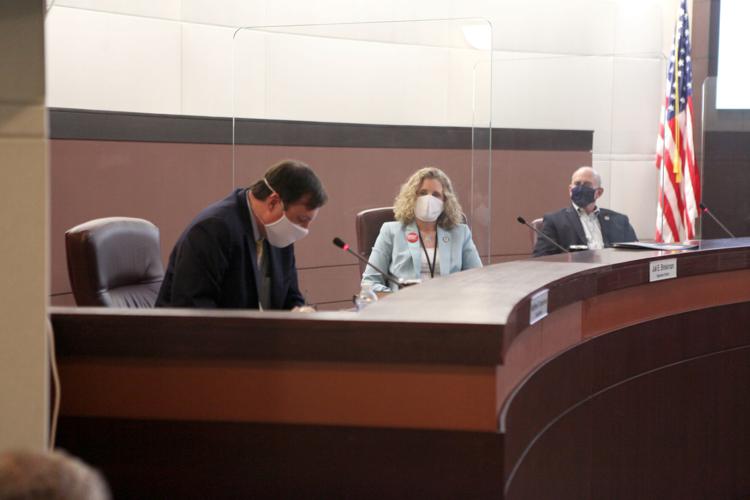 Additional bills county staff investigated include HB 674 and SB 240, which establish an Extreme Risk Protective Order to create a mechanism for law enforcement to temporarily separate a person from their firearms if they are determined to represent a danger to themselves or others. Another measure, SB 71 as enacted with the governor's recommendation, adds public, private or religious preschools and licensed child day care centers to the list of schools where possessing a firearm on school property or on a school bus is prohibited.
County staff said at minimum there would be fiscal impacts associated with properly posting notices, staff training on proper procedural protocol and public outreach. Additional financial implications include screening at specified facilities. The overall cost for screening each facility is estimated to be $550,000 per year with additional staffing costs for after-hours events.
The complete fiscal impact would depend on the number of facilities where screening takes place. There could also be financial elements associated with educating the community.
Loudoun County's Board of Supervisors flipped from Republican to Democratic control following last year's election. The previous board sat six Republicans and three Democrats, while the current board is made up of six Democrats and three Republicans. Gun regulation was one of the major issues on which Democrats ran.
Moms Demand Action, a Democratic-leaning group that calls itself a "grassroots movement of Americans fighting for public safety measures that can protect people from gun violence," has advocated locally for stricter gun control measures.
Ami Miller, a spokeswoman for Loudoun Moms Demand Action, said in a statement, "[On Tuesday] several volunteers with Loudoun Moms Demand Action asked the Loudoun County Board of Supervisors to pass an ordinance that keeps guns out of county buildings, parks, playgrounds, sports fields and permitted events. We believe no one should have to worry about the presence of firearms when they take their kids to a playground."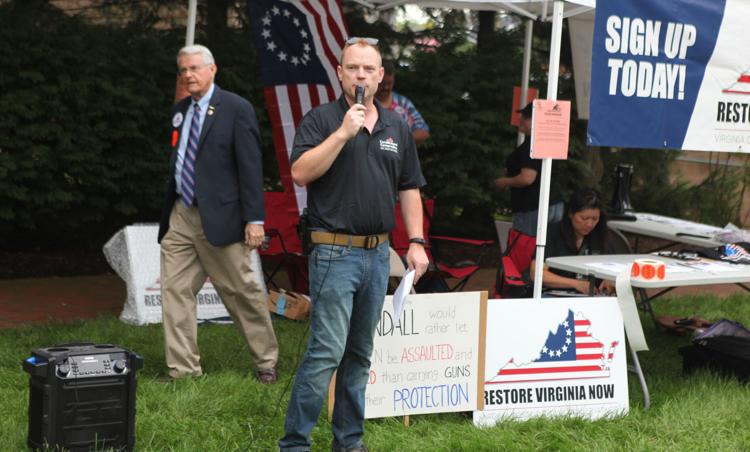 Outside the county government center, meanwhile, roughly 100 people gathered to voice opposition to local gun regulations.
Geary Higgins, a Republican activist and former county supervisor, said, "I spent eight years on this Board of Supervisors, and I am not aware of one incidence that any of these laws are being proposed will prevent — not one,"
Higgins added, "There is no reason to do it, no reason to spend the time, and the problem that we have is that lawbreakers are not going to pay any attention or be aware of laws like this. What you are doing is infringing on the rights of law-abiding citizens."
S. Chris Anders, director for the Virginia Constitutional Conservatives, told the Times-Mirror that the board should "reject" these efforts. He said the board and county are welcoming "a lot of litigation" if new regulations related to firearms are adopted locally.