Customers have been able to access Blue Mount Nursery in Ashburn for nearly 30 years by exiting off Route 7 to Lexington Drive.
However, that could soon change as the Loudoun County Board of Supervisors mull over closing access points and decommissioning the traffic light at the intersection.
The move, if approved, would impact commuters and local residents and businesses.
Blue Mount Nursery co-owner Frank Maruca was unaware of the proposal until a Times-Mirror reporter contacted him for comment. In an interview, he expressed his discontent.
"Am I concerned?" Maruca said. "Yeah, we're really concerned, because we believe that within a matter of a year or two, if we don't figure out how to adjust, we could go out of business, and I believe the county doesn't care about that. They don't want us here. They never have."
The Board of Supervisors is expected to take action July 18 on closing the access points from Lexington Drive to Route 7 and decommissioning the traffic light from the intersection.
Last week, the board deferred action until representatives from the Virginia Department of Transportation can be present. One of the options is for VDOT to begin the process, which could start as early as September or October, according to county staff.
If the board's resolution "as an exercise in police power for the betterment of the health, safety, morals and the general welfare of its citizens" is approved, two nearby exits off of Route 7 (Harry Byrd Highway) would be at the interchanges of Ashburn Village Boulevard and Loudoun County Parkway.
"It's a limited amount of cars that would be affected versus the hundreds and thousands that are affected every day when they get caught at that traffic light," said Raphael Jeu, who frequently travels through the intersection.
Focused on the "severe traffic congestion" during rush hours, an online petition was created in favor of closing the traffic light. Although the petition has rounded up dozens of signatures, multiple users on social media have been engaged with the issue.
One idea was to allow traffic to continue turning right in and out of Riverside Drive and Lexington Drive, but close down the ability to turn left in any direction.
Maruca said he is not opposed to the board's action. One of his requests is for the county to complete the extension of Lexington Drive to Loudoun County Parkway on the north side of Route 7.
The specific Riverside Parkway project that Marcua is referring to includes construction of a four-lane divided road segment between Loudoun County Parkway and Lexington Drive, a new Loudoun Water main along Smith Circle and a temporary traffic signal at Loudoun County Parkway and George Washington Boulevard, according to county capital projects records.
Recently, the project was delayed as a result of utility relocation, according to the county. The start of construction is to be determined.
"What they need to do is complete Riverside Parkway like they promised," Maruca said.
The nursery owner said he is also concerned about the impact on the nursery and its nearly 30 employees, including 15 to 17 full-time employees, most of which live locally and few that have worked there for nearly 20 years.
AmericanHort Advocacy and Research Senior Vice President Craig Regelbrugge discussed nurseries' impacts on their communities. AmericanHort is a national advocate for the horticulture industry.
"Businesses with a direct consumer-facing aspect -- retail -- face special challenges, with hyper-competition and compression of margins," Regelbrugge said in an email. "Good visibility and access are key conditions for success, so from what you describe, it sounds like the business in question has a very legitimate concern about loss of access being a potential death knell."
Regelbrugge said the industry is still dominated by small and family-owned businesses and described the businesses as "the fabric of communities." He said such businesses provide consumers with knowledge and a diverse plant selection that are rarely, if ever, duplicated in mass retail environments.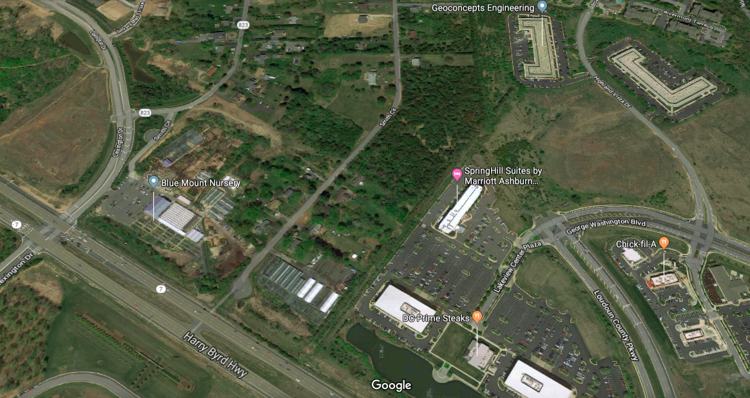 Maruca believes the number of nurseries is declining, and he doesn't want to be part of the statistic.
"It's not only Loudoun County, it's Fairfax, its Fauquier, its every place—they don't want nurseries and it's hard to understand that," Maruca said. "We are a piece of the community. We have stuff that can't find any place and they don't get that because they want office space, apartment buildings, they want tax dollars and that's what they are all about."
No timetable has been set when the Riverside Parkway extension would begin. The extension has been projected to be completed by the fall of 2021, according to Public Affairs and Communications Officer Glen Barbour, adding that many variables could impact the construction schedule.
Supervisor Suzanne Volpe (R), who represents the district, was in favor of deferring the matter until July 18. She hoped to ask questions about emergency access.
In response to the impact of decommissioning the traffic signal and closing the access points, Volpe said it was premature to comment prior to the board taking action.
Forty-seven crashes have occurred at the intersection since 2015, according to the Virginia Department of Motor Vehicles. None of them were fatal.
***
Crashes at the intersection of Route 7 and Lexington Drive:
2019: 3 crashes
2018: 13 crashes
2017: 11 crashes
2016: 7 crashes
2015: 13 crashes