Targeted for nearly 16 acres near South Riding, a proposed development including retail and auto services stations will be considered in September by the Loudoun County Board of Supervisors.
Supervisors voted earlier this month to push the action date to their Sept. 3 business meeting.
The project falls in the Transition Policy Area, meant to serve as a buffer between the developed and suburban east and rural western part of the county.
"It is very complicated," Dulles Supervisor Matthew Letourneau (R) said. "This is [Planned Development-Commercial Center], but it is also Transition Area, and we do need to make sure this type of development is what we want here and that they are meeting the obligations."
Van Metre Homes at Whitman Farm LLC, the applicant for the Whitman Property-South project, is requesting to add acreage and floor area to an approved but undeveloped commercial retail center at the site. The company also hopes to reconfigure the previously approved parking and building configurations of the commercial center in order to offer several services, according to county staff records.
The site is located at the southeast quadrant of the intersection of Gum Spring Road (Route 659) and Braddock Road (Route 705).
The development calls for a 29,500-square-foot commercial establishment -- a grocery store, according to plans -- and a 2,400-square-foot food restaurant with a drive-through, according to county documents. Two service stations are also included in the plans, with one totaling 5,050 square feet and eight gas pumps and a car wash, and another amassing 13,000 square feet. A 7,675-square-foot community center is also included in the project vision.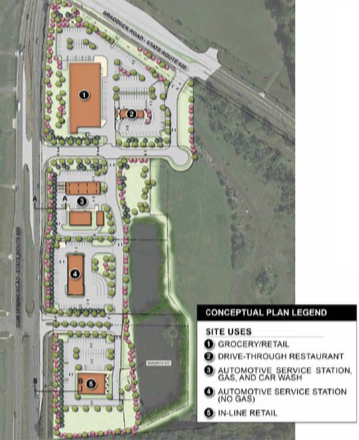 There will be one access point from Braddock Road and two entries from Gum Spring Road.
During a board meeting, nearby residents questioned the traffic impact and whether the project matches with the county's vision for the TPA outlined in the recently adopted 2019 Comprehensive Plan.
"This simply does not align with the vision you set out in the comp plan," Aldie resident Mostafa Wali said.
Vice Chairman Ralph Buona (R-Ashburn) disagreed. He said when the project comes back to the board for a vote, he will be supporting it.
"There is nothing wrong with this plan," Buona said. "It completely meets the intent of the 2019 Comprehensive Plan ... All you have to do is look at the aerial and what is around this site today, and when I look at the remaining Whitman property that will go residential, this is suburban."
Broad Run Supervisor Ron Meyer (R) said the application fits in with the county's plans. The only exception is the interior pedestrian network, he said.
"This is a smaller center, so it's hard to create that almost ... 'mixed-use atmosphere,' but like a 'pedestrian sense of place.' But that could be improved a bit," Meyer said. "But overall, I think this application is going to bring a better set of amenities to the residents."
Among the list of proffers, the applicant has agreed to widen Braddock Road from Gum Spring to the edge of Whitman North property line, which is under construction, and to perform road improvements to Gum Spring Road. Installation of a traffic signal at Lennox Hale Drive is already completed.
Letourneau's motion to move the item for action to the Sept. 3 business meeting was approved 8-0-1, with Catoctin Supervisor Geary Higgins (R) absent.
County staff said the application includes 56 percent of open space.