Loudoun County is set to host the region's first Special Olympics in the fall of 2020.
The upcoming Loudoun campus of Paul VI Catholic High School will serve as the event's home base.
Special Olympics organizes regional, state, national and international competitions for athletes with physical and intellectual disabilities. The organization offers more than 30 Olympic-style individual and team sports.
The Loudoun games, slated to take place Oct. 3, 2020, is expected to include season-appropriate sports such as soccer, bocce, volleyball and flag football. As per Special Olympics tradition, the top three performers in each event will receive medals, while the rest will be presented with ribbons.
"We would like to have fall sports featured that our athletes are training and competing in to get them ready for the fall state-level championship in Virginia Beach, which will take place in November," Special Olympics Virginia Potomac Region Senior Director Veronica Jennings said.
Jennings estimates that approximately 500 athletes from the region will take part in the games. She says Paul VI Catholic High School was chosen to host the event because of its many planned sporting facilities, as well as its longtime connection to Special Olympics through the school's Options Program, which serves students with special needs.
"Special Olympics is dear to PVI's heart as our Options Program is starting its 21st year of inclusion in our school. Students in the Options Program have participated in athletics at PVI and Special Olympics for years," Head of School Virginia Colwell said.
Leesburg resident Bruce Gemmill, senior vice president of MainStreet Bank and a member of the Board of Directors of Special Olympics in Loudoun, jumped at the idea of having northern Virginia's first regional games. Young athletes from Loudoun, Prince William and Fauquier counties, as well as Prince George's County, Maryland, and Washington, D.C., will be invited to participate.
"This will be the first event of its kind in Loudoun and in northern Virginia as a whole," Gemmill said. "Anyone who attends will be supporting a great organization and wonderful athletes."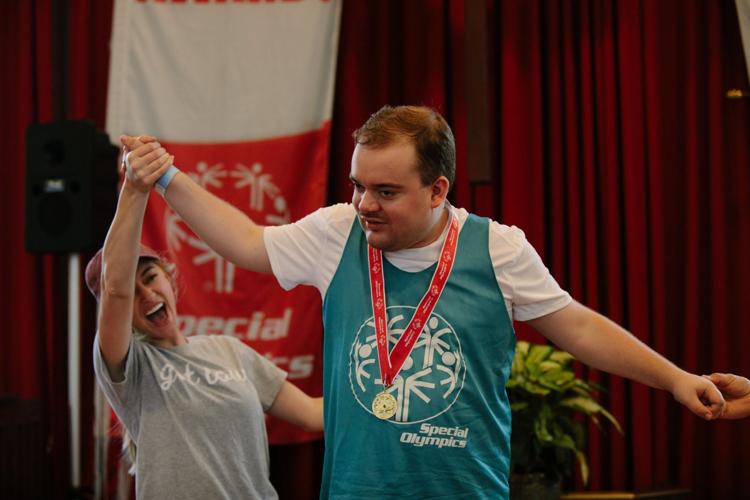 Housing for participants and their families will be available at the National Conference Center in Leesburg, the largest hospitality facility in Loudoun. Geoff Lawson, the National Conference Center's vice president and general manager, was enthusiastic when approached by Gemmill to contribute to the project.
The NCC has run a program to give people with disabilities job experience for several years.
"This is all about awareness," Lawson said. "If you want a serious change in perspective, get involved with kids with special needs. It will change your life perspective, it will change your work perspective."
Lawson expects that the NCC will host nearly 1,000 people for the event. The facility will also organize an athlete dinner and dance the night before the games, an idea presented to Gemmill by several athletes.
"I said, 'You want a dance? By golly, you're going to get a dance,'" Gemmill said.
As with other Special Olympics events, the Loudoun games will rely on sponsorships, other partnerships and volunteer work to run smoothly. Jennings estimates that the event will require around 200 volunteers throughout the day, with jobs ranging from setup and athlete check-in to refereeing the games.
Parker Teel, CEO of Teel Construction in Fairfax, will give his employees the opportunity to contribute to the games as part of the company's volunteer time-off program, which affords each employee up to three days of paid leave to volunteer with the charity of his or her choice.
Organizers are hopeful other businesses will offer similar incentives, and Jennings encourages all members of the community to consider volunteering at the games.
"Special Olympics doesn't just benefit our athletes and families; it's a wonderful organization that benefits and promotes inclusion for the whole community. It's a great opportunity for people to come out and get to know the athletes as people, to be a part of something that's very positive and inspiring," Jennings said.