Western Loudoun resident Joe Domino says he has invested at least $750 in hopes of having reliable broadband service.
He also pays around $100 a month only to get lower download speeds than his neighbors in eastern Loudoun. As someone who often works from home, Domino is desperate for more reliable service.
"We have to pay a lot of money for really slow speed," Domino said. "It's hard to run a business out here. My work Internet drops off occasionally … The Internet is just not really reliable out here. It's too expensive. Improving it would just really bring us up to par with the rest of the county."
Loudoun County officials have heard this sentiment for more than a decade, and earlier this month supervisors responded by agreeing to spend $15.5 million over the next 10 years toward improved connectivity.
The county plans to build a middle mile fiber network to key county facilities. In the broadband Internet industry, the "middle mile" is the segment of a telecommunications network linking a network operator's core network to the local network plant. The county's plans call for a private third-party entity to eventually own and operate the network. Providers would then be able to connect to the middle mile network and offer better service to unserved and underserved residents.
For major providers like Verizon and AT&T, the cost to extend broadband services to rural areas has been cost-prohibitive. Loudoun's middle mile network plan is expected to cut those costs.
Blue Ridge Supervisor Tony Buffington (R), who represents many western Loudoun citizens with Internet concerns, offered the motion Dec. 3. It passed unanimously.
"This is a huge step for Loudoun County towards meeting one of our major goals of expanding broadband through our underserved areas, which especially is in western Loudoun," Buffington said.
Supervisors believe building a fiber network from county facilities to incentivize providers to build connections for residents will provide more options and improved service.
The proposed project would be a first for Loudoun, according to county officials, who describe the county's role as "an anchor tenant" to lease the fiber.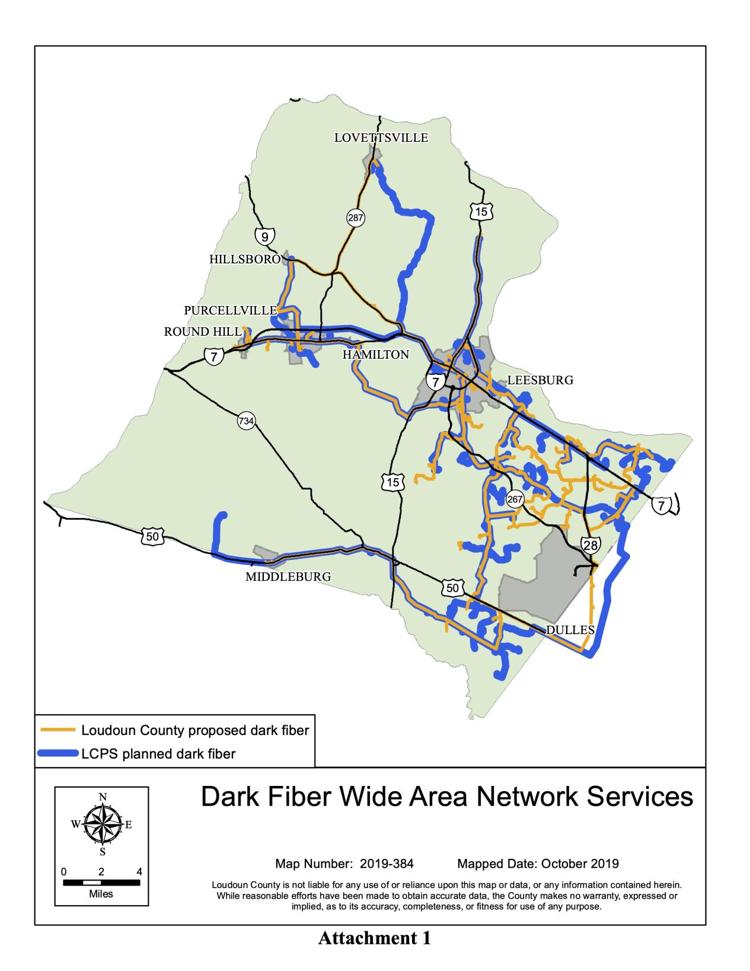 The plan was sparked after the Department of Information Technology and Columbia Telecommunications Corporation (CTC) identified potential areas of overlap between the Loudoun County Public Schools' proposed fiber expansion project, according to county officials. Lumos was the contractor hired by the School Board's finance committee in February. Shortly thereafter, county staff and Lumos developed a design to connect 110 facilities with dark fiber. Sixty of those buildings are county facilities, including 53 in western Loudoun. They include community centers, libraries, public safety offices and recreational facilities.
Expansion will run from all current county facilities except for five sites not covered by the Lumos contract awarded by LCPS.
Supervisors awarded a $15.5 million contract for dark fiber wide area network services, leveraging the Loudoun County Public Schools Contract, to Lumos from Dec. 1 of this year through March 31, 2029.
County Chairwoman Phyllis Randall (D-At Large) said broadband is a "necessity" for residents and businesses.
"Broadband has become a utility," Randall said. "It's no longer a luxury item. It is something that you have to have if you are going to be able live a healthy life."
While eastern Loudoun has seen numerous high-profile tech success over the years – from the Internet boom in the 1990s to the Ashburn-Dulles area now known as one of the most significant data center markets in the world – western Loudoun residents have struggled with insufficient Internet access since the web came into existence.
Supervisors in July directed staff to work through the fiscal 2021 budget process to identify funding needs for the deployment of such a network. The board's finance committee also considered another option – though not recommended – to construct a fiber-to-the-premises, or FTTP, network similar to one in the eastern part of Loudoun. That would cost about $130 million.
Supervisor Matt Letourneau (R-Dulles), who chairs the board's finance committee, said earlier this year he believes the idea of building a fiber network has brought on a lot of excitement.
"From the customer's standpoint and the provider's standpoint, I think there's interest in this as a way—with the county backing the effort—to provide a greater level of financial certainty for a private sector entity to enter into this type of agreement and provide better service," Letourneau said.
Western Loudoun resident Eusebio Cantone, who spoke with the Times-Mirror in September about the expansion project, started a Facebook group, "True Broadband For Western Loudoun," aimed at increasing awareness for reliable broadband.
Cantone said he'll continue monitoring the county's efforts to see how providers respond. As for where he thinks the fiber should be laid to start the project, he said wherever it will do the most good.
"I think they need to see what's the best return on that investment, who can it impact, what is the largest number of people that it can impact the fastest. That is where they should go," Cantone said. "Whoever it can help and impact the most, that's where it should go."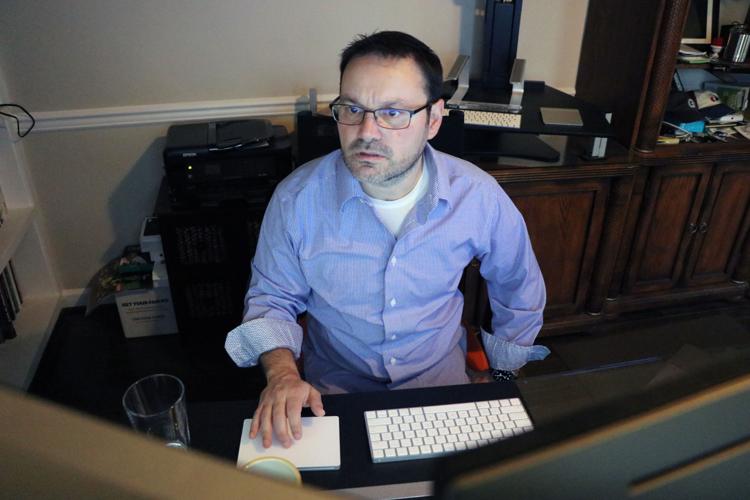 ________
Related: After two decades of resident complaints, Loudoun considering rural Broadband investment