Those who are interested in starting a Christmas tree farming business first ought to know they would have to be in it for the long haul, something Ricky Hoybach, CEO of Leesburg's Country Loving Christmas Tree Farm, knows all too well.
When Hoybach — who also owns landscaping, holiday lighting and snow-plowing company American Lawn Brothers — found himself in possession of nearly 50 acres of land in the 1990s, a friend suggested he use a chunk of that land to grow Christmas trees.
"He said that just that year, two or three farms had become subdivisions, and so they're going to have more customers and less competition," Hoybach told Loudouner.
Though he first began laying the foundations for Country Loving in 1999, the farm was not able to open for business until more than a decade later in November 2011. According to Hoybach, those first years were spent "just growing trees," an extremely gradual and incremental process.
"You can't plant everything all at once — you have to plant one-tenth the first year, the second tenth [the next], so you have a sustainable crop year after year," he said. "It wasn't until year 11 that we started buying sales equipment like netters and twine and the balers and the mechanical shaker — all that kind of stuff."
Hoybach relied on the income from American Lawn Brothers to sustain himself and his family through what he called Country Loving's "10 years of guaranteed loss." He estimated his farm took a total of 20 years to break even, meaning the investment did not end up paying dividends until about a year ago.
"You also have all the real-estate tax for 10 years piling up, then you're buying trees every year for 10 years without any income, without even opening the gates," he said. "It's not a get-rich business model at all, and that's why a lot of the farmers are just going under. The developers keep knocking and raising the prices of the land."
Roughly 20 miles northwest in Round Hill, Steven Wolff runs Snickers Gap Christmas Tree Farm, an operation his late father, Roger, began about 40 years ago. While Wolff himself did not have to shoulder the financial stress of the farm's early days, he still acknowledges how risky of an investment it was on his father's part.
"My dad had a vision that was, back then, pretty crazy," he said. "[He] died 14 or 15 years ago, and nobody really wanted to do it, so my wife and I kind of stepped in on what we thought was a temporary basis, but we've been doing it since."
Wolff is not western Loudoun's only Christmas tree salesman who inherited his business. Purcellville's Lou Nichols — who, incidentally, was the friend who suggested Hoybach start selling Christmas trees more than two decades ago — has been selling trees since he left college in the 1970s.
"I've been doing this longer than anyone else left alive," joked Nichols, president of Loudoun Nursery Inc. and former Loudoun County agricultural development officer. Though his business at one point had three different locations, he now sells trees solely from his 40-acre farm in Purcellville, on which property he also lives.
The roughly decade-long process of growing Christmas trees to sellable maturity involves year-round work for Hoybach, Wolff and Nichols, the least of which is buying the seedlings for each year's new crop. Hoybach often purchases these at trade shows, such as the Mid-Atlantic Nursery Trade Show in Baltimore, where growers of Fraser firs and other popular types of Christmas trees showcase their best stock.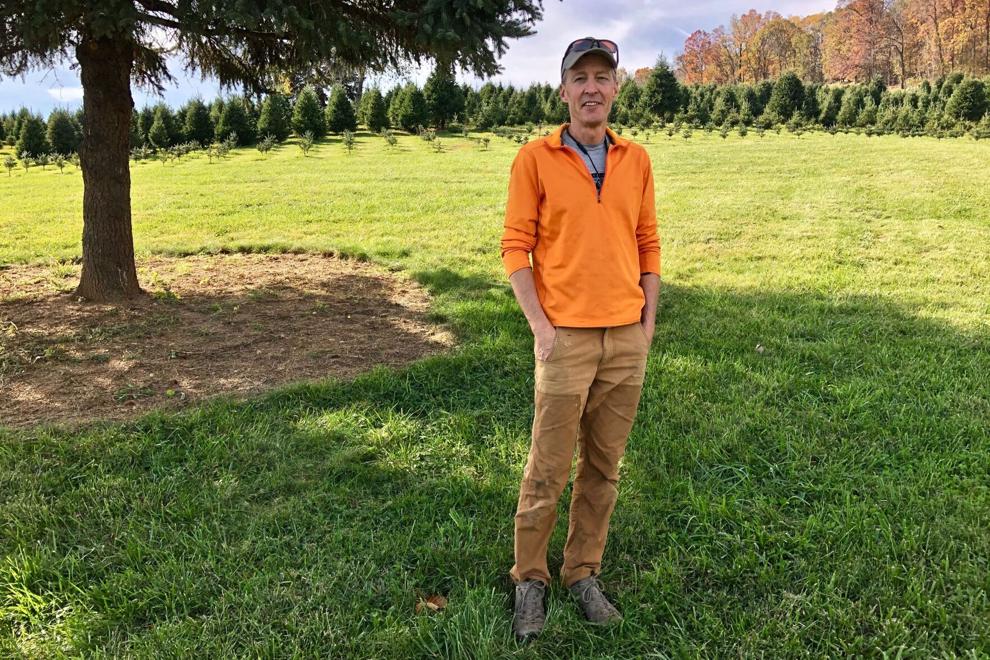 "I would buy seedlings in January and have them shipped in March, then I would plant seedlings at the very end of March when the ground thawed out," Hoybach said. "But you have to order by, like, the 10th of January, because by then most of them are sold out of trees for the year."
Once seedlings are planted, the farmers essentially pamper them for the next decade, mowing the surrounding grass, spraying herbicide and taking other measures to make sure each seedling gets the appropriate sunlight and nutrients to maximize growth. This usually is a one- or two-person operation, though it requires year-round attention.
"Occasionally, I can shanghai some of my children to come help," Nichols joked. "But [my associate and I] can usually handle it pretty well."
When trees are finally ripe for purchase, each farm employs various numbers of workers to help with sales, which are usually concentrated to the two or so weeks after Thanksgiving. It's that short window of time upon which Christmas tree farmers rely to recoup the heavy, long-term expenses of starting their operations in the first place — Hoybach estimated roughly 80 percent of his sales are made by Dec. 6.
"If [customers] are cutting down a tree, they want you to come by Black Friday, that weekend, or the first weekend of December," he said. "After that point, you're looking at Charlie Brown trees."
When talking about the typical day of business, he said, "It's a long, physical day. You're cold, tired and sore by 5 o'clock."
Wolff aims to employ roughly 30 people during the busiest weeks of each year. Not only do these workers help with tree sales; they also sell various bits of merchandise, including wreaths and hats, as well as food items such as hot pretzels, hot dogs, candy, hot chocolate, honey, caramels and apple cider — the latter of which Wolff said he sells about 250 gallons each year.
Even after decades of income from trees and other supplemental goods, however, Christmas tree farms seldom turn sizeable profits.
"I can't say we really make any money at this, but we have a good time doing it, and it pays the tractor repair bills, basically, and that's about all you can ask for these days," Nichols said. "My accountant tells me every year, 'Well, you almost broke even this year,' and I say, 'Thank you, that's great.' If I almost broke even, that means I paid my bills."
Still, Loudoun's tree farmers take great pride in their work for a number of reasons: For Hoybach, it's the boon tree-planting gives to the local environment and air quality; for Wolff, it's knowing his operations result in a satisfying experience for his customers, who are often quite forward in telling him so.
As for Nichols, his work selling Christmas trees over nearly half a century has forged a generation-spanning connection with his community.
"We have customers who have come back for 20 or 30 years. We see them once a year, and we see the kids grow from little kids to mature adults with their own children. We have a long-term relationship with our customers, and that's very rewarding," he said.
He concluded with one last joke: "I just enjoy dealing with the trees — they don't talk back to me."