Loudoun County's top health official on Wednesday said that he recommended to Loudoun County Public Schools officials that students, teachers and staff all wear masks indoors regardless of vaccination status when schools open in August.
The news comes a day after the Centers for Disease Control and Prevention reversed their guidance regarding when masks should be worn and by whom. Masks, they said, should be worn in public indoor settings in areas of substantial or high transmission — regardless of vaccination status — due to the rise in coronavirus cases.
"We are currently reviewing the updated CDC guidance, as is the Virginia Department of Health, and should have a better understanding of how this may impact our mask recommendations [in Loudoun County] by the end of this week," Dr. David Goodfriend, health director for Loudoun County, said in an email to the Times-Mirror.
On Wednesday morning, amid an uptick in new cases, Goodfriend said the county did not meet the CDC's definition of being considered an area of substantial or high transmission, which would trigger the recommendation for indoor mask use for everyone in public spaces.
However, by the afternoon the CDC's transmission tracker revealed that Loudoun's transmission level moved from moderate to substantial, which marks the level that the health agency recommends even vaccinated individuals again wear masks while in public indoor settings.
Goodfriend, who was asked about the CDC's updated transmission rating by the Times-Mirror Wednesday afternoon, said his office has already contacted VDH seeking guidance regarding the upward trend in new cases. He said he planned to follow up on the request following the updated rating.
"We know and agree with the CDC guidance, but are looking forward to seeing what Virginia's recommendations are going to be," Goodfriend said.
"Regardless of whether you're moderate, substantial, or high transmission, masks are one additional mitigation strategy that adds value of protection," he said. The CDC's recommendation follows an increase of coronavirus cases across the globe due to the spread of the delta variant which has an increased transmissibility over the original strain.
Loudoun County is averaging about 30 cases per day, up from about four cases per day in June, according to a July 26 release.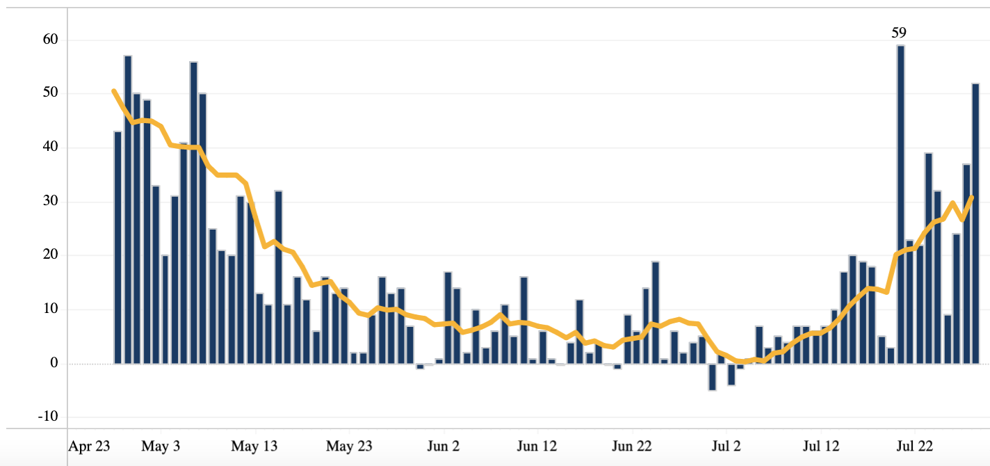 Health officials have also noted that among Loudoun residents who are vaccinated, the most likely risk factor for COVID-19 infection is another infected member of their household who is unvaccinated.
At the same time, Loudoun's positivity rate has increased from less than 1% to over 3% over the past few weeks. The vast majority of newly infected people are unvaccinated and include individuals in all age groups, officials said.
"The number of cases is clearly headed in the wrong direction," Goodfriend said.
"While we have made great progress in vaccinating our residents, the only way we will bring the pandemic to an end is for everyone who is eligible for the vaccine to get vaccinated as soon as possible," he said.
The Health Department recommended that everyone age 12 years and older get a COVID-19 vaccine as soon as possible. The vaccines are free for everyone and widely available from many health care providers throughout Loudoun County.
As for the universal masking for all K-12 students and staff recommendation, Goodfriend said the guidance is consistent with the recommendations by the CDC, and the Virginia Department of Health and Virginia Department of Education issued last week.
The county health director said VDH and DOE have called for universal indoor masking in elementary schools and indoor masking of unvaccinated students in middle and high schools under the condition that the school had a system to be able to consistently and accurately monitor the vaccination status of students, teachers and staff.
Goodfriend said he believes any guidance requiring such a monitoring system would pose a challenge for the school system.
"My understanding is that it would [be] a significant challenge to have a system in place that could do this while maintaining confidentiality, particularly as secondary school students change teachers with each block," Goodfriend said.
"So, effectively the recommendation is for universal masking indoors for all grades; that was our recommendation to our public and private schools," he said.
Health officials strongly encourage anyone who is not yet fully vaccinated to continue wearing a mask in all public settings and to continue social distancing to protect yourself and others in the community.
Anyone who is sick for any reason should stay home and get tested for COVID-19 if they exhibit symptoms or may have come in contact with a person who has COVID-19, according to health officials Learn more about how to protect yourself and others on the CDC's website.
Anyone with questions about the COVID-19 vaccine may call 703-737-8300 or send an email to health@loudoun.gov.
Goodfriend said his staff hopes to have a new site for its COVID-19 vaccination clinic identified by mid-August as the demand for doses has dropped and the county's contract at the former Nordstrom store at Dulles Town Center is set to expire in September.
He previously told the Times-Mirror that the next facility will be county owned or already available for the county to use.