Leesburg resident Susan Kestner signed up her 90-year-old mother, two sons and herself immediately after they became eligible for the COVID-19 vaccination last month.
Kestner said taking the vaccination is important because all four have an increased risk for severe illness from the virus.
But similar to the estimated 60,000 people waiting in Loudoun County — those who have signed up — Kestner is frustrated and wants answers.
"You don't get emailed your number on the list. You don't get emailed an estimate of when you might get to the front of the line. You get just nothing and it's been weeks now," Kestner said.
Two weeks after the initial rollout of the vaccinations in Loudoun County, excitement grew when the county opened the vaccine process to people in Phase 1b, including those people 65 years and older and aged 16 through 64 with a high-risk medical condition or disability that increases their risk of severe illness from COVID-19.
Loudoun set up a process to accept phone calls and pre-screening surveys, but the plan cracked. Due to the significant number of requests, conflicting logistical systems and lack of space, patients and their family members helping from a distance were left frustrated.
Limited vaccine doses remained the root of the problem.
Dr. David Goodfriend, director for the Loudoun County Health Department, said Loudoun has quickly expanded its vaccination capacity. One challenge, he said, was combating the "initial incorrect narrative" that there was a slow county response. Instead, he said, the allocation and limited supply of vaccine has always been the limiting factor.
Goodfriend was questioned on Jan. 19 by the Board of Supervisors regarding the county's vaccination response. The lack of communication was the chief concern as county staff juggled the increasing number of surveys and requests.
Staff said the number of requested appointments for the first dose exceeded the 4,800 doses received per week, and the county is still receiving appointment requests for Phase 1a and 1b priority groups. Goodfriend said the public affairs office has taken over the health department's call center, taking an average of 500 calls a day.
Loudoun residents are also urged to check their email spam folders for messages from the county, and local leaders are calling for patience.
Goodfriend said between 40,000 and 50,000 email and text messages were sent to county residents on Jan. 19.
Approximately 60,000 people had completed the county's requested pre-screening survey required by Loudoun as of Feb. 2.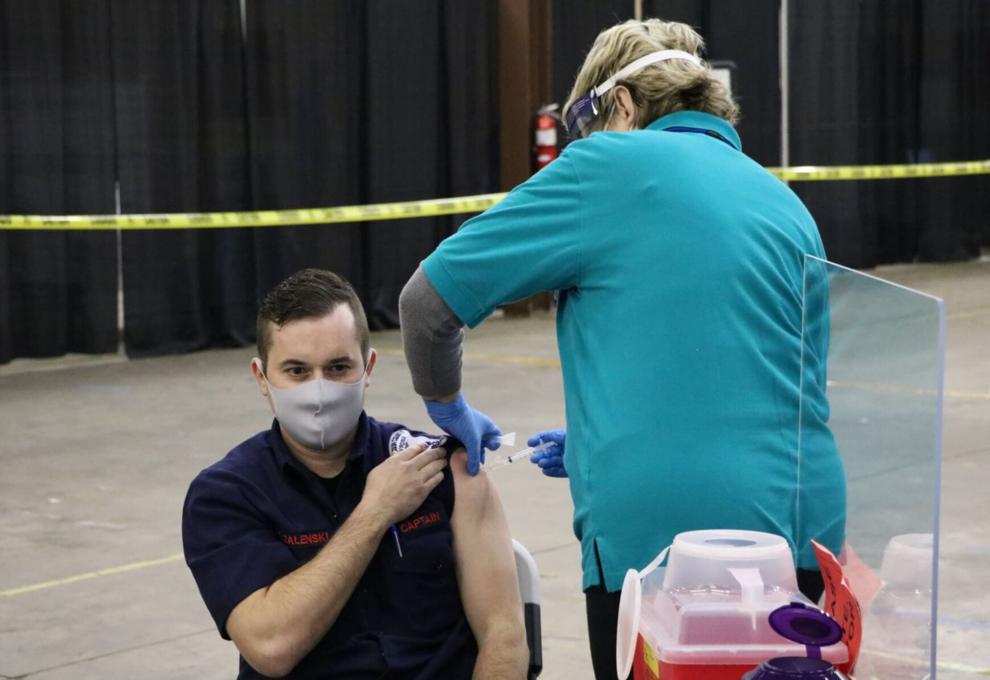 "A lot of people again [are] just very frustrated at the slow pace of vaccination, and all I can say is we're trying our best," Goodfriend said. "When we get vaccine, it is in people's arms within the week, and that's our goal — and we've been able to maintain that — and as we get more vaccine, we'll get it out to people that much quicker."
The commonwealth has directed health districts to have available 50 percent of its available supply for people ages 65 and older. The other 50 percent of doses should be used for health care workers, front-line essential workers in Phase 1b, people with high-risk conditions as identified by the CDC and people in correctional facilities, homeless shelters and migrant labor camps.
The Loudoun County Health Department is scheduling appointments for members of the 1b front-line essential worker group in the following order: police, fire and hazmat workers; corrections and homeless shelter workers; childcare/K-12 teachers/staff; food and agriculture workers; manufacturing workers; grocery store workers; public transit workers; mail carriers (USPS and private); and officials needed to maintain continuity of government.
"I think the state really needs to look at, let's get our high-risk individuals vaccinated," Supervisor Mike Turner (D-Ashburn) said, questioning the commonwealth's prioritization list.
Loudoun had administered 32,055 doses and fully vaccinated 4,827 people as of Feb. 2, according to the Virginia Department of Health. The total number of vaccinated people includes doses administered by the health department, hospitals and CVS and Walgreens to long-term care facilities.
Loudoun is actively finding ways of accelerating vaccination efforts, including partnering with private pharmacies. The county will soon be operating a larger vaccination point of dispensing, or POD, at the former Nordstrom store at the Dulles Town Center. The site is located just east of Route 28 and south of Route 7.
Goodfriend said the county moved "expeditiously" to identify and sign a lease for the private site. He added it was a top priority for the county.
The lease is estimated to be between $2 million and $2.2 million plus operating expenses during an eight-month period.
The POD will serve as the county's second location offering "ideal access to all and is capable of expanding to meet the vaccination demand of Loudoun County," a county staff report said.
Additionally, staff said the site can house numerous operations, including multiple vaccination pods, materials and vaccines, thereby minimizing the logistical delays currently being experienced.
The new POD is an upgrade compared to the first location in Sterling. Staff said while the current location was ideal for initial start-up, it provides limitations to access for the full spectrum of the population.
The Dulles Town Center location expects to administer three times as many vaccines per week pending a reliable vaccine supply that could come soon.
President Joe Biden (D) has announced that the federal government will increase the overall weekly vaccination distribution to states by 1.4 million doses, from 8.6 million to a minimum of 10 million. States will also receive a reliable three-week forecast on the supply of vaccine doses to assist localities in planning and scheduling vaccine appointments, per the federal government.
Simultaneously, Virginia Gov. Ralph Northam (D) said his emergency support team is working to double the average number of doses per day from 14,000 to 25,000. Northam's goal is to have Virginians vaccinated by the summer, which will require 50,000 doses per day.
Additionally, the support team has been directed to pull vaccine doses waiting on shelves for second shots to administer to people who need the first shot.
Virginia was ranked 48th in the U.S. in terms of vaccines administered in January, according to Becker's Hospital Review, but had improved in February to 15th.
Earlier this week, Loudoun was awarded a $1 million grant from the Federal Emergency Management Agency (FEMA) to support the vaccine distribution and administration. As part of the federal government's efforts to accelerate COVID vaccination operations, FEMA is providing financial assistance and federal supplies and staff to states, tribes and territories to help get more Americans vaccinated, according to congressional officials.
The federal assistance will help Loudoun provide equipment and supplies for vaccine administration as well as other materials needed for vaccine storage, handling and distribution.
Under executive orders recently signed by Biden, states and localities are eligible to receive funding to aid their COVID response efforts in advance rather than as reimbursements at a 100 percent federal cost share.
Congresswoman Jennifer Wexton (D-Va.-10th), Loudoun County's representative, welcomed the news that the grant will go to the newly formed vaccination POD. She backed the COVID-19 relief bill that included $29 million for vaccine procurement and distribution.
Wexton said she is working to advance another rescue package through Congress.
"I'm so pleased that Loudoun County is receiving federal funding to get more shots into the arms of residents and bolster our community's vaccination efforts," the congresswoman said in a prepared statement. "Making vaccines more available and accessible to Americans is one of our most important tools to ending the COVID-19 pandemic. Federal support is essential to distribute vaccines in the most efficient, equitable and expedited way possible."
As previously reported, Loudoun County Public Schools started vaccinating its 11,000 employees on Jan. 14 after establishing a vaccination site at a school in central Loudoun. The school system trained LCPS nurses to administer the COVID-19 vaccine. As of earlier this week, 8,737 LCPS employees had received their first vaccination.
Goodfriend said the county is looking at places in western Loudoun to establish vaccination sites. Staff said it's a challenge to balance the value in providing equal geographic access with the need to maximize efficiency and minimize waste. Once a vaccine vial is opened, all 10 doses must be used within six hours or the unused portion is thrown away.
Goodfriend added the health department is committed to vaccinating staff in private schools — in addition to LCPS — and to bringing people in home schools and childcare into the county's main POD.
As of Feb. 2, Loudoun had seen 20,618 total COVID-19 cases, 183 deaths and a percent positivity rate of 11.6 percent, well above the goal of 5 percent. The Virginia Department of Health had reported 510,380 total cases statewide and 6,517 deaths.
State health officials also acknowledged last week that the first case of a new variant of COVID-19 has been identified in the commonwealth.The variant was determined from a sample from an adult in northern Virginia with no reported recent travel history. The B.1.1.7 variant, which first emerged in the United Kingdom late last year, is associated with increased person-to-person transmission of COVID-19.
Goodfriend said the threats of new variants are concerning, but the vaccine is the answer.
"It's going to take us a while to get to the point where we're immune to these new variants ... while we can't say for sure that the variants are here or not in Loudoun County — just like last March, we couldn't say for sure we were having local transmission of COVID — the expectation is that it's here," he said.