For years, Loudoun residents and county officials have labored to land a professional sports franchise.
That dream has come true – and then some – with a partnership with Major League Soccer's D.C. United.
On Friday, after more than a year in planning, the partners will hit another milestone with the Leesburg home opener for Loudoun United FC, D.C. United's minor league squad.
"I look at this stadium behind me and I think about all the incredible events that are going to take place here – not just soccer games, but community events and concerts, hopefully high school championships and graduations – this is going to be a place where our community remembers for generations to come where life events happened and that's such a special place to have here in Loudoun County," said D.C. United CEO and Co-Chair Jason Levien.
Loudoun United, a direct second-division affiliate of the MLS club, opens up against the visiting Charlotte Independence.
Bringing a professional sports team to Loudoun hasn't been easy. In a way, it all started in New York in May 2015, when county and team officials met to discuss the possibility of bringing D.C. United's stadium to Loudoun.
Loudoun County was high on D.C. United's list, according to Dulles Supervisor Matthew Letourneau (R). Loudoun County Economic Development Executive Director Buddy Rizer was also in on the meeting.
The D.C. United dream was derailed when the MLS team settled on an agreement with District of Columbia officials to build a new stadium at Buzzard Point in the southwest section of the District. Audi Field opened there in 2018.
"They were in negotiation and a lot further along in that discussion with D.C. than they were with us, of course, but the purpose of us reaching out and inserting ourselves into that wasn't necessarily for Audi Field—it was for a future opportunity like this," Letourneau said.
The Dulles supervisor said both parties stayed in touch with one another, eventually leading to another meeting in New York in May 2017.
After months of research and dialogue, D.C. United and Loudoun County officials devised the plan to bring a minor league stadium and training facility to the county.
"These things take time, and relationships are key. So, just because we didn't get what we started down the road on, we stayed engaged and continued to work on things and look at opportunities, and I think to me that is something I'm very proud of," Rizer said.
Letourneau, who chairs the Board of Supervisors' finance committee, said it was his job to sell the county, and he credited the local economic climate, the business community and soccer enthusiasts –specifically more than 10,000 youth soccer players with the organization Loudoun Soccer – in helping to make Loudoun United a reality.
"We've been trying to attract a major league organization for a long time in Loudoun," Letourneau said at the stadium's ribbon cutting earlier this month. "This has been a goal of ours for a long time, but we have found an ideal partner with D.C. United, with Jason and Loudoun United."
Formerly known as USL Pro, the USL is a professional men's soccer league in the U.S. and Canada that launched in 2011. The league has grown to 40 teams.
In January 2018, the Loudoun County Board of Supervisors entered a lease agreement with D.C. Sports Facilities Entertainment LLC for the stadium property at Philip A. Bolen Memorial Park in Leesburg, adjacent to Leesburg Executive Airport.
The complex includes 5,000 seats, a 500-space parking lot, a 40,000-square-foot indoor training facility and four full-size soccer fields. Two soccer fields will be used by D.C. United and the USL Team, while the other two will be for county use.
As part of the agreement, the county is paying $15 million for construction of the facility and will be reimbursed by D.C. and Loudoun United.
Two notable players for Loudoun United are local high school grads Collin Verfurth from Briar Woods and Calle Brown from Loudoun County.
Verfurth appeared in 70 matches for Virginia Tech during his four-year career. An all-state player at Briar Woods, he set the Falcons' single-season record with 18 goals in 2013.
Brown played varsity soccer at Loudoun County High School before going on to play at the University of Virginia. He earned Most Valuable Defensive Player honors at the 2014 College Cup after leading the Cavaliers to the NCAA Division I championship.
Loudoun United has played five "home games" at Audi Field in Washington, and the squad recorded its first win, 3-1, over the New York Red Bulls II on April 20.
On the business side, The National Conference Center in Lansdowne agreed in March to Loudoun United's official hospitality and jersey sponsor.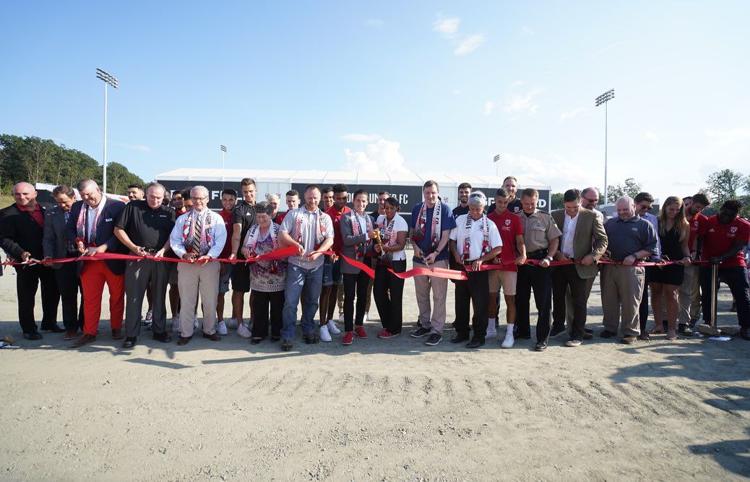 Segra Field, named after the technology and communications company, was unveiled as the stadium naming partner last month.
"This is just the latest addition to what makes Loudoun such a great place to live," said Supervisor Geary Higgins (R), who represents the Catoctin District, which includes the stadium property.
With a current record of 5-9-4, Loudoun United has 16 home matches remaining, including 12 home games.
"It's all just a really great narrative of what it means to build from the ground up," said Loudoun United Chief Operating Officer Adam Behnke. "[To] get something like this – that can be a community staple – off the ground in a matter of a year or so … it's pretty remarkable."