The Loudoun County Sheriff's Office's daily incident report documents a wide array of crimes and suspicious incidents around the county, divided into four sections based on general location.
But starting in December 2020, the report adopted a fifth, countywide section dedicated to a particular type of crime: scams and fraud.
The Sheriff's Office added the scams section after the county began to experience an uptick in phone- and internet-based scams. Kraig Troxell, the agency's director of media relations and communications, said providing numbers on how many reported scams occur in Loudoun at a given time is difficult, since such cases fall into multiple categories of crimes.
However, the nation as a whole has been more heavily targeted by scammers during the COVID-19 health crisis. The Federal Trade Commission reported in February that consumers lost more than $3.3 billion to fraud in 2020, nearly double the amount lost in 2019.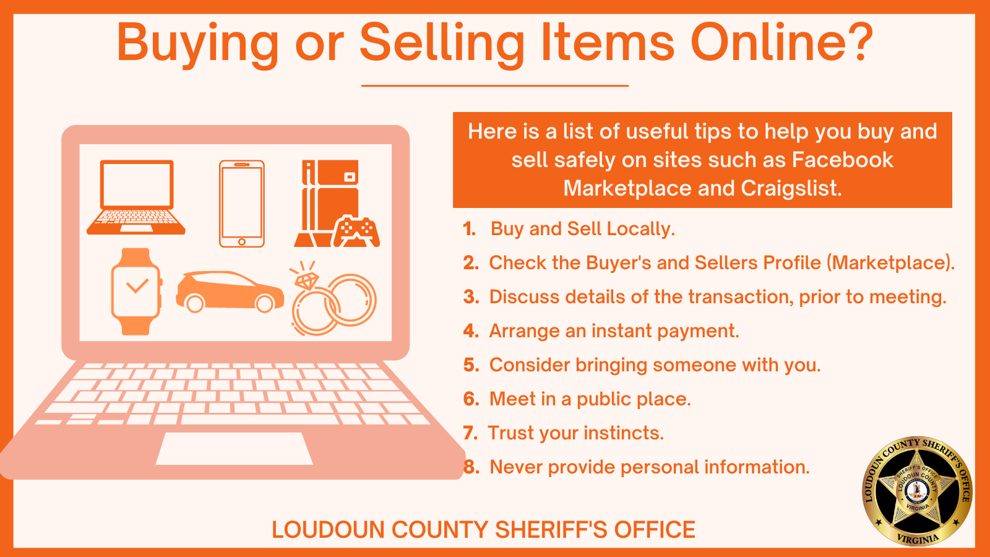 Further, the FBI's Internet Crime Complaint Center (IC3) received 791,790 complaints of web-based scams in 2020, a 69 percent increase over 2019.
"Because of COVID, folks are at home, right? So the best way to reach them is via the internet or the telephone," Sgt. Matt Moats, who oversees the LCSO's financial crimes division, told the Times-Mirror.
Moats hypothesized that the alarmingly high number of Loudouners being targeted for fraud is attributable to the county's large population and considerable wealth. Loudoun, a county of nearly 430,000 has a median household income of $142,999 as of 2019 — the highest of any U.S. county, according to Forbes.
"If I'm trying to trick human beings, I want to try to get the largest swath of them possible, because they're not all going to fall for it," Moats said. "And we're a business community; there's a lot of industry here, so those are all factors."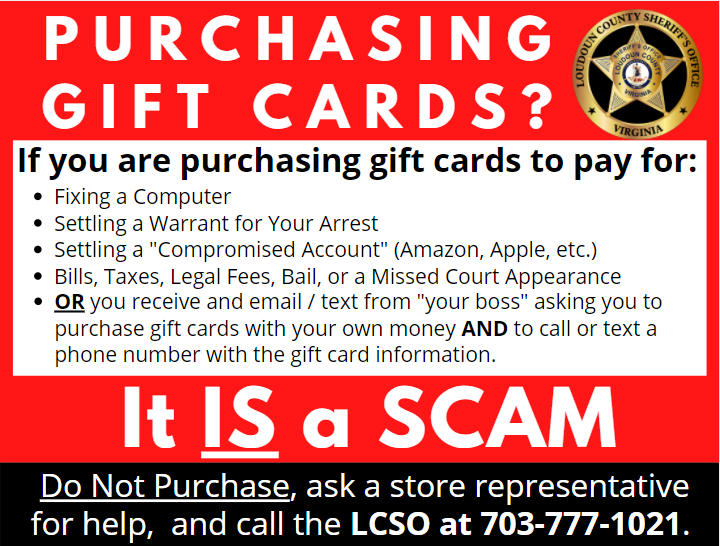 The means by which scammers have elicited personal information and cash from Loudoun residents include masquerading over the phone as law enforcement. Scammers employing this tactic will order victims to transfer money via gift card or money order in order to avoid being arrested for a fabricated violation.
Other incidents have involved criminals posing as tech support workers, web retail employees and online dating site users. Recently, Moats said an increasing number of scammers have taken an even more creative — albeit deceitful — approach: falsely selling pets.
In such incidents, scammers will advertise nonexistent pets on classified advertisement websites. When a victim shows interest in purchasing an animal, the scammer will ask for a down payment for the pet, as well as funds to cover a shipping crate, insurance or other factors.
"You pay any number of dollars and then you go to the airport to pick up your pet, and it's not there," Moats said. "We did have an upswing in those types of schemes and frauds over the past year, for sure."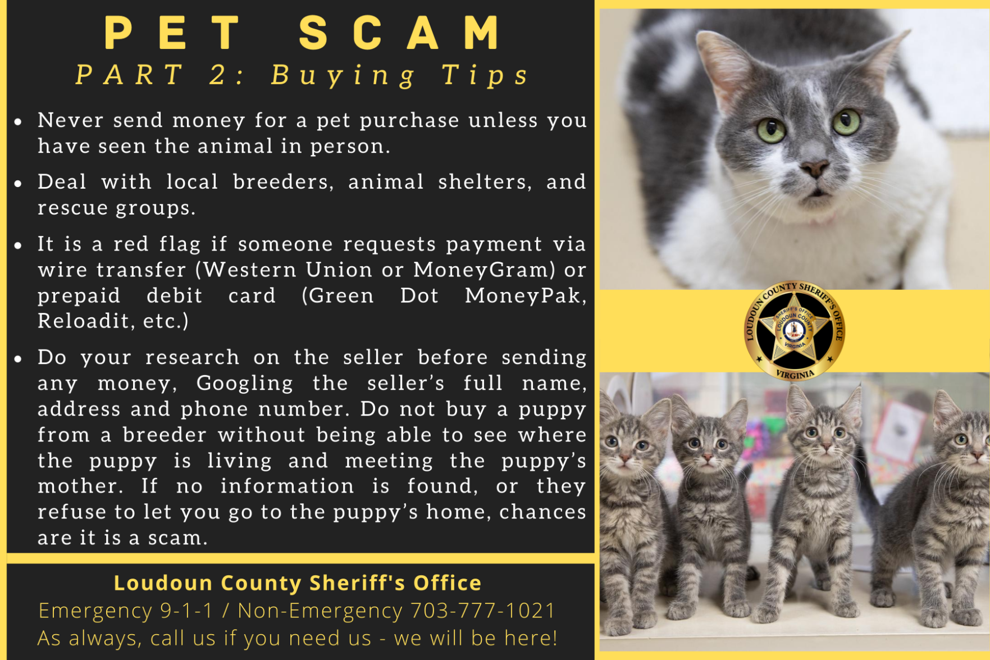 Tracking down perpetrators is often a complicated process in which law enforcement analyzes IP addresses, gift card numbers, bank accounts, cryptocurrency or other bits of data. Simply tracking a phone number in a phone-based incident is insufficient, as scammers often manage to display numbers that actually belong to the company or agency of which they claim to be a part.
Troxell said the key to not falling prey to such a scam is to seek person-to-person verification by hanging up and calling a number actually belonging to the organization a caller claims to belong to. Finding such a number can be as easy as a simple web browser search.
"Call the number that you know. Verify whether it's Dominion Electric or the Loudoun County Sheriff's Office or whatever agency they're claiming to be," Troxell said.
He added that a phone- or web-based scam is "a marketing scheme with a sense of urgency, and if you can overcome that urgency and anxiousness in your mind, take a pause and hang up the phone."
To promote awareness of and prevent these scams, the LCSO has conducted persistent community outreach, including presentations at local senior centers, senior living facilities and homeowners' associations.
"Any community, organization or group that's interested in one of our presentations, such as fraud, scams — they can contact us directly and we can schedule it on our calendar," said Dept. First Class John Miller of the LCSO's crime prevention unit.