Six more Loudoun County residents have died as a result of COVID-19, state health officials reported on Thursday, bringing the county's total number of the coronavirus-related deaths to 44.
The age breakdown of the deceased is as follows: 33 have been 80 years old or older, seven have been between the ages of 70 and 79, three have been between the ages of 60 and 69, and one between 50 and 59.
Loudoun County's confirmed COVID-19 cases stand at 1,339 on Thursday, according to the latest figures reported by the state. The case count increased by 56 from Wednesday's reporting and is up 269 from May 8 figures. 131 people in Loudoun have been hospitalized.
Statewide, the number of cases on Thursday jumped by 1,067 to 27,813 cases. 3,592 hospitalizations have occurred, and 165,486 people have been tested.
Virginia residents can search case and testing information by ZIP code through the county's website.
In Loudoun, an effort is being made to open up part of the county by three county supervisors. A "reopen march" is also scheduled for Friday from 9 a.m. to 12 p.m. in Leesburg.
The Loudoun County School Board during its Tuesday meeting voted to provide individual learning devices for kindergarten through second-grade students if distance learning continues next fall.
As a result of the pandemic, the Loudoun County Board of Supervisors will soon consider revising its lease agreement with DC Sports Entertainment Facilities, LLC for the Bolen Park Stadium and Training Center, home to minor league soccer team Loudoun United.
Outside of Loudoun, black lawmakers in Virginia oppose Gov. Ralph Northam's (D) plans to begin reopening most of the state on Friday. Lawmakers said the state does not have the proper testing capacity and infrastructure for a safe opening and that many workers who are minorities will be placed at unfair risk.
"Throughout our country's history, black and brown people have been experimented on and used as unwilling test subjects before — we cannot allow that to be repeated here," the letter from the Virginia Legislative Black Caucus said.
On Tuesday, Lt. Gov. Justin Fairfax (D) proposed creating a statewide COVID-19 Racial Disparities Task Force focused on taking action to aggressively addressing and finding a remedy for the increasing coronavirus cases among African-American and LatinX communities.
More information about the coronavirus and how to prevent its spread can be found at CDC.gov/Coronavirus and Loudoun.gov/coronavirus.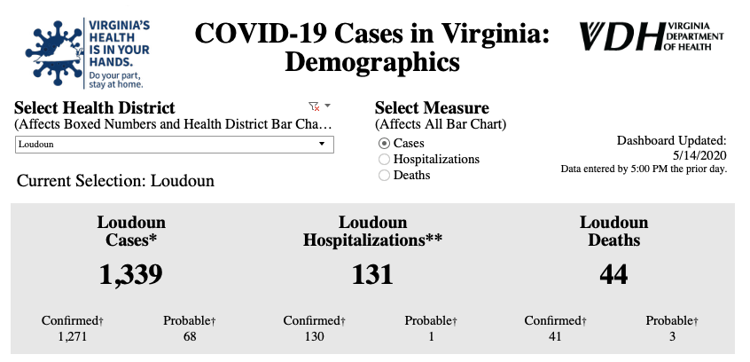 _______________
Related coverage:
-"Q&A: Goodfriend, Hubbard detail the state of COVID-19 in Loudoun"
-"As coronavirus cases continue to rise, Loudoun doctors concerned people are avoiding care for other health problems"
-"A Leesburg COVID-19 survivor shares her story"
-"Why Loudoun County isn't releasing more specific location date, other details on COVID-19 cases"
-"Helpful links for job-seekers, businesses during the coronavirus pandemic"