Loudoun County's COVID-19 case count on Sunday stands at 2,575, according to the Virginia Department of Health, a 46-case increase from Saturday and a 146-case jump from Friday's reporting.
No new deaths have been reported thus far this weekend, leaving the county's coronavirus-related death toll at 62. Loudoun has seen 162 hospitalizations related to COVID-19. 
The age breakdown of the deceased is as follows: 48 have been 80 years old or older, 10 have been between the ages of 70 and 79, three have been between the ages of 60 and 69 and one was between the ages of 50 and 59. One hundred fifty-nine people in Loudoun have been hospitalized.
Loudoun County's current 7-day average for percent positivity in testing has fallen to 13.8 percent.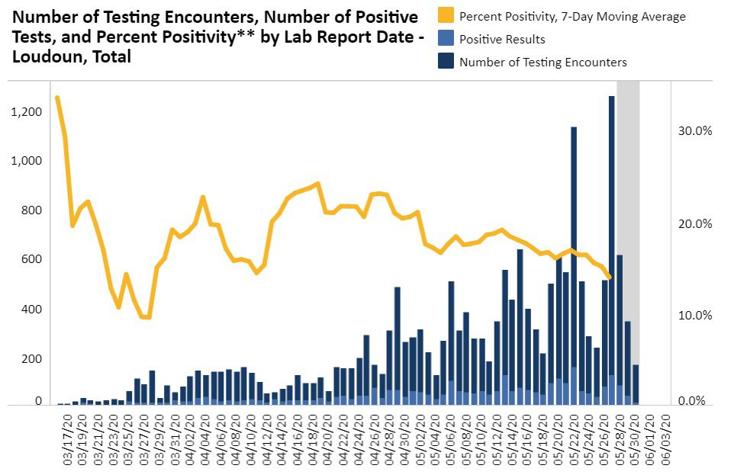 Statewide, 44,607 COVID-19 cases have been confirmed, a 996-case increase from Saturday's reporting. Virginia has seen 1,375 deaths related to COVID-19 and 4,643 hospitalizations.
Gov. Ralph Northam on Thursday said the commonwealth was at least a week away from entering the second phase of reopening guidelines.
Loudoun County and northern Virginia as a whole entered the first phase on Friday.
With crowded protests and vigils over the killing of George Floyd taking place across the nation, some politicians and experts are worried a new round of COVID-19 outbreaks will sprout up.
More information about the coronavirus and how to prevent its spread can be found at CDC.gov/Coronavirus and Loudoun.gov/coronavirus.
 ____________
Related coverage:
-"Latest e-edition of the Loudoun Times-Mirror"
-"Loudoun County to hold second round of COVID-19 testing"
-"Helpful links for job-seekers, businesses during the coronavirus pandemic"
-"As coronavirus cases continue to rise, Loudoun doctors concerned people are avoiding care for other health problems"
-"Q&A: Goodfriend, Hubbard detail the state of COVID-19 in Loudoun"