At a roundtable discussion in Leesburg Tuesday, veterans urged Democratic nominee for governor Terry McAuliffe to support former service members in the areas of employment, education, tax relief and aiding spouses of veterans.
Campaign officials also announced that several veterans endorsed McAuliffe for governor.
"I am honored and humbled to have the support of so many veterans who have dedicated their lives to protecting our country and this commonwealth," McAuliffe said in a prepared statement.
"The empowerment and quality of life for veterans and their families is personal to me as the proud son of U.S. Army Captain Jack McAuliffe and proud father of U.S. Marine Captain Jack McAuliffe," he said.
On Tuesday, the gubernatorial candidate met with local leaders and veterans in Leesburg and Purcellville to share his plans and hear from voters.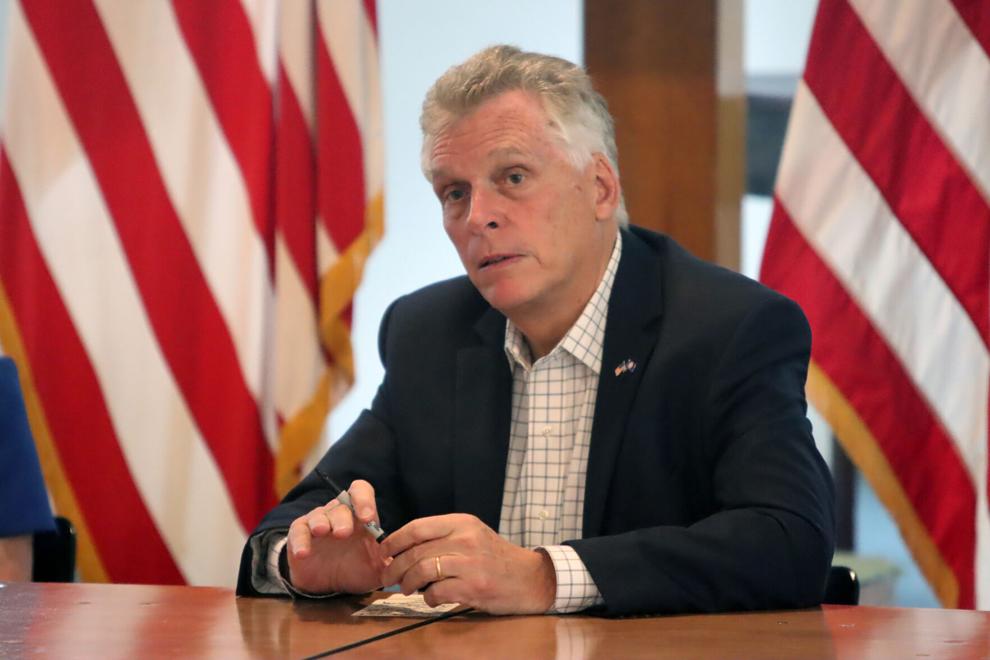 More than a dozen veterans met with McAuliffe at the VFW Post 1177 in Leesburg for the roundtable discussion. Others met the candidate at a veteran's home in Purcellville to hear about efforts being made to house veterans in need.
Addressing McAuliffe, Leesburg Vice Mayor Fernando "Marty" Martinez raised the issue of access to health care.
"The last thing we [should] have to worry about is health care, and paying the bills," he said.
"We need to be a little more generous," he said. "Our veterans are going through a lot and those that have come back from overseas [are] dealing with a lot of issues that some people call 'not real' but there are a lot of stressed [service] members coming from war zones and mental health is another issue we need to really deal with."
"So, what I would love to see is the state of Virginia be very progressive protecting our veterans, not just while they're in there, but when they come back," Martinez said.
On Tuesday, McAuliffe's campaign officials announced that the former governor has received the endorsement of more than 150 veterans and military family members from across Virginia, citing his record of support for veterans and military families.
Sen. John Bell (D-13th) and Del. David Reid (D-32nd) were among those to endorse McAuliffe. Also in attendance were members of the Leesburg Town Council and Loudoun County Board of Supervisors, including Supervisors Kristen Umstattd (D-Leesburg), Mike Turner (D-Ashburn) and Leesburg Mayor Kelly Burk.
"As a Navy veteran and the chair of the Virginia Military and Veterans Caucus, I have been incredibly proud to endorse and support Terry McAuliffe for governor," Reid said. "Terry did incredible work as Virginia's 72nd Governor to improve the health and welfare of our veterans."
"Terry has worked tirelessly to support Virginia's veterans and under Terry's leadership, Virginia will continue to strengthen and champion our service members, our veterans, and their families," he said.
McAuliffe also touted his record of prioritizing veterans' needs, fighting veteran homelessness, building new care centers for veterans and launching Cyber Vets Virginia.
During McAuliffe's term as governor from 2014 through 2017, Virginia became the first state in the nation to functionally eliminate veteran homelessness, campaign officials stated.
Tony Faolo, a U.S. Army veteran, said one way to improve employment for veterans is to get more retired service members working in the Virginia school system. Faolo said he's been a substitute teacher in Loudoun County Public Schools since 2003.
Ernest Robinson, a U.S. Marine Corps veteran, urged McAuliffe to consider looking into the federal Transition Assistance Program, which provides service members with a one-day employment preparation workshop.
Robinson said service members about to be discharged need more time to explore career opportunities before leaving the service.
Additionally, Robinson said he hopes that McAuliffe will consider expanding into the commonwealth the Department of Defense's SkillBridge Program, which provides service members civilian work experience through specific industry training, apprenticeships, or internships during the last 180 days of service.
"They both go hand-in-hand to support our men and women who are transitioning out of the service, which supports [their] business growth, which supports the number of things that he's already done as governor, but if you can't get them early on so they have proper time to plan then it becomes for nothing."
Terron Sims II, a U.S. Army veteran, raised the issue of supporting spouses of service members — specifically, improving the acceptance of college credits in Virginia colleges and for veterans becoming entrepreneurs.
McAuliffe continued his tour through Loudoun County in Purcellville, stopping at the most recent home built for a veteran by HeroHomes.
The Purcellville-based nonprofit, co-founded by Matt Lowers and Jason Brownell, has built four homes in Loudoun County and is currently working on a fifth in Round Hill.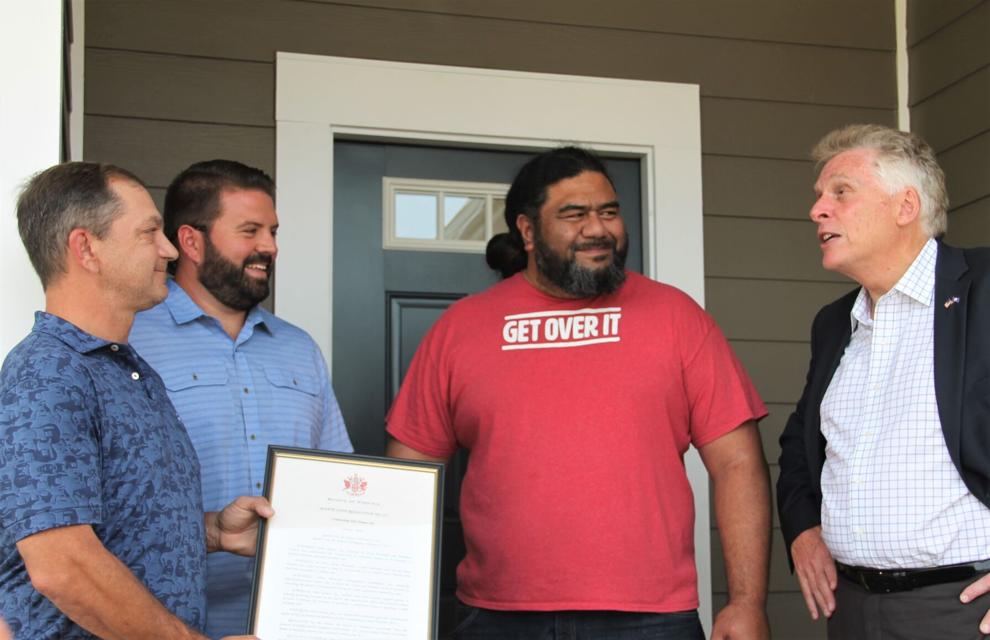 McAuliffe praised their efforts and spoke with retired U.S. Army Sergeant Vainuupo Avegalio — known as AV — who moved into the home in May.
Avegalio, who served 12 years in the military and was at one point homeless after being discharged, spends a portion of his income on helping other veterans battling post-traumatic stress. He also volunteers at correctional facilities and works with at-risk youth to help prevent suicide through his art and poetry workshops.
Brownell and Lowers hope that by providing Avegalio with permanent housing, it will help him expand his mission of helping others.
Avegalio told McAuliffe that he would be living on the streets were it not for HeroHomes.
"I was in disbelief when I heard back from them that I would be receiving a home," he said.
"I said ,'Is this real?' As a veteran, we do not like asking for help — we want to do things for ourselves," Avegalio said.
Republican nominee Glenn Youngkin, the former co-chief executive of Carlyle Group, is challenging McAuliffe for the governorship.
McAuliffe is seeking his second term as governor. The state's constitution bars governors from serving two consecutive terms.