Loudoun County wine hit a milestone Tuesday night when Gov. Ralph Northam announced that 868 Estate Vineyards' 2017 Passito wine is the 2020 winner of the prestigious Governor's Cup, besting more than 500 wines from across Virginia for the honor.
Passito, a dessert-style white wine made from local vidal blanc grapes, is the first wine made entirely from Loudoun County fruit to secure the honor.
The Barns at Hamilton Station in Loudoun won the 2017 cup for its 2014 Cabernet Sauvignon. The grapes for that bottle came from the Charlottesville area, and the wine was crafted by renowned Virginia winemaker Michael Shaps, also based near Charlottesville.
This year's Governor's Cup-winning wine was produced in the Italian "appassimento" technique of partially drying grapes to concentrate flavor. The winemaker halts the fermentation early to retain the natural grape sugar in the final product, according to contest organizers.
Carl DiManno, who was selected as the 2018 Winemaker of the Year by the Loudoun Wineries Association, produced Passito.
"The 2017 Passito was the culmination of a concerted winemaking effort," DiManno said. "I take a very hands-on approach in the winery, and a lot of love and hard work went into this wine, but it was well worth it. I am thrilled that Loudoun's wines are getting the recognition that they deserve."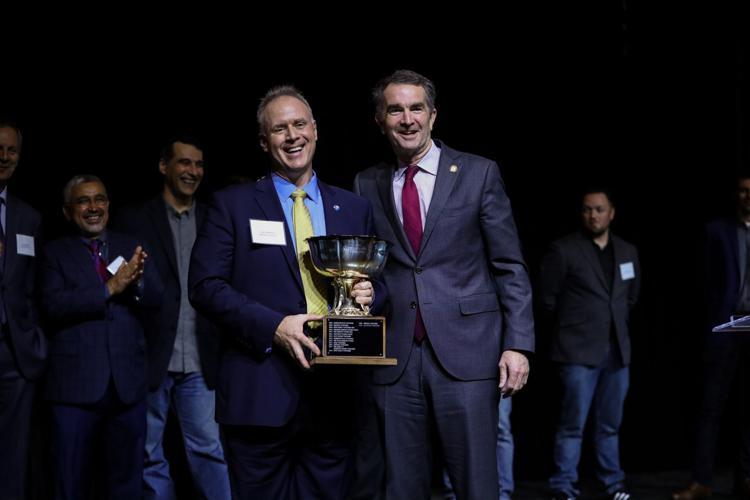 DiManno gave a nod to Barboursville Vineyards near Charlottesville, which produces a wine in the same method as Passito. The 868 vintner said Barboursville's bottle, Malvaxia, inspired his award-winner.
"The vidal's luscious apricot aromas and mandarin orange flavors pair perfectly with creamy cheesecake, served by the fire," reads 868's tasting notes about the wine, which carries a suggested price tag of $24. "Or indulge your holiday guests in the European tradition of after-dinner cheese with this special dessert wine."
The crowd's surprise was audible Tuesday night when Northam announced Passito as the winner at an invite-only ceremony at the historic Main Street Station. Historically, the Governor's Cup has favored red wines, and it's been more than 15 years since a sweet wine won the top prize.
Peter and Nancy Deliso, who co-founded 868 with DiManno and Wendy Charron, were in high spirits after learning of the honor.
"We started this journey just over eight years ago with a desire to build a premium vineyard and winery in northern Virginia," Peter Deliso said. "It's a pleasure to see our team win such a prestigious award and receive recognition for their hard work, creativity and perseverance."
Nancy Deliso told the Times-Mirror, "What's exciting about this to me is: where we are is kind of a unique position, because we're very close to West Virginia, we're right next door to Maryland ... if this award and this publicity brings those people to us so that we can share what we do really well with them, I'm so excited about that."
Nancy Deliso stressed she takes a hospitality-first approach to 868 Estate Vineyards and Grandale Restaurant, which is located on the property.
"I want you to feel welcomed and embraced when you come in," she said.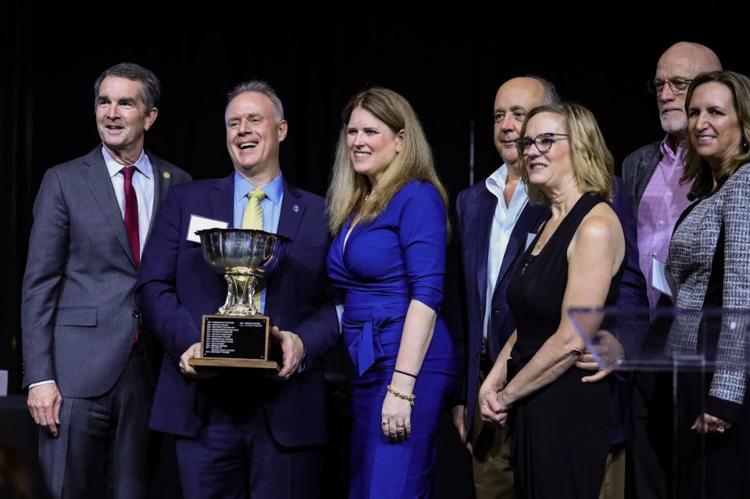 868's Passito was the only Loudoun County wine to place in the Governor's Case, which is comprised of the 12 highest-scoring wines from the competition. Nine Loudoun wines earned a sought-after gold medal, however. Gold medals were awarded to wines scoring 90 points or higher.
To qualify for the Governor's Cup competition, entries must be made from 100 percent Virginia fruit.
In addition to 868's offering, the 2020 Governor's Case included:
-Afton Mountain Vineyards Tradition (2017)
-Barboursville Vineyards Octagon (2014)
-Barboursville Vineyards Vermentino Reserve (2018)
-Delaplane Cellars Williams Gap (2017)
-Lake Anna Winery Tannat (2017)
-Michael Shaps Wineworks Meritage (2016)
-Pippin Hill Vineyards Petit Verdot (2017)
-Pollak Vineyards Cabernet Franc Reserve (2017)
-Pollak Vineyards Smuggler (2017)
-Rockbridge Vineyard V d'Or (2017)
-Shenandoah Vineyards Shenandoah Reserve Red (2017)
"The Vidal Blanc Passito embodies both the experimentation and artistry that has made Virginia the leading East Coast destination for wine," Northam (D), who handed off the cup to the 868 team, said in a prepared statement. "This year's Governor's Cup case is a strong reflection of our world-class wine industry and the distinctive wines being produced in our commonwealth."
More than 530 Virginia wines entered this year's Governor's Cup competition, according to organizers. A panel of 19 judges, directed by Jay Youmans – one of only 51 Masters of Wine in the United States – sampled the wines over a four-week period. The contest is a partnership between the Virginia Wine Board, the Virginia Vineyards Association and the Virginia Wineries Association, which owns and manages the competition.
Also announced Tuesday were individual industry honors, including:
-Virginia Wine Person of the Year: Justin Rose of Rosemont Winery, who helped establish and currently runs the 27-acre vineyard and its 6,000 annual case production
-David King Advocate of the Year: George Hodson, CEO of Veritas Vineyards and Winery, president and principal of Flying Fox Vineyards and president of the Monticello Wine Trail
-Gordon Murchie Lifetime Achievement Award: Randy Phillips, general manager of Cave Ridge Vineyard and Winery in the Shenandoah Valley
Beth Erickson, president of Visit Loudoun, was on hand for the festivities.
"We're so proud of the recognition of Loudoun wines, with nine gold medals in this year's competition," Erickson said. "We were absolutely thrilled to be here to celebrate 868's Governor's Cup win. They truly epitomize all that Loudoun is known for: a great experience and great wine."