Loudoun County quietly forgot teacher and abolitionist Margaret Mercer after her death in 1846, even though she practiced racial integration and STEM education more than a century ahead of her time. On the grounds of St. David's Episcopal Church and School, all that remains of her work are ruins and an obelisk erected by grateful students.
At least, that is, until now.
Mercer's legacy returned to the spotlight Sunday, when dozens of public figures from Loudoun and Liberia gathered at St. David's in Ashburn to dedicate a Virginia historical marker in her honor.
"[Mercer] needs to be remembered and not ignored," said Ken Courter, a member of St. David's and one of those who spearheaded efforts to erect the memorial.
Community leaders in business and nonprofits attended, as well as politicians from both sides of the aisle: U.S. Rep. Barbara Comstock (R-Va.); Loudoun County Board of Supervisors Chairwoman Phyllis Randall (D-At Large); Supervisors Koran Saines (D-Sterling), Ron Meyer (R-Broad Run) and Geary Higgins (R-Catoctin); state Dels. David Reid (D-32nd) and John Bell (R-87th); Sheriff Mike Chapman (R); Loudoun County School Board Member Jill Turgeon; Gabriel Williams from the Liberian embassy and others.
The event even featured an appearance from an actress costumed as Mercer.
"I think this is a historical moment," Randall said. "[Mercer's] most important legacy was courage … [She said] it is not okay for people of God to stay silent in the face of wrong."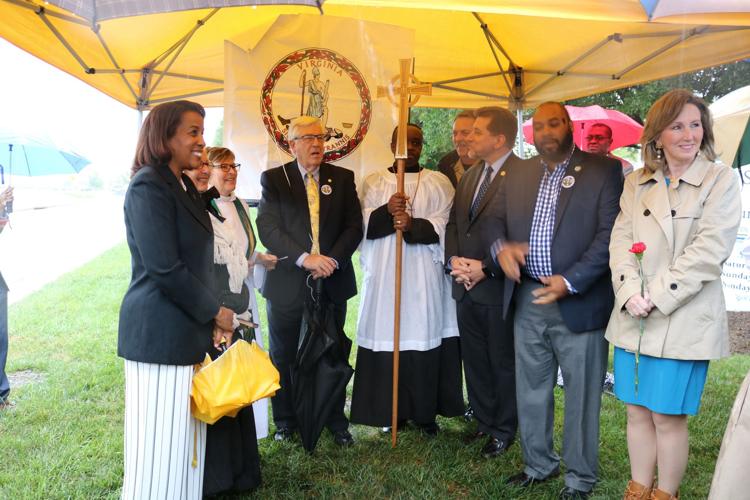 Born in 1791, Mercer was the wealthy daughter of Maryland Gov. John Francis Mercer, who provided his daughter an advanced education and profound Christian faith. Both of these persuaded Mercer to disagree with her father, who owned 72 people at the time of his death. Mercer became an ardent abolitionist and member of the Virginia Colonization Society, freeing her father's slaves and sending some of them to become the first settlers of Liberia, an attempt to create a nation of freed slaves on the African continent.
Later in life, Mercer opened a girls school, where she taught an in-depth liberal arts curriculum that included agriculture and science—almost unheard of courses of study for women at that time. Mercer also set aside funds for poor students, both white and black, and at the Episcopal church she founded where free African-Americans worshiped side-by-side with white residents.
When Courter and other St. David's members learned more about Mercer's past, they felt she needed to be more than a historical footnote. They formed a committee and met weekly for three years, raising money for the sign by voluntary donation from church members. The sign, visible from Russell Branch Parkway, is the only one in Loudoun to honor a woman's accomplishments.
"It is a tribute to the entire Loudoun community that we understand there is still much in our history that needs to be brought to light and celebrated," Comstock said during Sunday's ceremony. "Our daughters and granddaughters need to know these stories. They need to walk in the steps of these leaders."
The ceremony enjoyed a strong turnout despite heavy rain, with notables speaking inside the church before proceeding outside to unveil the marker.
Many of the speakers agreed that honoring Mercer is not only important to understanding our past, but that her legacy provides an example for our future. 
"We are blessed to be on this land and to celebrate her legacy," said Rev. Mary Kay Brown, rector of St. David's. "It's an inspiration to continue with the groundbreaking kinds of work."