The 2020-2023 Loudoun County School Board's nine members were sworn in Monday evening, after which Brenda Sheridan (Sterling District) was selected to chair the board and Atoosa Reaser (Algonkian District) was tapped as the vice chair.
Seven representatives took the oath of office for the first time, while Sheridan and Jeff Morse (Dulles District) are returning to the board for their fourth and third terms, respectively. Dozens in the Loudoun County Public Schools community attended, including the inductees' families and loved ones.
Loudoun County Clerk of the Circuit Court Gary Clemens administered the oath of office to the board members in alphabetical order by district: Reaser, Harris Mahedavi (Ashburn District), Denise Corbo (At-Large), Ian Serotkin (Blue Ridge District), Leslee King (Broad Run District), John Beatty (Catoctin District), Morse, Beth Barts (Leesburg District) and Sheridan. When sworn in, Beatty and Morse placed their left hands on sacred texts held by family members.
After a brief intermission, Superintendent Eric Williams commenced the 7 p.m. organizational meeting for calendar year 2020 by opening the floor to nominations for chair. Morse nominated Sheridan, who was elected unanimously and presented by Williams with the position's official gavel.
"She's going to do a magnificent job. I have no doubt about that," Morse said during his later comments.
Sheridan then called for vice chair nominations, prompting Serotkin to nominate Reaser, who was also unanimously elected. Reaser and Sheridan were also respectively selected as the official delegate and alternate delegate to the Virginia School Board Association.
In her first act as vice chair, Reaser read the resolution approving School Board's organizational business for calendar year 2020, including an established meeting schedule. The resolution was passed with another unanimous vote.
Each board member then had the opportunity to comment, once again in alphabetical order by district.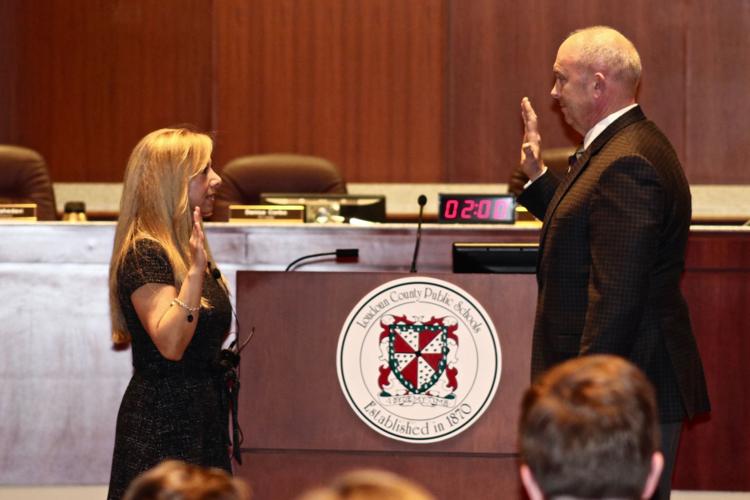 Reaser, a member of the Virginia State Bar who practices law part-time, has resided in Loudoun for nearly two decades and has served LCPS as an executive board member of its Minority Student Achievement Advisory Committee, a classroom volunteer, PTA leader and substitute teacher. "I believe that education is the way for every child to reach their full potential and give back to their community," she said.
A father to two LCPS students, Mahedavi thanked Ashburn District voters for electing a "diverse voice" to the board, noting that he is the first Asian American, Indian American and Muslim American to sit on the dais. "The vote of confidence was not only for me but all [of the] Ashburn District and for the Loudoun County residents that believe in an America that is multicultural, an America that values diverse perspective, an America that is forward-looking and thoughtful," he said.
Corbo is a former LCPS gifted and talented teacher who has taught kindergarten and first grade as well as high school vocational education. She thanked her former students during her comments, many of whom helped elect her to the at-large seat. "For some of them, their very first time voting, they voted for their kindergarten teacher," she said. "I'm sitting here before you tonight not for me, but for this county."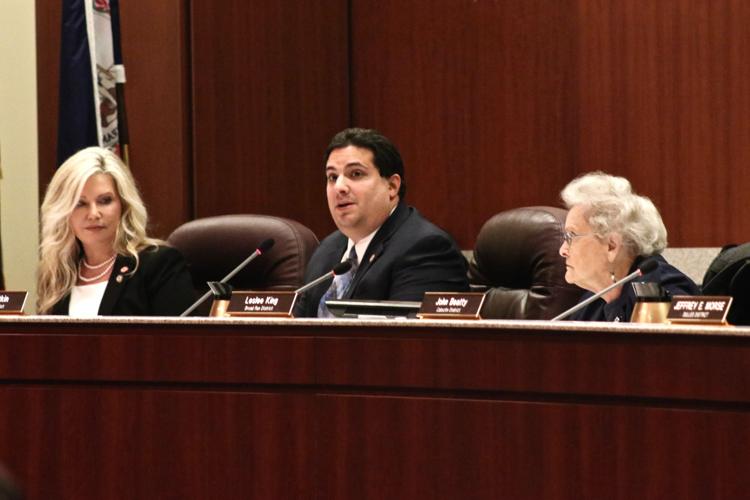 A native of New York and six-year Loudoun resident, Serotkin is a parent to two LCPS students. He helped lead the statewide advocacy group More Recess for Virginians and has volunteered as an Odyssey of the Mind coach, judge and school coordinator since 2014. "You might be able to be the best county in the country without having the best roads or without having the best libraries, but I believe you absolutely cannot be the best county in the country unless you also have the best schools in the country. That is my goal and my vision," he said.
King was raised in Virginia and taught grades six through eight in the commonwealth before moving west. She returned to Virginia in 1986 and became involved in the technology industry, developing a career as a technical lead and a monitor and manager of large server and network systems. "My pledge is to use my experience and common sense to make positive changes to LCPS," she said.
Also experienced in the technical field is Beatty, a father of five who has worked in software development at several startups in the region. He is also the IT director at a small private school, where he teaches high school students to code in Python and Java. "I ask you to help keep me honest in this job," he told spectators at Monday's meeting. "I am your representative, and I need to hear from you in order to do this job to the best of my abilities."
Morse, the board's former chair, grew up in Vienna and served on active duty in the U.S. Navy for 20 years before his 2006 retirement. He resides in South Riding with his family and is a lead associate for Booz Allen Hamilton. "We cannot provide the product to our children that we're providing today without the best teachers and staff in the state. I think we're there," he said. "My pledge is to continue to support that quality of instruction, quality of environment, that we're providing to our students and families."
Twenty-three-year Leesburg resident Barts is one in a family of educators. She is also a former PTA volunteer and Girl Scout troop leader who is described by LCPS officials as having been an "advocate for community engagement in education" for many years. "Despite the hard work facing this board, I am beyond honored and humbled to sit before you as the Leesburg School Board representative," she said.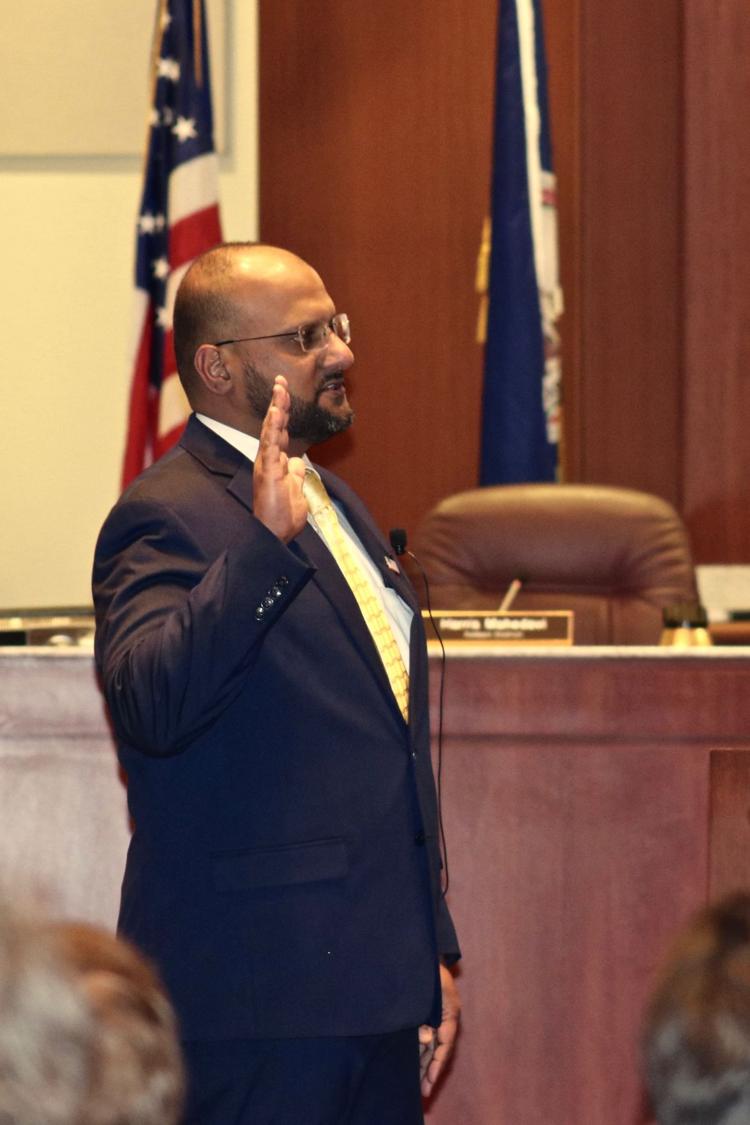 Sheridan, who worked as an LCPS substitute teacher from 2004 to 2011 and currently works as a security analyst for Perspecta, delivered the evening's final remarks, thanking her friends, campaign staff and family for their continued support during her eight-and-counting years on the board. She concluded by saying, "Board members, we have survived our first meeting. Seeing no further business, we are adjourned," punctuated by an inaugural swing of her gavel.
The new board will be tasked quickly with the review and adoption of the school system's fiscal 2021 budget, which will be presented by Williams Thursday at 6:30 p.m., followed by budget work sessions that same evening, Jan. 16 and Jan. 21.
The first official full-length Loudoun County School Board meeting of the 2020-2023 term will take place Jan. 14 at 6:30 p.m. at the LCPS Administrative Building, which is located at 21000 Education Court in Ashburn.