Virginia Del. Ibraheem Samirah (D-86th) interrupted President Donald Trump's speech Tuesday in Jamestown. Trump was speaking at the 400th Anniversary of the America's First Representative Legislative Assembly, but the president was stopped by Samirah a few minutes into his speech.
"I disrupted the President's speech in Jamestown because nobody's racism and bigotry should be excused for the sake of being polite," Samirah said in a prepared statement. "The man is unfit for office and unfit to partake in a celebration of democracy, representation, and our nation's history of immigrants. #DeportHate"
Samirah, who represents parts of eastern Loudoun and western Fairfax counties, held up signs that read "deport hate" and "reunite my family." A third message said "go back to your corrupted home."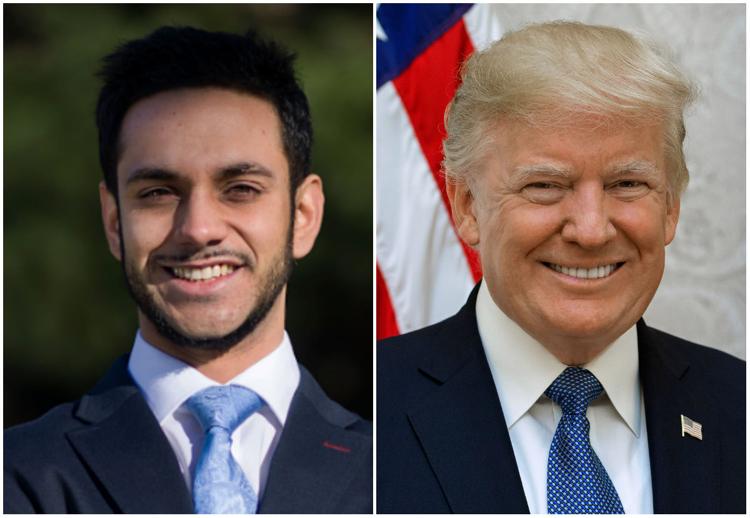 The delegate was escorted out as members of the crowd chanted, "Trump, Trump, Trump."
Republican Party of Virginia Chairman Jack Wilson said Samirah's actions are a disgrace to Virginia.
"Delegate Samirah's outburst was nothing more than childish frustration over Hillary Clinton's loss," Wilson said in a message to the Times-Mirror. "If the Democrats wanted someone to protest this historic, bipartisan event, maybe they should not have picked an anti-Semite. Ibraheem Samirah is a disgrace to Virginia and should resign."
In February, Samirah apologized for making anti-Semitic remarks on social media five years ago. The remarks surfaced shortly after his nomination. In a pair of now deleted Facebook posts, the first-generation American and second-generation Palestinian said that sending money to Israel is worse than sending money to the Ku Klux Klan and that former Israeli prime minister Ariel Sharon would burn in hell after Sharon died.
Samirah's protest on Tuesday came after the Virginia Legislative Black Caucus announced Monday it was boycotting the president's visit to the ceremony.
"The VLBC has always served as a voice for the values and issues of Black Virginians and other underrepresented groups in the Commonwealth," the VLBC said in a prepared statement. "The participation of the President is antithetical to the principles for which the caucus stands and the democracy that many counterintuitively are clinging to as an excuse to attend this week."
Trump, while criticizing Fox News for its coverage of Samirah's outburst, said, "The protester didn't look so good to me. I'm going to be very nice."
Samirah said in response via Twitter, "What about me 'didn't look so good?' I wore my favorite bowtie."
State Sen. Jennifer Boysko (D-33rd) -- who preceded Samirah in the 86th House District -- and local Dels. David LaRock (R-33rd), David Reid (D-32nd) and Wendy Gooditis (D-10th) were among the lawmakers present at the event.
Samirah, who was elected to the Virginia House of Delegates in February, is running unopposed for re-election in November.
_______
This is a Times-Mirror news alert. Check back to LoudounTimes.com for updates to this story.
_______
Related: Events in Virginia mark beginnings of American democracy