Long-running tensions in the Loudoun County Public Schools community came to a head during Tuesday's School Board meeting after public comment descended into disorder following remarks from former Virginia State Senator Dick Black (R-13th).
The board voted unanimously to prematurely end the public comment portion of the meeting after about an hour's worth of remarks. One attendee was taken into custody by sheriff's deputies and another was detained in the resulting discord, according to the Loudoun County Sheriff's Office.
Parents, students, staffers and other stakeholders had packed the boardroom to support and criticize the board on a range of topics, including a draft policy on transgender students' rights and the school system's alleged adoption of critical race theory.The vote to cut public comment short came after the crowd twice failed to acquiesce to Chairwoman Brenda Sheridan's (Sterling District) requests to maintain order.
Attendees first grew restless at comments by parent Kellie Herring, who said her transgender son attends LCPS. Herring criticized some in the audience for their attitude toward LCPS Draft Policy 8040, "Rights of Transgender and Gender-Expansive Students."
Herring said, "hate … seems to be dripping off the followers of Jesus in [the] room," prompting angry cries from the audience as well as calls to eject Herring from the meeting. This response led Sheridan to trigger a roughly 10-minute recess.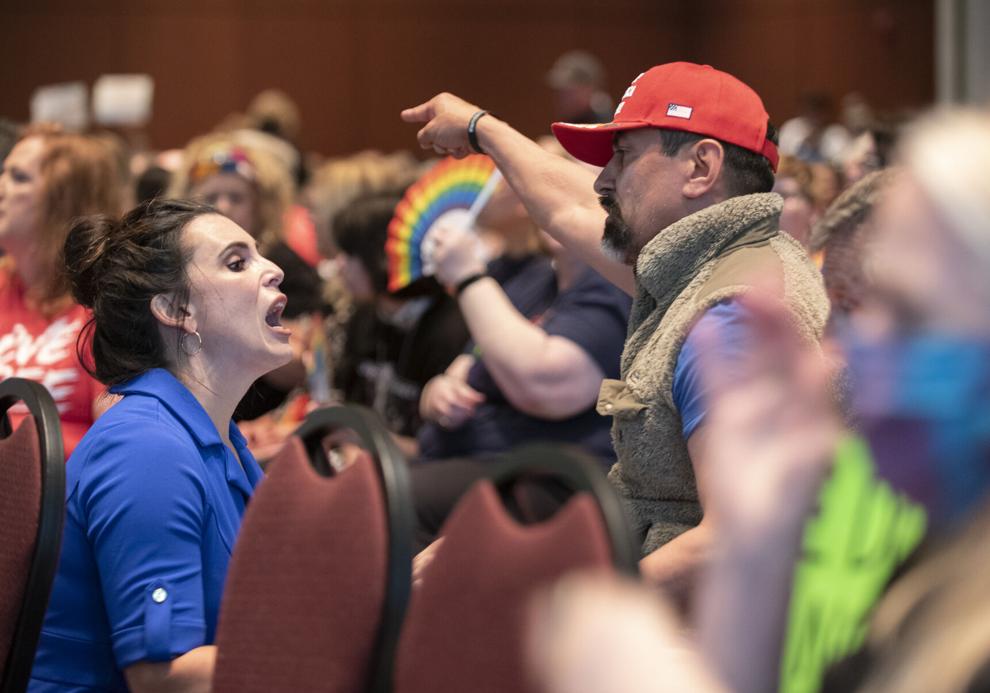 Decorum didn't last long when board members returned to the dais. Around 5:30 p.m., Black, of Ashburn, lambasted the board for its treatment of Byron "Tanner" Cross, a Leesburg Elementary School teacher who was placed on administrative leave last month after offering public comment at the May 25 board meeting."If his comments were not protected speech, then free speech does not exist at all," Black said.
Cross told the board that he would not recognize students' preferred gender pronouns or names if they choose to not identify with the gender they were assigned at birth. He based his comments on draft Policy 8040, which, if passed in its current form, would mandate such recognition by school employees.
"It's absurd and immoral for teachers to call boys girls, and girls boys," Black said. He also accused LCPS of "teaching children to hate others because of their skin color" by adopting critical race theory in its curriculum, an allegation LCPS has repeatedly denied.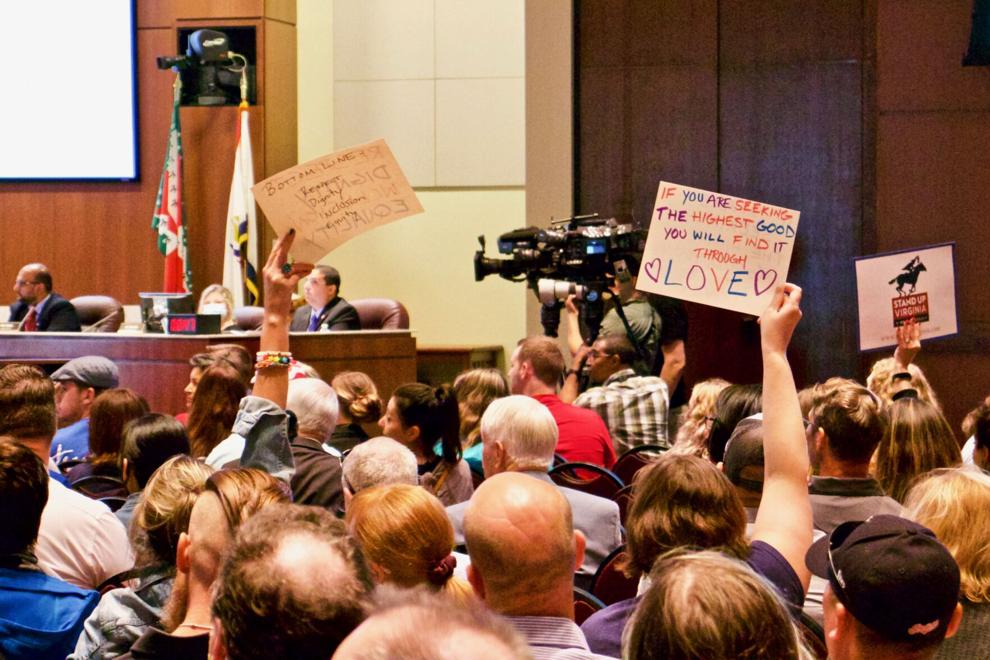 When the crowd erupted into loud cheers and applause, Vice Chairwoman Atoosa Reaser (Algonkian District) made the motion to end public comment altogether. Leslee King (Broad Run District) seconded the motion.
Once the vote passed, the audience responded with angry boos, jeers and obscene gestures, as well as chants of "Shame on you." Loudoun County Sheriff's Office deputies then slowly began to clear the boardroom.
One adult male — who remains unidentified as of Wednesday morning — set up a speaker and a microphone which irate attendees used to direct criticisms at LCPS personnel. He refused to leave the boardroom, leading deputies to detain him, according to LCSO Director of Media relations and Communications Kraig Troxell.
(tncms-inline)1407738798126125061[0](/tncms-inline)
In another incident, Scott T. Smith, 48, of Leesburg, was arrested after he reportedly acted in a disorderly manner and "displayed aggressive behavior towards another attendee," Troxell said. When a deputy intervened, Smith reportedly continued to act disorderly and physically resisted arrest.
Smith was charged with disorderly conduct and resisting arrest. He was released from by a Loudoun County Magistrate on a personal recognizance bond, Troxell said Wednesday morning.
The board reconvened an hour after terminating public comment and immediately went into closed session. The public-facing portion of Tuesday's meeting finally resumed — albeit with the public barred from the room — around 8:15 p.m., almost three hours after the comment portion of the meeting ended.The public was still able to follow the proceedings on the Board's livestream and on television.
Draft Policy 8040 was discussed as part of the evening's information agenda. It was drafted in response to two identical pieces of state-level legislation, Virginia House Bill 145 and Senate Bill 161, according to board documents.
Those bills, signed into law by Gov. Ralph Northam (D), require school boards in Virginia to adopt policies regarding the treatment of non-cisgender students no later than the start of the 2021-2022 academic year.
School boards are to write their new policies to be "consistent with … model policies developed by the [Virginia] Department of Education," according to HB 145 and SB 161.
"Policy 8040 … has been developed to comply with the Virginia code by addressing these sections of the code that are not already addressed in our existing policies," LCPS Assistant Superintendent for Pupil Services Asia Jones told the School Board on Tuesday.
Jones said the policy was posted to the school system website for public feedback two weeks before it first came to the School Board's Pupil Services Committee on May 20. LCPS Chief of Staff Mark Smith said the draft policy received more feedback from the public than any other draft policy that has been shared with the public.The issues Policy 8040 aims to address include: bullying, harassment and discrimination; student privacy and confidentiality; student identification; school records; dress code; access to activities and facilities; and professional development and training.
As currently written, the draft policy would require LCPS staff to "allow gender-expansive or transgender students to use their chosen name and gender pronouns," and to refer to them by these names and pronouns upon request.
In his public comments to the board on May 25, Cross said Policy 8040, if passed, "will damage and defile the holy image of God."
"I love all of my students, but I will never lie to them regardless of the consequences," Cross said.
Cross opined that the act of referring to transgender and nonbinary students by their chosen pronouns is an act of "lying," an opinion echoed by board member John Beatty (Catoctin District) on Tuesday.
After announcing that he and his wife are expecting their sixth child, Beatty said his wife is currently experiencing standard symptoms of pregnancy "including nausea and exhaustion."
"No matter how much I want to share her burden, I am unable to. Why, might you ask? It's because she's a woman and I'm a man," he said.
"The demands from our Richmond legislature that go against humanity, we can't follow. I don't think we should approve this policy at any point," Beatty said.
A section of the draft policy refers to students' access to restrooms and locker rooms, saying students "shall be allowed to use the facility that corresponds to their consistently asserted gender identity." It adds that school administrators "should take steps to designate gender-inclusive or single-user restrooms commensurate with the size of the school."
Beatty asked LCPS senior staff whether permitting students to use bathrooms or locker rooms corresponding with the gender with which they identify would expose other students to "potential sexual predators." Several present for the meeting weighed in on the question, including Superintendent Scott Ziegler.
Ziegler referred to material published in "Time" magazine in 2016, in which multiple sources — including academics and LGBTQ+ advocates — deemed the suggestion that such policies would increase assaults a "red herring." He also cited a 2019 study by the American Academy of Pediatrics that found that transgender and nonbinary students whose restroom and locker room use is restricted are more likely to be assaulted than those allowed to use facilities corresponding with their gender identity.
"I think it's important to keep some perspective on this," Ziegler said. "The predator transgender student — or person — simply does not exist. I think it's part of, maybe, a misunderstanding of what it means to be transgender, but the data is simply not playing that out."
Board member Beth Barts (Leesburg District) called rhetoric that deems transgender a danger to other students "hurtful and false." She further cited an alleged 2018 incident involving the football team at Leesburg's Tuscarora High School, in which three players reportedly assaulted a younger teammate.
"Whether you're female, identify as female, identify as male, or are gender-expressive, I simply want to share that assaults can happen anywhere," Barts said.
The discussion of Policy 8040 followed a presentation by LCPS Superintendent for Support Services Kevin Lewis regarding early-stage plans for single-person bathrooms in schools. Jeff Morse (Dulles District) asked whether such additions would be considered sufficient in providing transgender and nonbinary students with facilities consistent with their gender identities.
Stacy Haney, of Richmond education law firm Haney Phinyowattanachip, told Morse that merely providing single-user restrooms to accommodate non-cisgender students would be a Title IX violation.
"If you have a boys' bathroom and a girls' bathroom, then the law today, regardless of what your policy is, [says] you must allow a transgender boy to use the boys' bathroom and a transgender girl to use the girls' bathroom," Haney said.The U.S. Education Department last week said Title IX violations now include discrimination against students based on sexual orientation or gender identity.
Morse said, "I think we are woefully inadequate in providing privacy for our students, especially for our middle school students, who are at an extremely awkward age, and very challenged with their own body and their own growth."
Draft Policy 8040 is scheduled to return to the school board on Aug. 10 as an action item. Smith said it will once again be made available on the LCPS website so the public can continue to provide feedback.