A group of about 20 parents protested outside Loudoun Valley High School in Purcellville Wednesday morning amid concerns about Principal Sue Ross' leadership and worries that their children are not in a safe and effective learning environment.
Purcellville resident Amy Rogers, whose daughter is a rising ninth-grade student, addressed the group with her concerns about Ross.
"Google Sue Ross' name and you will find a list of scandals over the years. Security threats not addressed, the grading scandal, and more. The only time we as parents have been able to talk to her is at the recent meeting on personalized learning. She has never made herself available ... she was not even at the ninth-grade orientation for parents," Rogers said.
Over the past few weeks, Loudoun Valley parents have told the Times-Mirror there is an atmosphere at the school where students have the freedom to stand up and leave a classroom at any time to "have a break or have a wellness walk." Students can obtain car passes so they can leave the building and go out to their cars for an unspecified amount of time, according to numerous parents. They went on to say there are students lounging in the hallways on their phones, vaping in the bathrooms and leaving school and roaming the hallways unsupervised.
Parents said they are worried about their children's safety, accountability from the teachers and their child's ability to learn in this environment.
After three parent meetings where parents have expressed their concerns, Ross released a letter to the school community on May 17 saying she will monitor classrooms differently than she has been in the next school year and will utilize student and parent surveys more frequently "to maintain a finger on the pulse of their experiences with teachers."
Ross said she will be prioritizing visibility throughout the school day and throughout the building to ensure school safety and security. She said there will be daily reminder announcements providing clarity and guidance to students and teachers about hall traffic. She said hall traffic should be academically purposeful, monitored and verifiable.
Rogers said the letter is "too little, too late."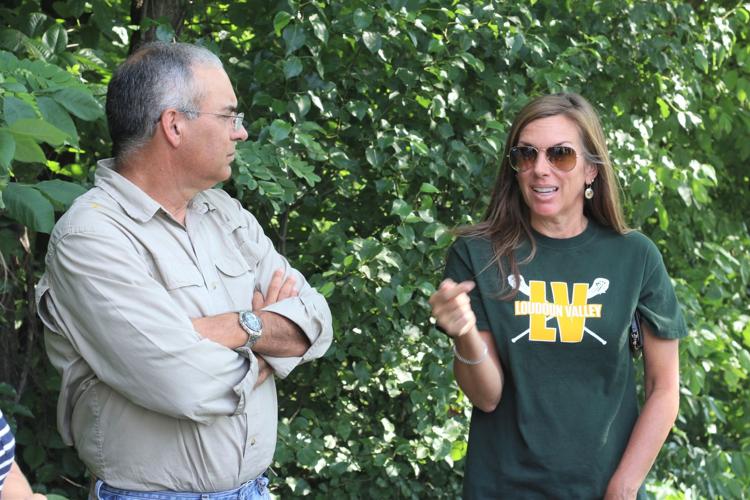 She pointed to a LCPS climate survey from 2018 where teachers and students were asked if they strongly agree or disagree to the following statement: discipline policies are clear to school staff members. The results at Loudoun Valley showed 54 percent said they strongly disagree, while other high schools, including Loudoun County, Tuscarora and Park View showed less than 10 percent strongly disagreed with the statement.
"It shows the lack of structure and discipline that exists at Valley. I do not have a good feeling sending my daughter here," Rogers said.
Purcellville Town Councilman Ted Greenly attended the protest.
"This is a county school, but safety for residents is important, which is why we are closely following this issue," Greenly said.
Greenly encouraged residents and students to come and speak at the next council meeting to express any of their concerns.
Loudoun Valley parent Stacy Ashton said she was at the protest to "take a stand for making change to the chaos going on in the school."
"We can't just stand by and watch it happen. Our kids' education is at stake," Ashton said.
Parents have launched a petition to remove Ross from her role as principal.