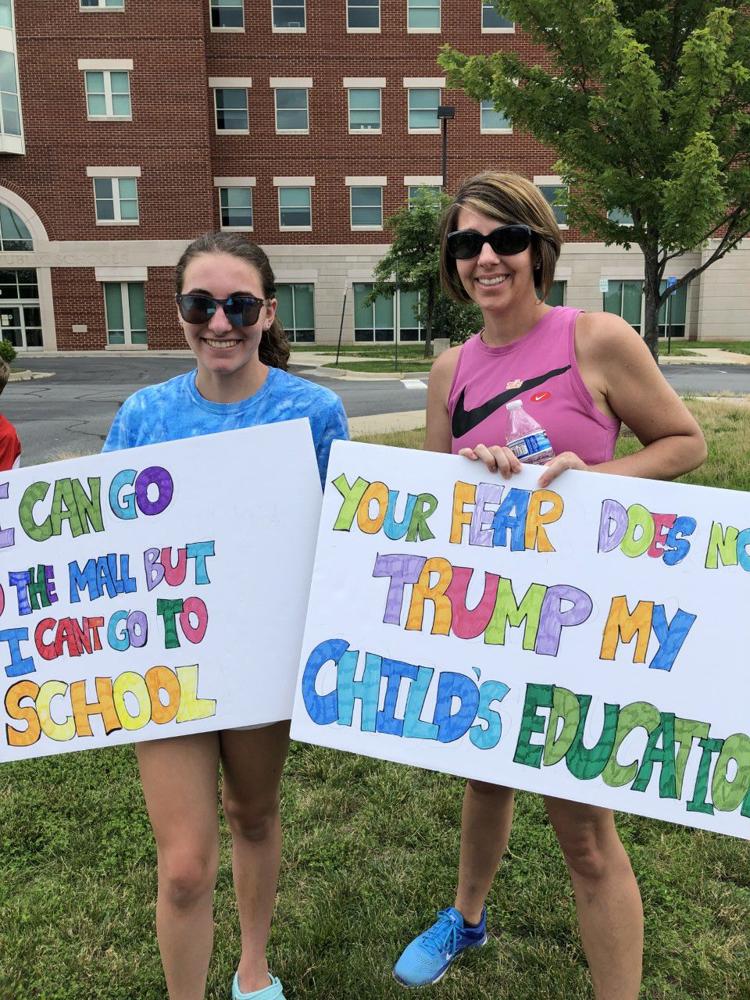 Parents, students and teachers in Loudoun County have mixed reactions to a proposal announced last week by Loudoun County Public Schools Superintendent Dr. Eric Williams outlining plans to provide in-person instruction two days a week and virtual learning three days a week come the fall.
No definitive plans for the 2020-2021 school year have been finalized, however.
A Facebook group with 8,500 members has been weighing in on Williams' reopening plan, with a majority of the members in support of 100 percent in-person learning this fall.
On Monday, a group of about 75 parents organized a protest at the Loudoun County Public Schools Administration Building to speak about their frustrations and to ask the superintendent to consider other options.
One of the group's leaders, Erin Roselle-Poe, is a mother of two boys, one in elementary school and one a rising high school student. She said the distance learning this spring was not productive for her sons, and she would like to see an option for students to either go to school full-time or do distance learning full-time.
"These decisions are made on fear. Kids will suffer. They are separated from their peers, and they need face-to-face interaction. Many children learn that way. We need to come up with a better plan," Roselle-Poe said.
Missy Hillenbrand, who launched the Facebook discussion group more than two weeks ago, said when she saw the reopening options she felt concerned about her son, who will be entering high school this fall.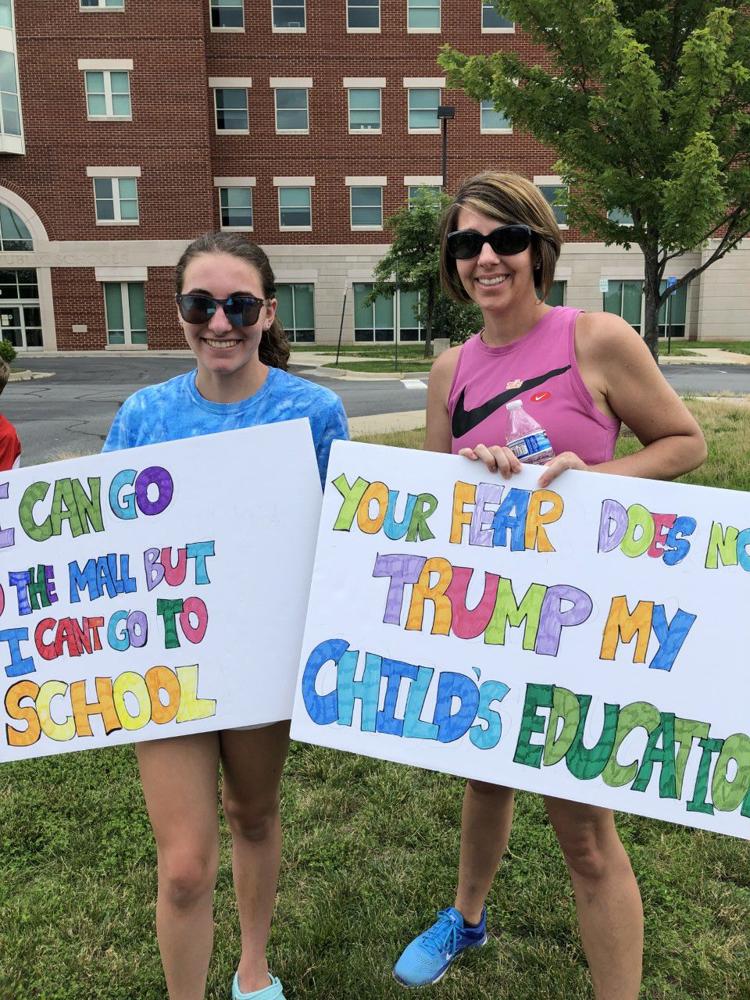 "It really upset me to think my son would have another year of nothing. My idea is to keep it simple. Parents can choose to go to school online full-time or in-person full-time. The families will assume the risk. The hybrid model is a scheduling nightmare," Hillenbrand said.
Hillenbrand also believes that if kids are not back in school, the spread between advantaged and disadvantaged kids will become greater, and there will be many children who fall behind.
"It's not fair. It's not equal education across the board, and the at-risk community will suffer," Hillenbrand said, referring to the hybrid learning model Williams has recommended.
At Monday's rally, Jean-Paul Bergeaux of Leesburg said he is a father of five children and believes the schools should reopen fully with an option for those at high risk to opt out.
"We should put cameras in the classrooms for people who want to learn from home," he said.
Suzanne Satterfield of Lansdowne said her son will be a senior in high school this fall, which will be an important year for him academically.
"They need guidance in the school from counselors. There are so many questions for these kids in the last year, and grades matter. I'm here not just for my son but for other people who cannot be here," she said.
A couple of Loudoun County teachers have mixed reviews of the proposed plans. They said they are eager to be back in the classroom doing the work they enjoy.
Christie Opauski, a fourth-grade teacher at Tolbert Elementary School in Leesburg, said she is committed to doing what's best for kids. However, she has concerns about the added restrictions with wearing masks, social distancing and cleaning the classroom and how that will impact her and her students.
"I also have concerns for keeping all staff and students healthy with the required time and fidelity to ensure these tasks are done well every day, all day. This significant time devoted to these practices will impact the quality of instruction. I have tremendous concerns about the amount of actual instruction that will occur with all the added responsibilities and limitations," she said.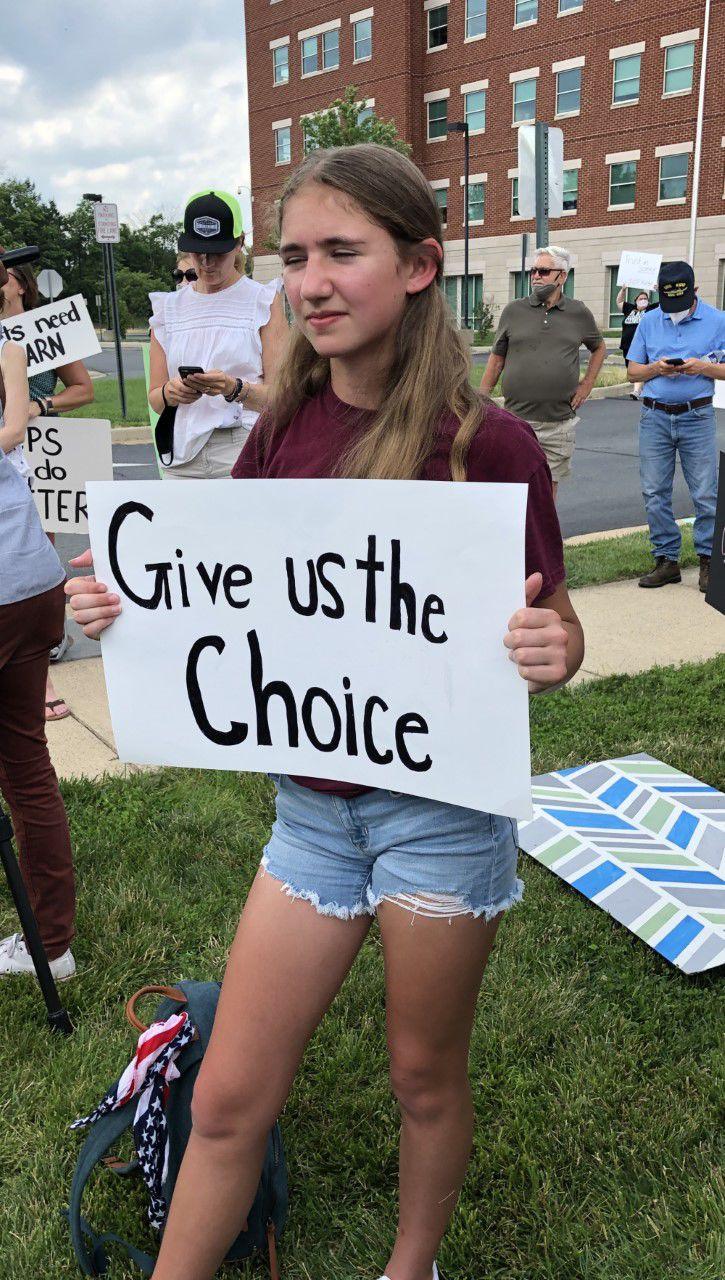 Jason Augustowski, an English teacher at Riverside High School in Lansdowne, said he is hoping to get back to school.
"To me, the classroom is the best place to learn, but I also primarily just want everyone to be safe," he said. "I worry about people who would have the additional stress of a weakened immune system and who would need child care."
Christy Berman, a teacher at Broad Run High School in Ashburn, said she too is ready to return to school because it is the best thing for the kids.
"There's a small minority who thrive with virtual learning. However, I'm going to do whatever they tell me to do to the best of my ability," she said.
Other parents do not support reopening schools.
Shelly Slebrch said she has very mixed emotions about going back to school full-time with in-person learning. She does not support Williams' hybrid model, which she believes will not work. Her son is a rising senior at Dominion High School.
"There is no reason why you can't have a camera in the classroom and hold the kids accountable," she said.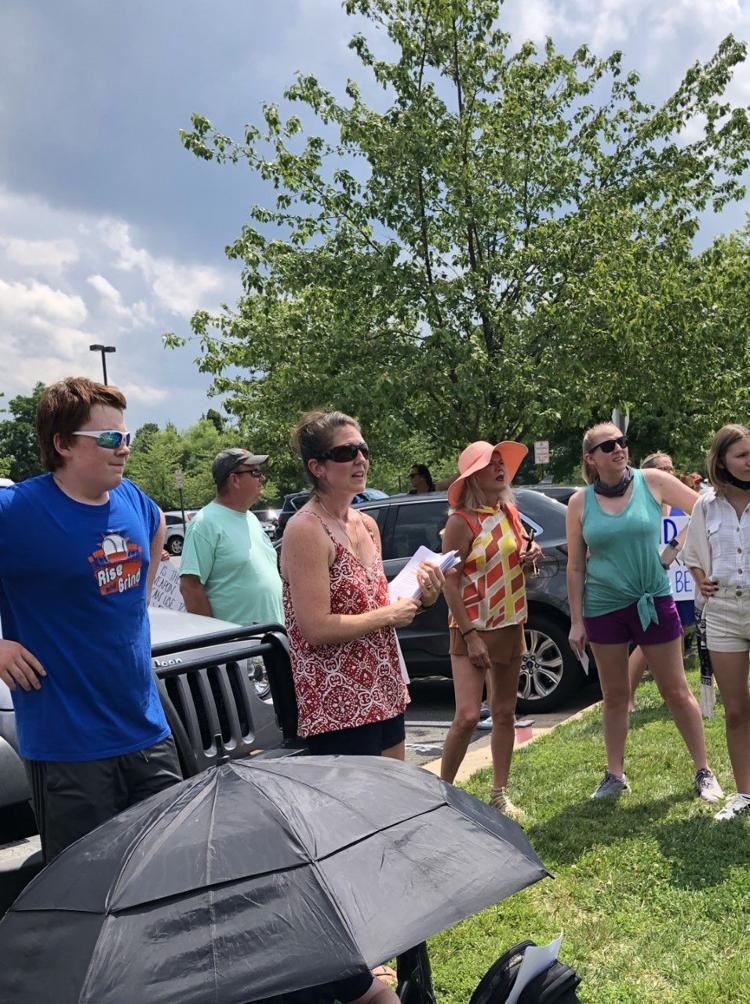 Anna Maynard posted on Facebook a suggestion to live stream classroom instruction with remote student participation and use the substitute teacher pool for real-time support for kids in digital learning modes.
"I'm thinking more of having someone monitoring time in the digital classroom, helping with technical issues or finding resources, providing basic guidance ... and just being there to help kids stay on task," Maynard wrote.
Loudoun County Public Schools spokesman Wayde Byard said that Loudoun County Public Schools' preference for returning to school in August would be for 100 percent in-person learning as long as they can provide learning experiences safely and in accordance with the requirements and recommendations of state and public health officials.
"Local health conditions and the phase of recovery we are in at the time will determine our plan, based on the state's guidance that we comply with Centers for Disease Control and Prevention physical-distancing precautions and other measures to protect the health of students, staff members and families," Byard said. "LCPS welcomes parents' input on the prototype plans we have presented to the School Board. We encourage parents and guardians to answer the survey that we launched on Thursday, and provide input in writing and through public comments at the virtual school board meetings."
Most students say they are ready to return to the classroom. Sydney Sikes, a rising junior at John Champe High School in Aldie, believes everyone should go back to school for in-person learning.
"Distance learning was not working. We can offer choices for people who want to do online classes," she said. "Not being around other people is not good, and being alone with your thoughts can be dangerous for some people. We are going to see suicide rates increase."
Rachael Levine, a rising 10th grader at Heritage High School in Leesburg, said online learning was difficult, and she is worried about having that type of instruction again in the fall.
"I like hands-on learning with the ability to ask questions. It was basically like teaching myself," she said of the past few months.
Elizabeth Vermette, a mother of a middle school student and a high school student, expressed frustration with the way the plan was put together, noting that administrators proposed the plan first and then asked for parent feedback. She feels it should've been the other way around.
"It is a mismanagement of funds and staff resources to do it that way. You don't know what we think because you didn't ask before you put the plan together," Vermette said. "We need to have live teaching everyday. Everything they are talking about is not addressing kids who are high-risk, those who only get lunch at school and need to be around other kids and adults who care about them. Social interaction is so important, and mental health is a huge issue."