Parents at Loudoun Valley High School in Purcellville are voicing concerns over school safety, a lack of supervision and discipline as the school implements a personalized learning environment.
At a meeting at the high school on Thursday morning, about 60 parents met with Principal Sue Ross and were given an explanation of personalized learning -- which is unfolding at all schools in Loudoun County -- and how it is being worked into the curriculum at Loudoun Valley. This was the second meeting where parents met with Ross to discuss the new method of learning.
Loudoun Valley High School administration banned a Loudoun Times-Mirror reporter from entering and covering the meeting. Loudoun County Public Schools spokesman Wayde Byard said it was the "principal's discretion" to allow only the school's parents into the meeting. The Times-Mirror learned at least one mother in attendance does not have any children at the school.
With more than a dozen school shootings across the country this year, school safety and security has been a chief issue for local parents.
Local mother Amy Rogers said she went to the meeting because she has heard about the safety concerns at the school.
"The same families from Blue Ridge [Middle School] are going to [Loudoun] Valley. They are all disciplined and understand what is being asked of them at Blue Ridge. Why all of a sudden are they having problems with vaping and leaving class when they go to Valley? Why is it unclear in terms of discipline and expectations?" Rogers said.
Several parents who spoke to the Times-Mirror asked for anonymity for fear of retribution against their children by the school's administration. This request has become increasingly common during Superintendent Eric Williams' administration.
Loudoun Valley parents have described an atmosphere where students have the freedom to stand up and leave a classroom at any time to "have a break or have a wellness walk." Students can obtain car passes so they can leave the building and go out to their cars for an unspecified amount of time. Parents said there are students lying in the hallways on their phones, vaping in the bathrooms and roaming the hallways unsupervised.
Parents said they are worried about their children's safety, accountability from the teacher and their child's ability to learn in this new environment. 
Andrea Donofrio, who spoke at the meeting, described a couple hours of panic after the school had sent an email saying that her son was absent. She knew her son had gone to school with his brother, but she was concerned that administration did not know where he was. She said it took staff over two and a half hours to locate her son inside the school.
"Not one person could put eyes on my child for two and a half hours. As soon as I said I was heading to school they found him," Donofrio said in the meeting. The Times-Mirror obtained a recording of the meeting from a parent in attendance.
When describing the personalized learning and project-based learning program at Loudoun Valley, Principal Ross said schools are changing and learning is now more autonomous and personalized based on interests and strengths. Now, there are learning opportunities in flexible time, space and resources. Students are given the opportunity to learn based on their interest in a subject – such as one student may focus on World War II while another might research the Spanish-American War, she said. While there are still basic facts they need to know, students are meeting the standards by doing a project on one, according to the principal.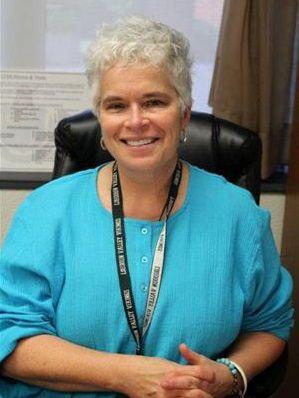 But parents have repeatedly expressed concerns with this approach. They said that kids are in the hallways and unaccounted for. They feel there needs to be some structure from the top, that students are not engaged, they are guessing answers on SOLs and there is not enough security inside the school.
Ross said part of the flexible approach to learning was initiated by students and teachers last year. She said she was approached by teachers who wanted to see more flexibility during "prime" -- or homeroom -- so the National Honor Society could offer tutoring during prime.
During the summer months, about 30 teachers and 20 students met to re-design prime time with flexibility so students could see multiple teachers and work on projects and assignments, she said.
"Teachers also appreciated the flexibility of being able to meet with specific groups of students or with other teachers during this time as well. A student-leader group outlined the parameters to the student body approximately one month into the school year and we have implemented this new prime ever since. Students are allowed to be in the library, the cafeteria, hallways, common areas and classrooms. There is supervision in all of these areas," Ross told the Times-Mirror in a written statement.
"Teachers put quiet zone signs on their room doors if there is something happening in their classroom that needs quiet in the hallway. Exterior doors are monitored by staff during this time. I have had no concerns or complaints from teachers or students about this process. This is a new practice – it is not a policy – and teachers and students asked for it and designed it," she continued.
Another component of the new learning style is new classroom design and furniture which one parent described as "Starbucks style."
One Loudoun Valley teacher, who asked to remain anonymous, told the Times-Mirror the "chaos in the hallways is so distracting."
"I have to discipline the kids in the halls more than in my classroom. Often I have to discipline the same kids 10 minutes later because they are not being respectful of my polite request to quiet down. The noise often breaks my concentration in teaching, and I start making dumb mistakes. Kids who are not supervised by a teacher are often on their phones, playing music and socializing. As I see it, this is the biggest problem at Valley. The expectations are still unclear," they said.
Ross said she believes project-based learning, or PBL, will help empower students to make meaningful contributions to the world through deeper learning. She said it also provides teachers the flexibility to work with students in different environments without being micromanaged by the administration.
So far, eight teachers out of 100 at Loudoun Valley High School have received PL training, and next year this type of personalized learning will be utilized further, Ross said, which is why she is setting up coffees and evening meetings to let parents know about project-based learning, personalized learning and performance-based assessments.
But Loudoun Valley parent Dee Howard said in the meeting, "We need to stop it at Valley until they put an appropriate system in place. Stop it here for us now. Train the teachers well and then roll it out."