Loudoun County officials say they will be more closely monitoring how they handle future land use projects after a landowner just east of Hamilton violated county regulations at Gable Farm "personal recreation field."
In 2015, county administration approved a rural economy plan for a "personal recreational field" near the site off Gable Farm Lane. The proposal did not require Board of Supervisors approval.
Project managers for the 18-acre Gable Farm site said it would be used as a polo field, according to county officials.
Instead, the property has become a stockpile for top dirt and asphalt millings—considered for commercial use and a violation of the approved plan.
"The regulations with respect to this kind of activity are deeply flawed. They need to be changed," said Henry Harris, managing partner at Cattail LC, a law firm representing nearby Digges Valley Farm.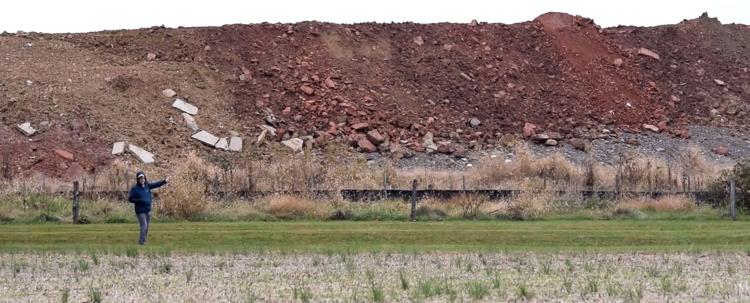 In a January letter directed to county supervisors and staff, Harris said, "We are extremely concerned about the negative effects that this particular landfill has had, and will continue to have, on our adjacent land. We are also concerned that more such 'personal fields' could be built throughout rural Loudoun County: the potential revenues are enormous and regulatory controls are apparently minimal."
Residents in the area have questioned the height, volume and contents dumped on the "personal recreational field." They have also voiced concerns about the surface and ground water quality at the farm.
In a brief email to the Times-Mirror, James Gable, who owns Gable Farm, said the property is not being used as a landfill and does not have debris. He said the farm has been "completely inspected weekly by the county."
County officials sent the Gable Farm property at least two violation notices in 2017 and 2018 and told the operators to discontinue all activities until corrections were addressed.
Catoctin District Supervisor Geary Higgins (R), who represents the area, said in an email that he is concerned about the issue. He said the site is currently under a stop work order and that the owner will have to remove much of the dirt.
"I am also working with staff to try and restrict this abuse in the future," Higgins said. "In this case, it seems that the regulations may have been ignored … The site is under investigation and the staff is looking at appropriate remedies."
A detailed video and rundown of the project posted by activists at LoudounRuralLandfills.com had received more than 3,400 views as of Thursday morning. The video describes the dumping site as "intrusive, potentially harmful and potentially very lucrative." The creators also question whether there could be similar issues at other sites if the county doesn't adopt stronger regulations.
"Obviously, this is not what we need in Loudoun County," Supervisor Tony Buffington (R-Blue Ridge) said on his Facebook page.
Supervisor Ron Meyer (R-Broad Run) noted the county's correspondence with the owner of the Gable Farm property, saying, "Since the height of the dirt was not in compliance with his approved site plan, he received a notice of violation, and there was a stop work order issued. He has been told to repair the site, and the stop work order has been lifted. However, it may be a few months before he can start repairing due to wetness."
Meyer added that the Board of Supervisors can learn from the situation by reviewing the new comprehensive plan with regards to grading, which is to level the contours of a property.
Loudoun County Chairwoman Phyllis Randall (D-At Large) did not respond to requests for comment for this story.