Middleburg-based nonprofit Land Trust of Virginia holds more conservation easements than any of the 27 other private land trusts in the commonwealth, and it recently achieved a significant milestone when a 129-acre plot just north of Aldie became its 200th conservation easement.
Owned by Melissa Cantacuzene, who moved to the area 50 years ago with her husband, Rodion, the property contains nearly 7,200 feet of streambed, 5.25 acres of wetlands and 72 acres of forest, housing expansive wildlife that is now protected from development. The Cantacuzenes have put four pieces of property into easement since 2007, totaling 513 acres.
"They are true conservation leaders," LTV Executive Director Sally Price told the Times-Mirror. "[They are] protecting wildlife habitat, which is really important to me — clean water … clean air, and it's a working farm. They've got agriculture going on there, they've got cattle and hay. It's a big piece of property that's going to stay like that forever."
This property is the first of the Cantacuzenes' to receive LTV preservation since Rodion Cantacuzene — the great-great grandson of Ulysses S. Grant — passed away in 2016. Melissa Cantacuzene was determined to make sure their land remained untouched, unlike other nearby landowners.
"My neighbors were going to sell for development, and I didn't want developments right there," she said.
Land Trust of Virginia, established in 1992, began taking easements in 1997 and has since averaged between 10 and 14 new easements per year, according to Price. In Loudoun alone, the nonprofit holds 108 conservation easements covering 9,440 acres, and it has protected land in 17 other counties as far south as Nelson County.
Price considers conservation easements "the only way to permanently protect a property" and said land trusts typically emerge when groups of local citizens become concerned about land disappearing in their community. She first formed one in her hometown of Princeton, New Jersey, when a developer began accruing local acreage.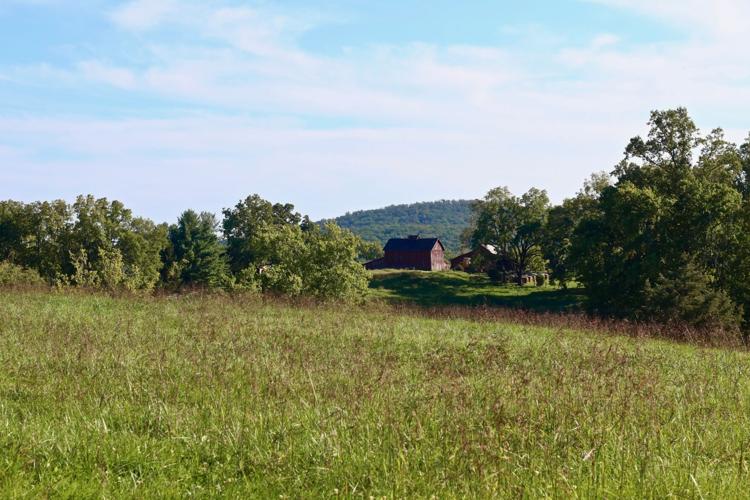 The seriousness with which she and LTV's six other staff members approach land conservation is evident in the pains they take to fulfill the legal process of placing a property in easement and to sustain their overall operations: writing grant proposals, attending local government meetings, financial management, fundraising and technical elements.
"We go where the people need us. Our mission is to help landowners permanently protect their properties," Price said. "[An easement] travels permanently with the property — when one owner sells the property to another owner, the property is still covered by the conservation easement."
But putting a property into easement is not exactly a hassle-free process for landowners, either. They must hire an attorney, an appraiser and sometimes a land surveyor, not to mention the fact that protecting a piece of property rather than selling it to a developer means turning down a potentially large chunk of change — though Virginia offers substantial tax benefits for land conservation.
As such, when LTV charges clients an easement fee, it aims to keep the price relatively low, though that means these fees only cover about 20 percent of the nonprofit's operations.
"We don't feel that we can charge landowners more, because we know what they're paying to get this done," Price said. "We don't let lack of money stand in the way of our trying to protect a property."
Thankfully, whether it's due to the aforementioned tax incentives, a heightened appreciation of natural beauty during the COVID-19 crisis or just a surplus of free time, more Virginians are putting their land into easements through LTV during this period than ever before in its history.
Still, with its easement fees as low as they are, fundraising and community support are paramount in keeping the nonprofit afloat, though it has proven particularly tricky during such a capricious time as 2020. LTV ended up calling off its spring garden party, one of its major annual fundraising efforts, though would-be attendees proved especially generous after the cancellation.
"A lot of money had come in already, people buying tickets for it, and we called them all, a couple hundred people, offering to return their money but also asking if we could keep it. Everybody said keep it, which was really heartfelt and wonderful for us to experience," Price said.
For fall fundraising, LTV — like many businesses and nonprofits have done in order to survive 2020 — is taking creative approaches, including a collaboration with a video company to visually capture landowners' stories. In terms of promoting LTV's mission and the importance of conservation easements, Price said word-of-mouth and increased conversation about the role land conservation plays in a place like Loudoun are invaluable assets.
"People erroneously think that building more houses will bring in more tax revenue for a community, but they've proven over and over and over again that that never works out that way," she said. "Yes, initially you're getting more tax revenue from those new residents, but it's never enough to cover the public services that those new people then need — schools and road maintenance and garbage pickup … By then, the developer has made their money and they're long gone."
For Price herself, the motivation to leave Loudoun's bucolic scenery untouched is largely encapsulated by the joy she experienced when commuting to Middleburg from her previous home, a route that would take her down Atoka Road, along which many properties are protected by conservation easements.
"It's a beautiful road — open spaces with horses, definitely Virginia countryside with the stone walls and beautiful old homes. It's just spectacular," she said. "I would see foxes, I would see deer and I saw a bear once. I didn't have to own it to appreciate it."
Though a new housing cluster is barely visible over the treeline at the highest point of the Cantacuzene land, Melissa Cantacuzene hopes the development that seems to be all but swallowing Loudoun County will encroach on the beauty surrounding her property no further.
"At my age, I guess it's all right to want things to stay the way they are," she said.