Advocates for the state-funded public defender's office in Loudoun County are pushing for an increase in salaries for attorneys.
The request was one of the highlights Tuesday to kick-off public hearings on the proposed fiscal 2021 budget totaling 3.024 billion.
"We are working to ensure that there is not recidivism — that we give people the support they need so that we can have them reenter into the community and I think it's such a noble cause," said attorney Kelly King, who is a former member of the office.
King joined a mix of advocates — current and former members from the defender's office — urging the board to support increased funding following the departure of attorneys due to the region's high cost of living.
If the board can't supplement the requested amount of $197,788, former office members believe more departures will come.
"These are talented attorneys that this community is at risk of losing, because they can't be compensated for the service they provide to the citizens of Loudoun County, and I ask this board to compensate," former office member Barry Zweig said.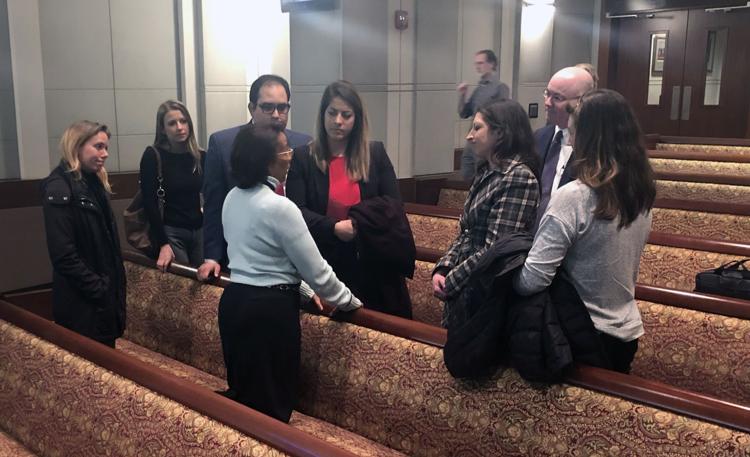 Speakers on Tuesday also pushed for funding new county positions, increasing funding for housing initiatives and county pay raises.
Loudoun Chamber Vice President of Membership and Government Affairs Grafton DeButts encouraged the board to increase funding for the Housing Trust Fund.
"If we can increase the housing supply, the barriers around this community to live in work alone shrink," DeButts said. "I ask that you would consider not just keeping up with the region, but leading the region and removing these barriers through your investment and Housing Trust."
Tuesday's hearings lasted for an hour and half. County Administrator Tim Hemstreet's proposed budget was introduced earlier this month.
Hemstreet said his spending plan is balanced at the tax rate at $1.035 per $100 in assessed value -- one cent less than the current tax rate of $1.045 -- based on the final assessment portfolio from the Office of the Commissioner of Revenue.
The proposed budget does not carry the equalized tax rate – that which keeps taxes steady for the average homeowner. The equalized rate for this coming budget year is $1.01.
In 2020, the average homeowner's tax bill in Loudoun County was $5,162. Under the proposed tax rate of $1.035, bills would increase by two percent to an average of $5,272.
Supporting the Capital Improvement Program (CIP) and addressing employee pay are among the priorities the administrator presented to the board earlier this month. The county is also opening new facilities, supporting board initiatives and addressing various departments' top priorities.
Loudoun County Chapter of SEIU Virginia 512 Vice Chair Julius Reynolds, a county employee, encouraged the board to prioritize fully funding pay raises for county employees, funding department staff requests, and maintain funding for the classification and compensation study implementing them immediately.
"... People don't eat in the long run, they eat day to day — so we need our money and we need it now," Reynolds said.
Chapter Chairwoman Patti Nelson, also a county worker, added, "This board has an opportunity to build on Chair Randall's leadership in the last two budgets, to use this year's budget to invest in our people. We love what we do. We're not here to get rich, but we need to be able to take care of our families and we need resources to do our jobs well."
SEIU leaders thanked the board for supporting Senate Bill 939, which allows collective bargaining through local option. The board supported the measure 6-2-1, with supervisors Tony Buffington (R-Blue Ridge) and Caleb Kershner (R-Catoctin) in opposition. Dulles Supervisor Matt Letourneau (R) was absent for the vote.
On Monday, supervisors met with the School Board and school system staff for the annual budget presentation, where they discussed staffing standards, student enrollment growth and enhancements and reallocations.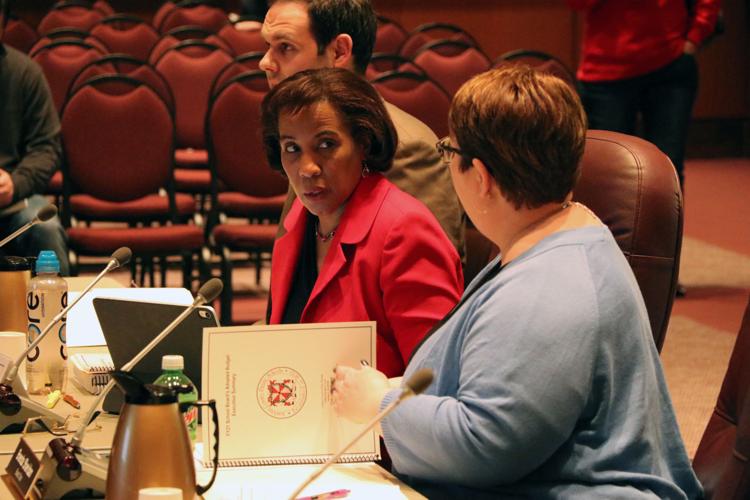 The school system's upcoming budget is $1.38 billion — a 7.6 percent increase compared to the current budget. The School Board is projecting to receive $19 million from the state and is requesting a 10.8% increase of county funds at $78.3 million.
The county budget appears to be approximately $2.5 million short of the schools system's $952 million request from the county.
The highest increase in expenditures comes from enrollment growth, which is expected to rise by 2.4 percent. Furthermore, the additional 44 full-time, non-teaching positions for the new Lightridge High School is valued at $3.3 million.
School staff said the division hires more than 800 teachers per year. Staff anticipates challenges with filling teacher vacancies with high-performing teachers in coming years.
School staff also shared the division's Six-Year Capital Improvement and Asset Preservation Programs valued at approximately $170 million total under the proposed school budget.
The programs include two new elementary schools, two middle schools, one high school and a joint-use storage facility, student welcome center and warehouse and distribution center.
The board will hold its final county budget public hearing Feb. 29 at 9 a.m. in the Loudoun County Public Schools Administration Building at 21000 Education Court in Ashburn.
John Battiston contributed to this report.