Winemaker and businessman Lew Parker has delivered an array of awards for Willowcroft Farm Vineyards just south of Leesburg. Over the past 30 years, Willowcroft and other farms and rural operations have leaned on their staff, loyal customers and decisions from local, state and federal governments to help grow their business.
With the growth of the agritourism industry, U.S. Rep. Jennifer Wexton (D-Va.-10th) hopes to provide additional support by launching the Congressional Agritourism Caucus.
Expected to be instituted in September, the caucus will be led by co-chairs Wexton and Congressman David Rouzer, a Republican from North Carolina.
"I am excited to announce the launch of our Congressional Agritourism Caucus as a forum to bring representatives from across the country together to find ways we can strengthen the agritourism industry in our communities and to highlight the positive impacts they have on our local economies," Wexton said in a prepared statement.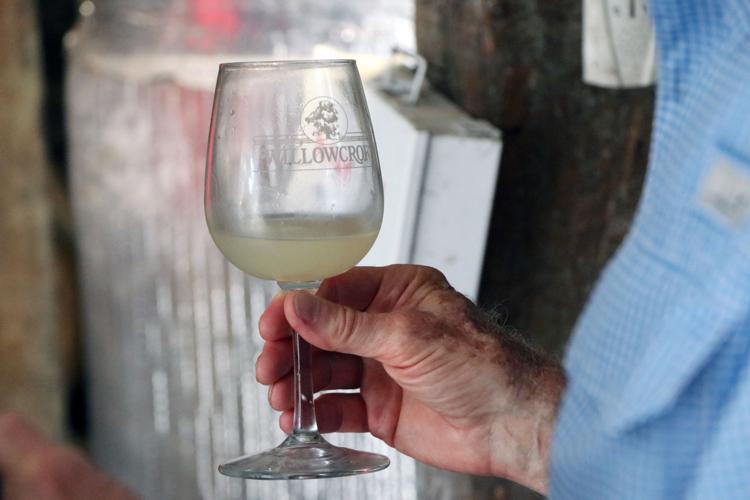 A day after making the announcement, Wexton toured six agritourism businesses in Loudoun and Fairfax counties on Aug. 22.
One stop was Loudoun's first winery, Willowcroft Farm Vineyards, which has been in business for nearly 35 years.
Wexton toured the vineyard and learned more about the winemaking process from Parker, the winery's owner. He also encouraged Wexton to be an advocate for tax relief.
"Wine is so much fun because it combines politics, geography, geology, chemistry, microbiology—all of it wrapped up in a bottle of wine," Parker said.
Along with Willowcroft, Wexton toured Georges Mill Farm in Lovettsville, Barnhouse Brewery and Roots 657 Cafe in Lucketts, Cox Farms in Centreville and Quattro Goombas Winery and Craft Brewery near Aldie.
Wexton noted the 10th District is home to more than 230 agritourism businesses, including vineyards, orchards, breweries, distilleries and farm markets. Agritourism-related income nationwide increased from $202 million in 2002 to $949 million in 2017 — a nearly 370 percent increase, according to the Census of Agriculture.
"Loudoun's abundance of diverse and popular rural business attractions are not only valuable economic assets, they define our county's brand and sustain our community's rich agricultural culture and heritage," Loudoun County Chamber of Commerce President and CEO Tony Howard said in a prepared statement. "Where else in the world can a business locate where the epicenter of the internet exists just minutes from the nation's finest wineries and breweries, farms, trails and equestrian facilities? That's the value of nurturing an agritourism economy."
Wexton's office said a 2017 study found the agritourism sector accounts for $2.2 billion in economic activity in Virginia and the economic opportunity that has grown out of the state's agritourism supports more than 22,000 full-time equivalent jobs.