Congresswoman Jennifer Wexton (D-10th) on Oct. 9 paid a visit to the Loudoun Abused Women's Shelter, continuing a series of events commemorating Domestic Violence Awareness Month.
After receiving a tour of the shelter, Wexton sat down with members of the Loudoun community responsible for promoting and upholding the safety of abuse victims. LAWS Executive Director Judy Hanley emphasized the importance of community and legislative support for the shelter, as she and her coworkers aim to never turn away any victim seeking care.
"We try not to turn anyone away. We can't turn anyone away who is fleeing imminent danger," Hanley said.
These clients are most often adult victims of domestic violence, but can also include child who have witnessed or suffered abuse, she said.
The shelter's goal is to move victims to new, safe housing within 30 days of check-in. This can be rather tricky, as LAWS in the past has lacked the funds necessary to help victims make the transition to new homes. However, the organization recently received a grant — much like those made possible through VAWA — to aid in such services.
"We have, multiple times, seen people come into our shelter, and 60 percent of the time they go back to their abuser because there's no other options. So we received a federal grant this year — for the next two years — where we have money to transition people from our shelter into their own apartments," Hanley said. "It's very exciting."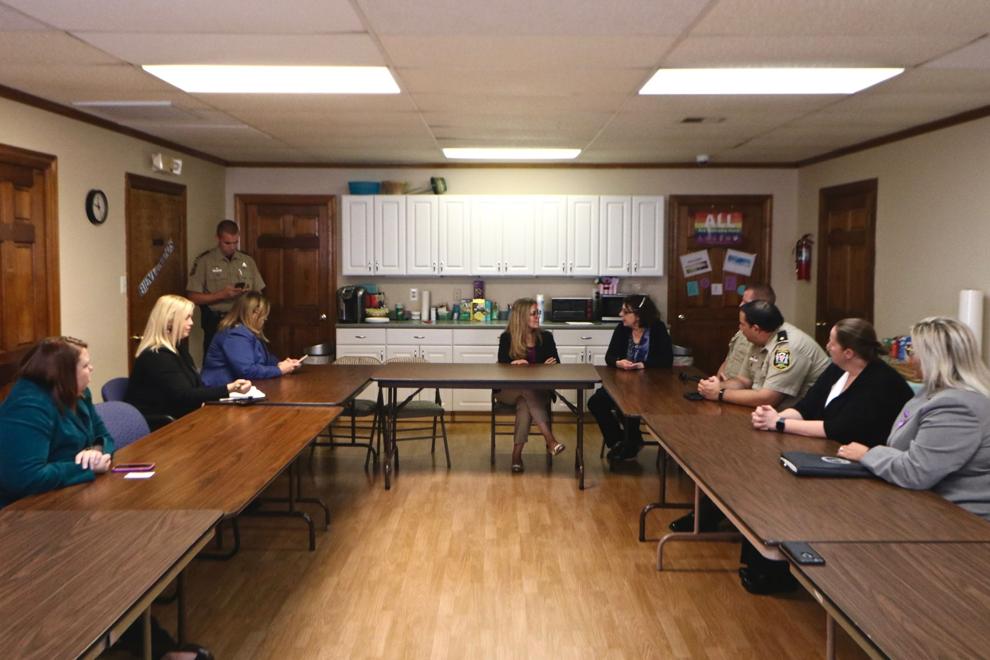 LAWS has made efforts to promote its services to abuse victims who are part of underrepresented people groups, including anyone under the age of 18 or over 55, those who suffer from disabilities, Asian Americans and African Americans, and plans to make adjustments to make the shelter ADA compliant.
Leesburg Police Department Criminal Investigations Commander Jaime Sanford added that while LPD wishes to serve all survivors regardless of citizenry, undocumented residents who suffer from abuse often hesitate to reach out for assistance.
"We have seen a number of victims that won't even call the police because they're concerned about their status," Sanford said. "When it comes to victims of a crime, I don't care about their documented status. I want to help them in whatever way we can."
Sanford added, "It's hard when we can't get people to call the police because they're afraid that when we get there we're going to immediately call [Immigration and Customs Enforcement]."
When Wexton asked whether assistance is provided for survivors without driver's licenses, independent credit or general financial literacy, Hanley responded that such provisions are sometimes "challenging" to pull off. LAWS relies on partnerships with local churches to provide assistance when needed.
"If it gets to the point that they've done everything and they're still not successful, we reach out to our partners in the faith-based community to see if there's additional resources that they will help with. Our faith-based partners are awesome," Hanley said.
Other participants in Wednesday's roundtable included: LAWS Director of Development Kelly Blanks; Loudoun County Sheriff's Office Criminal Investigations Division Commander Bobby Miller and Assistant Commander Chris Sawyer; Loudoun County Deputy Director of Community Corrections April Higgs; and Gwen Kennedy, legislative liaison for the Office of the County Administrator.
"Thank you guys so much for all you're doing," Wexton said in closing. "Hopefully I can take your concerns with me and see what we can do in terms of getting you some resources."