Most 17-year-olds see summer as a time to unwind between grueling semesters of school. Abhishek Krishnan and Dheemanth Munipalli, on the other hand, are spending the summer doing something unique: promoting their children's book about economics.
The two young authors recently published "Eddy's Intro to Economics," an illustrated text for elementary and middle school-aged children covering basic economic concepts.
"We want to impact the younger generation and build interest through them," Munipalli told the Times-Mirror.
Both have been interested in economics from early childhood. Munipalli said he was inspired by the deep understanding of economics exhibited by such business leaders as Elon Musk and Mark Zuckerberg. Krishnan was also drawn to the subject because a relatively small number of his peers pursue it as a career.
"Around here, a lot of people just go into health care, they go into computer science and STEM fields, so I was trying to deviate away from that," he said. "I didn't just want to be like everyone else."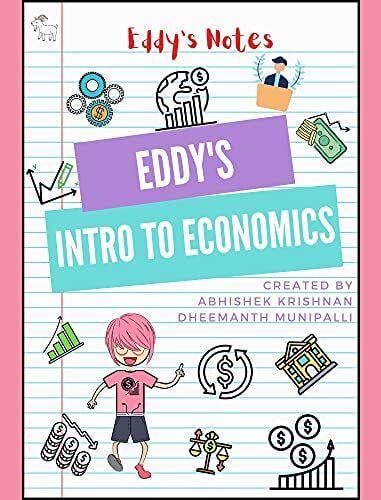 Though Krishnan and Munipalli have attended school together since the eighth grade, they worked particularly closely while taking an Advanced Placement economics class last year. They decided to translate their shared passion for the subject into a summer project.
"We said, 'We might as well do something this summer to show our interests and give back to our teacher, who really guided us throughout this year,'" Krishnan said. "So we decided to write this book."
They began the project in May as the spring semester was winding down. Over the following month, they underwent "eight-hour work sessions," said Munipalli, outlining and writing chapters, and using the software Canva to design graphics.
During the graphic design process, the duo came up with Eddy, a cartoon character who could take young readers "on a journey" through the book's various concepts. The character is a young student clad in pink shoes and T-shirt, with a punkish pink hairdo.
"We didn't want to have someone in a suit and tie on the cover like it was an actual teacher. We wanted it to be a student who was showing his other friends the concept," Krishnan said.
Since it's a children's book, Munipalli said he and Krishnan did not have to go too in-depth into any one concept, making each chapter a general topic overview. However, the authors' teamwork and ability to fill the gaps in each other's respective knowledge eased the writing process considerably.
"For all the content in the book, there wasn't any gap in our [collective] knowledge," Krishnan said. "We just put all our ideas in there, and it was a smooth process."
"I don't think [either of us] would have been able to do it alone," Munipalli said.
Portions of the book take concepts presented in the preceding pages and discuss how those concepts apply to real-world situations such as the COVID-19 pandemic. For instance, they used the nationwide toilet paper shortage at the onset of the health crisis to illustrate the idea of supply and demand.
After finishing the book, the authors reached out to local elementary and middle schools in the hopes of putting it on library bookshelves. They first successfully put it in about 15 school libraries in Loudoun County before eventually selling the book to about 300 schools along the east coast, Krishnan said. They even sold copies to friends and family who teach at public schools in India.
Further, the book landed at #1 in the "Gifted Students" category of Amazon's "Hot New Releases" list. That list, updated hourly, comprises the company's "best-selling new and future releases," according to the Amazon website.
Krishnan and Munipalli plan to expand the franchise with more in-depth books on certain subjects introduced in the first book. They would also like to write more advanced versions of the book for high school students.
"This is just the tip of the iceberg for us," Krishnan said.
"Eddy's Intro to Economics" costs $9.99 for a hard copy and $1.99 for an e-book copy. It is available to purchase on Amazon at amzn.to/3xIzP5C.