The Loudoun County School Board agreed to a settlement retracting disciplinary action against Leesburg Elementary School teacher Byron "Tanner" Cross on Monday, as legal teams for the Alliance Defending Freedom and the school board argued in court whether an LCPS transgender policy should stand.
A senior counsel for ADF said school officials had agreed to a permanent injunction barring them from punishing Cross for anything he has said about the policy up to the time it was entered by the court Monday morning. The school board also agreed to remove disciplinary action related to the policy from Cross' personnel file, and pay $20,000 in attorney's fees.
Cross said in remarks delivered outside the courthouse after the hearing that, "No government can force its citizens to say things they disagree with. This is especially true in schools, where ideas should be fiercely protected, both for the sake of freedom and the sake of truth."
But most of the hearing was dominated by arguments for and against Policy 8040.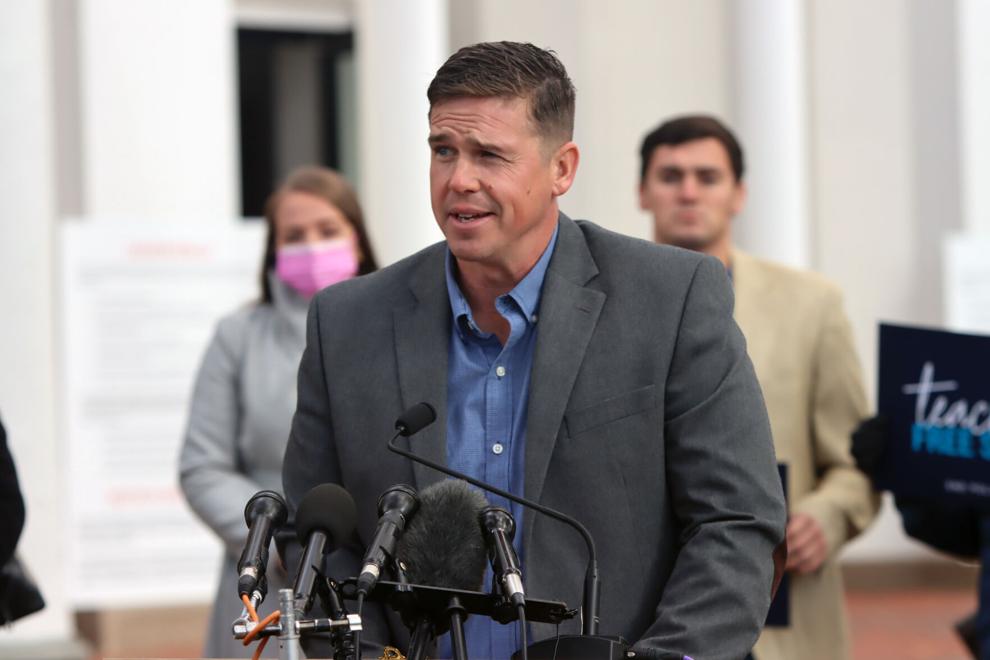 ADF attorneys, who filed a suit on behalf of Cross and fellow LCPS teachers Monica Gill and Kimberly Wright, argued that the transgender student policy was an affront to their clients' rights to free speech, freedom of religious expression, and that it flouted their due process rights.
ADF's legal team said the transgender student policy and "what we call the 'pronoun mandate' violates the Virginia Constitution because it tramples on free speech and religious expression." Compliance with the policy, they argued, would have gone against the religious beliefs held by Wright, who "wants to make sure that her conscience is not violated."
ADF counsel also said Wright is in danger of receiving a complaint over noncompliance with the policy "any day," and that clients had reason to fear punitive action from the school board over their refusal to use transgender students' asserted names or pronouns.
But Stacey Haney, who argued on behalf of the school board, said that First Amendment protections to speech did not have the same scope when applied to public employees using speech in the execution of their duties.
"Mr. Cross goes to a school board meeting and speaks at public comment — that's a matter of public concern," Haney said. But under Supreme Court precedent set by Garcetti v. Ceballos, "any speech that is carried out in the function of his official duties as a teacher — that's not a matter of public concern."
Haney said that in the context of the ADF clients' suit, the teachers' speech is curricular, rather than general public speech. In a classroom setting, teachers' speech is school sponsored and bears the imprimatur of the school, as well as being designed by faculty and designed to impart knowledge. Those two factors involving teachers' speech in the classroom demarcate it as curricular, she said.
Arguing against the claim that ADF's clients faced an "imminent threat" to their job security, Haney said that "Notice was given Sept. 27, and it's now the middle of November." Given the length of time since the policy was implemented and messages informing LCPS staff about its required use, Haney disqualified the due process claims as not likely to pass muster with the court.
Cross was placed on leave two days after he said at a school board meeting on May 25 that he would not comply with then-Draft Policy 8040. The ADF filed suit against the school board on his behalf on June 1. Gill and Wright were granted permission to join Cross in an amended suit against the school board Sept. 2.
Circuit Court Judge James Plowman Jr. previously issued a temporary injunction reinstating Cross' employment on June 8, which was upheld by the Virginia Supreme Court upon appeal by LCPS. At the end of the hearing Monday, Plowman said there would likely be no further developments in the case until after the Thanksgiving holiday.
Nathaniel Cline contributed to this report.