U.S. Sen. Tim Kaine swung through western Loudoun last Thursday to speak with and hear suggestions from local leaders about bolstering the rural economy.
While a formal proposal isn't on the table, a suggestion was raised during a roundtable in Hillsboro to consider incentivizing and developing meat processing centers and mills. A few business owners said those moves would help them expand their business, and they noted the impact of overlapping regulations and the decrease in mills and processing centers.
"If you've got these great farmers who can grow a product, but they can't get a processor to market it then that's an obvious choke point," Kaine said at the end of his visit to Loudoun.
The senator said he's considering the feedback and will explore various initiatives with his staff.
Long Stone Farm Co-Owner Casey Wisch, one of those to speak with Kaine, said because of overlapping regulations with states surrounding Virginia, meat processing has been a challenge. She suggested consolidating the governance over meat processing.
"We have multiple agencies that we have to answer to, so, yes, if that process could be streamlined it would definitely be easier," Wisch said.
Regulations on both the federal and state levels were some of chief concerns for dozens of rural business owners.
During the congressional recess, Kaine has scheduled stops in Winchester, Loudoun and Prince William counties to discuss health care, gun safety and agriculture.
Kaine's visit comes after agribusinesses in western Loudoun helped the county generate $1.84 billion in tourism revenue last year, placing it third in the state, according to Visit Loudoun President & CEO Beth Erickson.
In terms of supporting agribusinesses, Kaine touted his effort to pass the 2018 Farm Bill, saying that "small-town economies are really important." The bill included an increase in funding for Chesapeake Bay clean-up efforts, protections for Virginia agricultural products, increased protections to prevent animal abuse and funding for the Supplemental Nutrition Assistance Program (SNAP).
Additionally, the bill had language supporting legalizing industrial hemp production, a crop that is already cultivated for research purposes in Virginia but cannot currently be grown for commercial use.
In terms of broadband, speakers asked Kaine to help rural areas and the county qualify for federal grants. Because 70 percent of the county is covered by Internet service, Loudoun does not qualify for federal grants, according to Blue Ridge Supervisor Tony Buffington (R).
One of the keys to improving broadband service is passing a broadband bill, Kaine said, but what the bill needs is support from Congress and the White House.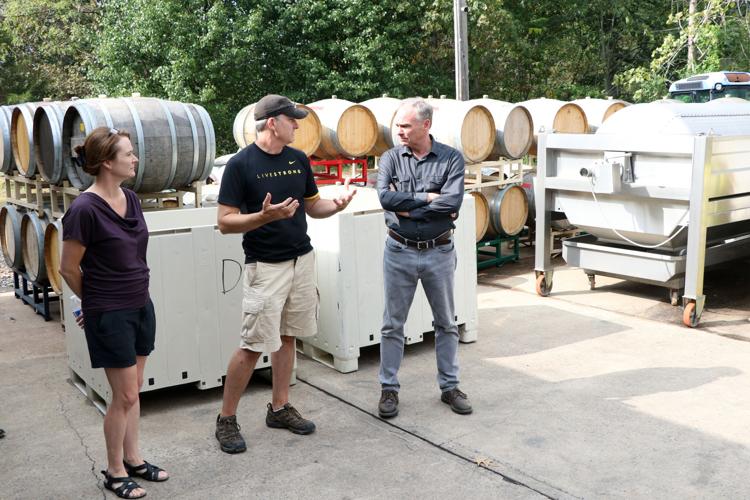 Climate change and rising temperatures are also hurting some farmers and vintners. As a member of the Armed Services Committee, Kaine said climate issues are on his list of concerns, as are the rising sea levels in the Hampton Roads area and animals in national parks. The senator said he believes "better research" is necessary to have any impact.
"…we have to get serious about reducing carbon, and Congress has been a bystander and unwilling to do anything," Kaine said. "There's innovation going on by great American companies, but when President [Donald] Trump backed out of the Paris [Agreement] Climate deal, it was a disaster because that basically says we'll let others lead this effort."
"We don't want anybody else to lead this effort," Kaine added. "We have the best innovators and best research universities in the world. We should be leading the move toward low and no carbon, and President Trump backing out the Paris climate deal is just a ceding of our leadership position, so we need to get back in that, but we also need to look at strategies in Congress that will promote moving toward low and no carbon."
Roundtable participants at the Old Stone School in Hillsboro were also concerned about health care options.
"Health care issues are acute everywhere, but most acute in rural areas," Kaine said.
In April, Kaine and U.S. Sen. Michael Bennet (D-Colorado) reintroduced legislation to create Medicare-X, a public plan that would offer families, individuals and small businesses additional, low-cost health insurance choices and create more competition in the marketplace. The updated Medicare-X Choice Act of 2019 would lower premiums and increase coverage for Medicare-X consumers and those in the individual market, according to officials from Kaine's office.
Speakers also encouraged the senator to support immigration reform, combat the environmental impact of the Rockwool stone wool manufacturing plant in nearby Ranson, West Virginia, to push for Senate Bill 362, which would reform taxation of alcoholic beverages, and to continue funding the Department of Agriculture to preserve farming lands and loan programs.
"We are a capital-intensive business to get into, and so these smaller USDA loans with access to $100,000 to 200,000 isn't enough," Vineyards & Winery at Lost Creek Co-Owner Aimee Henkle said. "What we need access to is somewhere in that million-dollar range so we can continue to grow our business and have access to easier capital with lower rates, because the loans that are available to us are too small."
At Thursday's roundtable, Kaine was flanked by Hillsboro Mayor Roger Vance, Vice Mayor Amy Marasco and rural Loudoun supervisors Geary Higgins (R-Catoctin) and Buffington. Kaine was presented with gifts after the two-hour roundtable discussion, and he then visited farmers and owners at Second Spring Farm in Purcellville and Black Sheep Farm and The Vineyards & Winery at Lost Creek in Leesburg.