Data Centers have become a revenue and employment source for Virginia localities, and U.S. Sen. Mark Warner (D-Va.) believes the industry could be a new economic driver for the commonwealth.
He offered those comments Friday during a roundtable with county officials and leadership from data centers in Ashburn.
"If any of you would ever be willing to look at southside or southwest, I will move heaven and earth in terms of state and federal incentives," Warner said following a lengthy conversation at the Equinix Data Center.
With customers having the need for more data space, the group discussed companies growing their operations and investing beyond the northern Virginia data center hub. Microsoft is one example, expanding its operations into Mecklenburg County near the North Carolina border and creating more than 100 new jobs, according to reports. Microsoft is also reportedly building data centers in Leesburg at its property in the Compass Creek development.
Northern Virginia remains one of the largest data center markets in the world – led by Loudoun County – with more than 100 data centers comprising more than 18 million square feet of space and and another 3 million square feet under development, according to Data Center Coalition President Josh Levi.
According to recent estimates, more than 70% of the world's internet traffic passes through Loudoun's digital infrastructure, making the data center industry an important economic tool and job creator in the region.
Warner wanted to know more, asking questions about security efforts, infrastructure needs and deploying 5G.
In January, Sen. Warner and a bipartisan group of national security senators introduced legislation to encourage and support U.S. innovation in the race for 5G, providing more than $1 billion to invest in western-based alternatives to better compete against Chinese equipment providers like Huawei.
One subject that grabbed the group's attention was community relations and addressing environmental and aesthetic concerns with data centers.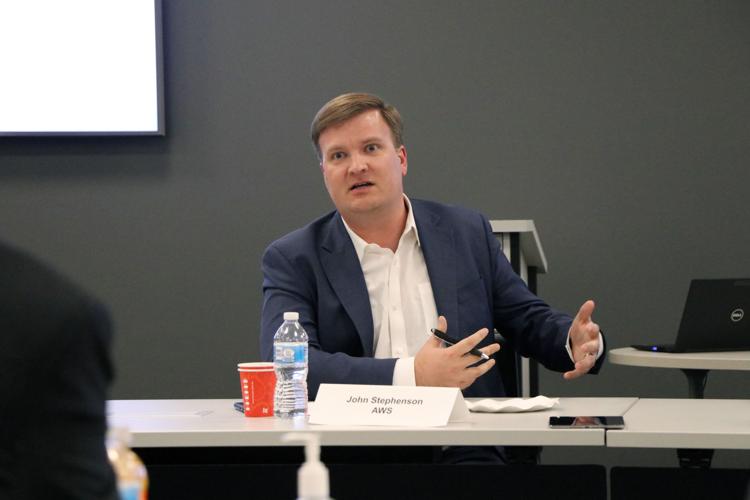 Loudoun County Economic Development Director Buddy Rizer said the industry has evolved over the years, including an increased effort to build on community outreach by preserving the environment, improving designs, providing tours and working with schools and universities.
"It has been an education campaign on behalf of the industry, on behalf of NVTC, on behalf of the county government to try to educate those answers and tell that story in a way that I think has made a difference," Rizer said. "I think we've gotten through the worst of it, and I think that by and large people have started to understand what that impact is and what it means, and we just have to make sure that we continue to keep that environment strong."
QTS Data Centers Chief Hyperscale Officer Thomas "Tag" Greason added, "Normally, data center companies don't put their names on their buildings. They don't say anything about what's going on. It's very secure. We don't say a thing. Everyone around this table has realized it's our job to tell the story and bring the community in, and I think Buddy has led the effort in that and the rest of us have followed along."
Industry leaders said they are looking to hire hundreds of contractors to construct and service the centers. They are looking at standards to handle various security requirements with military agencies, applications and streaming platforms.
A recent study from the Department of Energy determined there is "modest growth" in data center energy, something that pushed back against analyses stating that energy has doubled in the past decade.
The study found that while data centers computing output jumped sixfold from 2010 to 2018, their energy consumption rose only 6 percent.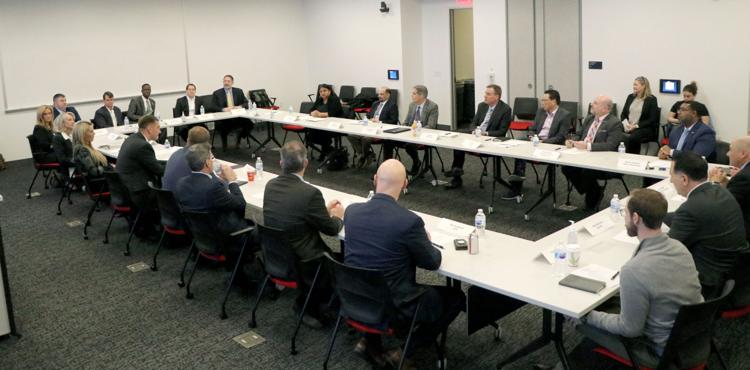 As for attracting data centers, power capacity, connectivity and local workforce are the main drivers.
Amazon Web Services Public Policy Senior Manager John Stephenson said Loudoun County has nearly perfected those elements.
"I think with the alignment with the ingredients of power, connectivity, workforce … have really made a difference in northern Virginia," Stephenson said. "On the workforce component, that is big. That is why Amazon's been long investing in Virginia. That's why we brought HQ2 here to tap into the talent and the potential talent that we know is out there."
Equinix President of the Americas Jon Lin agreed connectivity is key.
"Direct access to fiber is so critical for what we're trying to do and for what our customers are trying to do," Lin said. "It's that being on those long-haul routes, being adjacent to the bulk of the internet that's going to be flowing through those areas, and that's what we've been able to build here in Ashburn."