About 450 area residents attended a peaceful protest and vigil Wednesday night at Niels Poulsen Park in Round Hill.
Organized by Round Hill residents Jennifer Maulfair and Tammy Pyle, the event was originally planned between the two families so they could join together to light a candle and honor the memory of George Floyd, a black man who died at the hands of a Minneapolis police officer last week.
"I needed to do something as a white person, mom and teacher. We don't know the pain, and it's up to us to figure it out, hopefully by standing up to it," Maulfair told the Times-Mirror. "I cannot stand on the wrong side of this. I wanted to stand somewhere and light a candle, and I thought other people would too."
As word spread throughout the week that a vigil and peaceful protest was being planned, more people contacted the organizers to say they would be attending. At that point, Maulfair and Pyle decided to move the event from the town's park to the larger space at Poulsen Park, off Evening Star Drive.
The event began quietly with eight minutes of silence, followed by a short speech by Maulfair, who encouraged others to stand up and speak.
Local musician Julia Kasdorf spontaneously sang the song "What's Up" by 4 Non Blondes and the crowd joined in.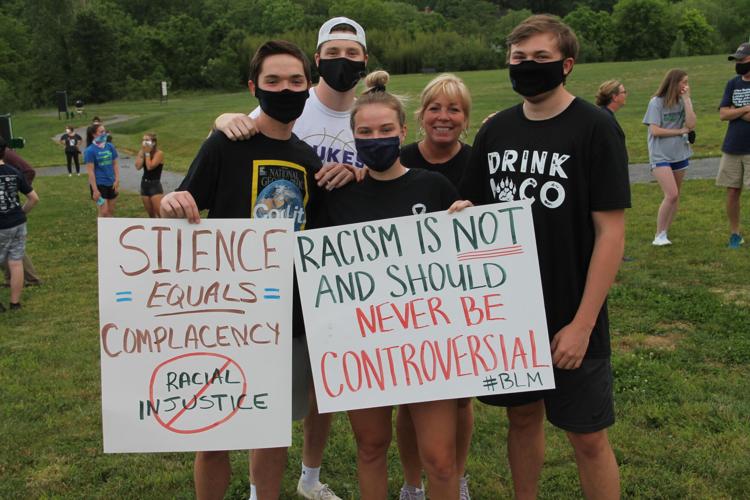 High school student Cate Laverty read a poem she had written, with the lines "black lives matter until the world isn't so vicious."
One woman stood up and said she has lived in Round Hill for one year. As a black woman, she said that she fears for her boys everyday.
"The only time anyone has smiled at me is the last week. It takes something like this for people to be friendly and act like they care. If you want to know what to do, just say hello. There are not many of us here, break into our world," she said.
Another teen girl stood up and spoke, saying as a white girl she has never had to fear being pulled over by a police officer.
"This is an enormous wake-up call. I am not black but I see you, I hear you and I stand with you," she said.
Round Hill resident Don Wilson stood up and said he has lived in Round Hill for 17 years, and he feels something different in the air now.
"As an African American man it hasn't been difficult in Loudoun County, but where I grew up it has at times been a struggle. I teach my boys how to survive in a society that doesn't appreciate you just because of the color of your skin. There is power in your voices. We thank you. It's not over, this is only the beginning. If you see something, say something," Wilson said.