Loudoun County Sheriff Mike Chapman (R) told school officials on Aug. 5 that the sheriff's office would not provide uniformed deputies for security at two school board meetings in August, even as board members were receiving threats, according to an internal Loudoun County Public Schools letter and emails obtained by the Times-Mirror.
Since the beginning of the current academic year, the Loudoun County Sheriff's Office has not maintained a presence of uniformed personnel at the LCPS Administration Building in Ashburn, instead leaving the school division to hire private security to provide protection.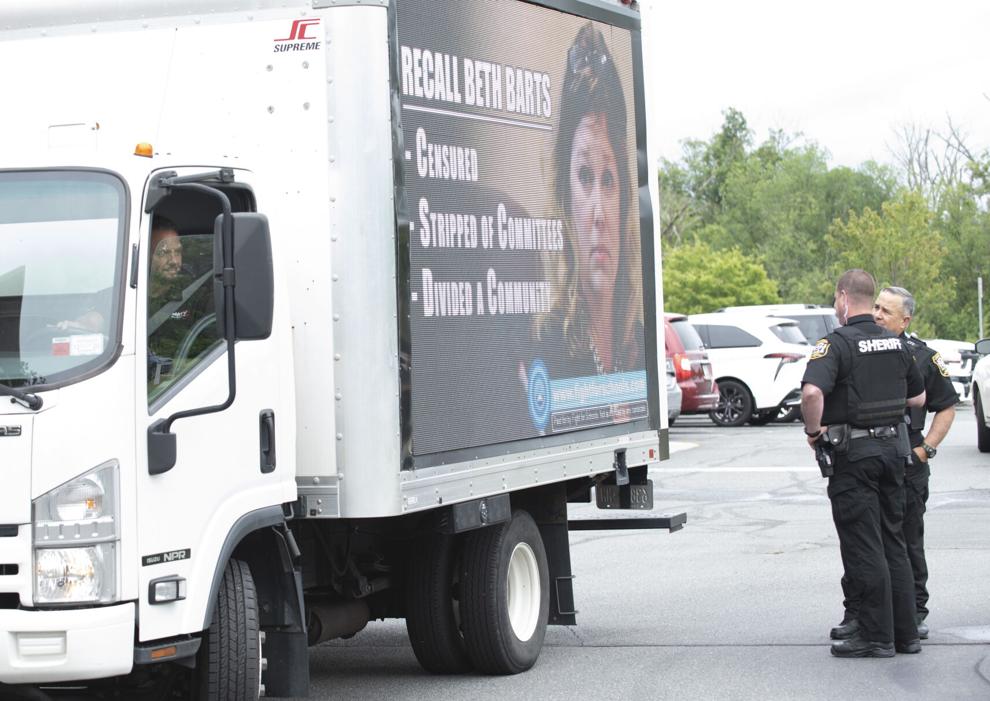 "This is not a private party," Barts said, referring to school board meetings. LCPS contracted a private security firm to ensure public safety at board meetings after its discussions in early August with the LCSO. "It's very obvious [Chapman] didn't want to be there," she said.
Chapman told the Times-Mirror on Friday the sheriff's office has continued to provide security at school board meetings since that Aug. 5 discussion, but not in the manner and degree requested by school administrators.
"We did provide security, but not the way that [LCPS superintendent Scott] Ziegler wanted," Chapman said. "There were plainclothes deputies present at both [August] meetings ... We still have security either onsite or nearby." He added that deputies are either stationed inside the administration building in plainclothes, or in uniform nearby, depending on what information regarding possible threats to public safety the sheriff's office has.
Barts said she was unaware of plainclothes deputies in attendance at school board meetings.
Uniformed sheriff's office personnel were last present at a June 22 school board meeting which boiled over and led to the arrest of two Loudoun residents. According to Barts, board members had to leave the dais and be taken to a secure location as the meeting erupted into chaos, with attendees shouting at each other as well as at the board.
The sheriff's office had usually maintained a presence of one or two armed deputies at school board meetings up to that point, according to Chapman. He said deputies had been present at board meetings for the past two or three years.
But certain information the sheriff's office had received by mid-June — including claims that Barts may have been involved in plans to bus people in from out of the county to show support for a transgender student policy being debated at the time — prompted him to provide a much greater level of LCSO security support for that meeting, he said.
Barts denied having any direct involvement in helping people from out of the county come to the administration building. "The Loudoun [County Democratic Committee] ... said they would have a bus to pick people up so they wouldn't have to drive. I retweeted that," Barts said. "That's all I did. There's no emails. There's no messages."
Email correspondence between the sheriff's office and school administrators obtained by the Times-Mirror indicates Ziegler and Chapman were aware that "many hotel rooms in Loudoun were booked by those wishing to demonstrate at the meeting on August 10," according to an Aug. 6 message written by the superintendent.
"This afternoon, LCPS became aware of robocalls being made in Loudoun County encouraging citizens to demonstrate at the LCPS administration building," Ziegler wrote in the same email. "Additionally, LCPS Safety and Security has shared multiple disconcerting and threatening emails sent to Board Members by members of the public."
The email thread begins on the evening of Aug. 5, shortly after a phone conversation between Chapman and LCPS Chief Operations Officer Kevin Lewis which formed the basis of the LCPS letter that began circulating Thursday.
LCPS Director of Safety and Security John Clark had begun corresponding with LCSO officials immediately after the June 22 school board meeting, according to the LCPS letter. He had invited personnel from the sheriff's office to participate in a series of three "countdown" meetings ahead of the Aug. 10 board meeting. Three representatives of the sheriff's office had participated in the first two meetings, held on July 29 and Aug. 5.
Lewis wrote in the letter that at the Aug. 5 meeting, LCSO Division Commander Maj. Easton McDonald told him the sheriff's office "would not be supporting LCPS for the meeting on August 10 or August 11." Later that afternoon, Chapman told Lewis in a phone call that the LCSO would not be providing uniformed security support for the August school board meetings.
The correspondence begins with Clark renewing a request to have extra LCSO security support ahead of the Aug. 10 meeting, including three deputies inside the building, a K-9 explosive sweep, a five-person quick reaction force, undercover deputies in the building's public assembly area and a joint command post, among other measures.
Later that evening, McDonald sent Clark a response in which he said that "LCSO has not committed to any resources" for those upcoming August meetings, and that "although our footprint will appear considerably smaller than in the past, we are ready to respond to any emergencies that may occur."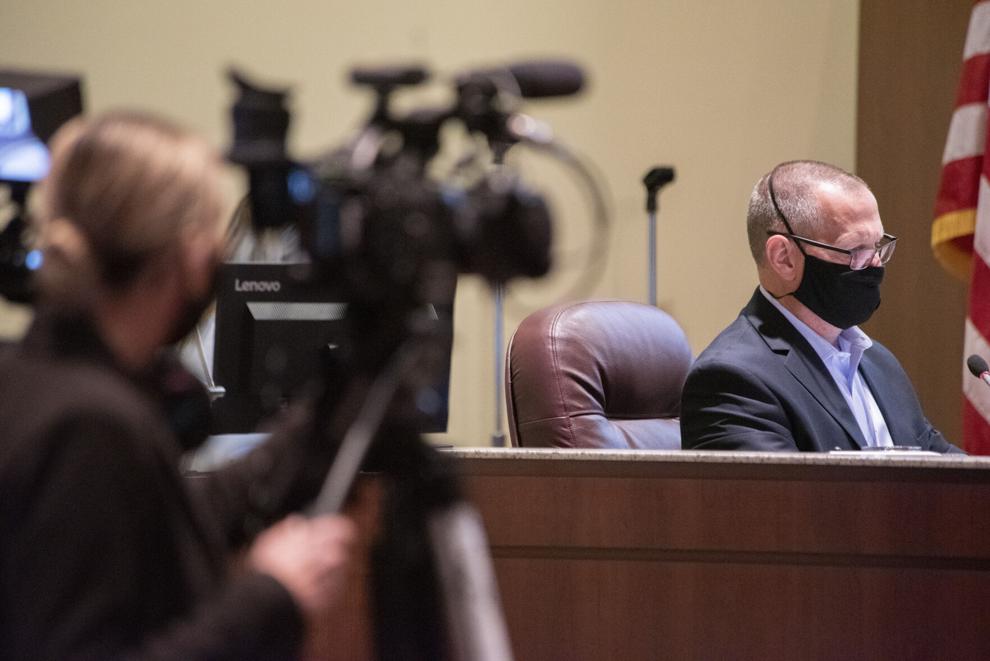 Ziegler entered the discussion and issued a direct response to Chapman the following morning. "I want to reiterate the LCPS request for law enforcement support at the August 10 and 11 School Board Meeting as outlined below," he wrote.
"While Major McDonald indicates that substantial resources will be prepared to respond, we cannot assure the safety of all participants without a coordinated plan involving onsite assets," Ziegler wrote in an email.
Chapman sent a response that afternoon in which he called Ziegler's request "extraordinary," and that such a request "would likely constitute LCSO's commitment of a minimum of approximately 65 sworn deputies. Despite this, you fail to provide any justification for such a manpower intensive request," putting 'any justification' in bold for emphasis.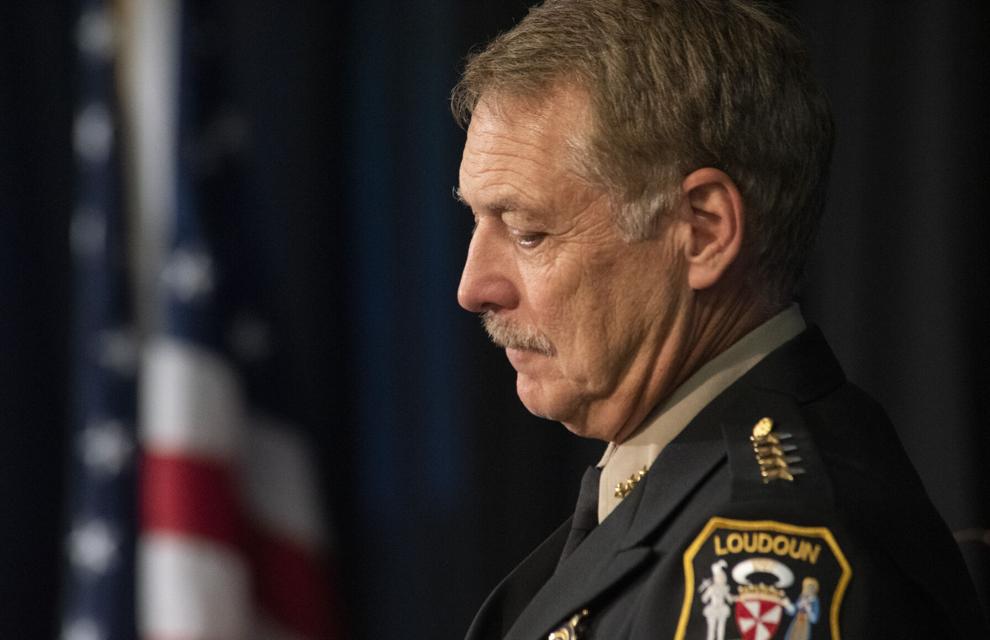 In Ziegler's final reply to Chapman in the thread, the superintendent noted that the sheriff's office informed LCPS about the hotel reservations in Loudoun County, and said the request for sheriff's office support on Aug. 10 "mirrors the resources and support that LCSO provided on June 22." He then forwarded the email thread to members of the school board.
Chapman told the Times-Mirror on Friday that continuing to provide uniformed LCSO personnel for security at the school board meetings, "made us look like we're at the behest of Ziegler, where he declares an unlawful assembly," and deputies had to clear the meeting room on June 22.
Having "armed, uniformed personnel there — it's an intimidation factor," Chapman said. "We don't want anybody to feel intimidated if they've got a concern with the school board. I thought that the optics of that were horrible."
The sheriff said he wanted to "make sure that our response is commensurate with what's going on." He added that "if Ziegler had any specific information" indicating that the August school board meetings would have merited the level of security support requested, school administrators should have let him know that.
The sheriff's office has, over the past several years, averaged two to four deputies at school board meetings, who were paid overtime by LCPS, an LCSO spokesperson said to the Times-Mirror Saturday.
In response to intelligence received regarding the June 22 meeting, a spokesperson said the office modified its operational plan and provided additional uniformed deputies.
The spokesperson said some of the open-source intelligence the office received included an expected large attendance from people outside of Loudoun County.
"The intelligence gathering process is constant as information is received, validated (or not) and all operational decisions are confidential," a spokesperson said. "At the time of the August 10 meeting there was no validated information that indicated a need to continue a modified operational security plan."
The spokesperson said LCSO would not share specific details for operational details due to safety and security concerns. However, the spokesperson said it wishes to assure residents that "we allocate the appropriate level of resources based on the nature of the public meetings and the intelligence developed prior to each meeting."
"Every meeting for the past five years, up until August 10, there was a uniformed officer in the building," Barts said. "And after June 22, [Chapman] decided, 'I'm not doing that anymore.' He didn't agree with the way we were handling things. I get it — he wasn't about to protect me. I know. He still has an obligation to protect all the people at the parking lot."
Safety concerns prompted Barts to put in a request for remote participation for the Aug. 10 meeting.
"It was a very scary time," she recalled. "Once I realized that there would be no local law enforcement" present at that meeting, she said she put in a request for virtual participation, due to personal safety concerns. "Most of the threats were still coming to me," Barts said.
"I left town to a gated community and attended the August 10 meeting from that location," she said. Board members have to disclose the location from where they are participating in a remote meeting, and Barts worried that if she attended from home, she could have been putting her and her family's safety at risk.
After the Times-Mirror sent a follow-up inquiry to the sheriff's office as to whether the threats school board members had been receiving met its standards for prosecution, a spokesperson from the LCSO wrote via email on Thursday that, "the messages received at this time do not meet the elements of a crime under Virginia Code."
But according to Douglas Laycock, the Robert E. Scott Distinguished Professor of Law at the University of Virginia, some of the messages "would reasonably intimidate the recipients and they are not protected speech."
The Times-Mirror sent Laycock textual excerpts of two messages school board members have received within the past several months. The first, dated May 23, mentions a pipe bomb and lists some ingredients to create one. The message concludes with the ultimatum, "Resign, or face our wrath."
In the second message, received on Oct. 27, the writer starts off saying, "Your kids will now be targeted just like how you have targeted all of our kids!"
Laycock said the first message, "clearly references all sorts of violence and ends with the explicit threat to 'resign or face or wrath.'"
He indicated that a portion of the second message in which the writer promises to 'arm ourselves,' "makes the promise to 'target' the kids in the first sentence read like targeting with weapons or physical harm."
"I'm not the judge or the jury," Laycock said. "But I think the two passages you quote are true threats."