Hundreds of conservative Northern Virginia residents — including former secretary of Housing and Urban Development Ben Carson and Republican gubernatorial nominee Glenn Youngkin — gathered Wednesday night for the Rally to Save Our Schools at the Landsowne Resort and Spa in Leesburg, railing against cultural flashpoints from critical race theory to mask mandates in Loudoun schools.
In his speech, Youngkin lambasted his opponent in this year's gubernatorial race, Terry McAuliffe (D), who served as Governor of Virginia from 2014 to 2018. He said the former governor "had the audacity to say that [critical race theory] is a vast right-wing conspiracy invented by Donald Trump and Glenn Youngkin."
The American Bar Association has defined critical race theory as the understanding that race is "socially constructed and socially significant," and that "racism is a normal feature of society and is embedded within systems and institutions."
Nationwide, Republicans have seized on the purported teaching of critical race theory in schools, and local activists including Ian Prior, executive director of the conservative group Fight for Our Schools — which helped organize Monday's event — have held rallies throughout Loudoun County.
At Wednesday's gathering, it wasn't just marquee Virginia candidates weighing in on the issue. Before Youngkin's speech and a keynote address by Carson, a panel of Loudoun parents, teachers and local organizers blasted both critical race theory and educators whom they viewed as amenable toward its core principles.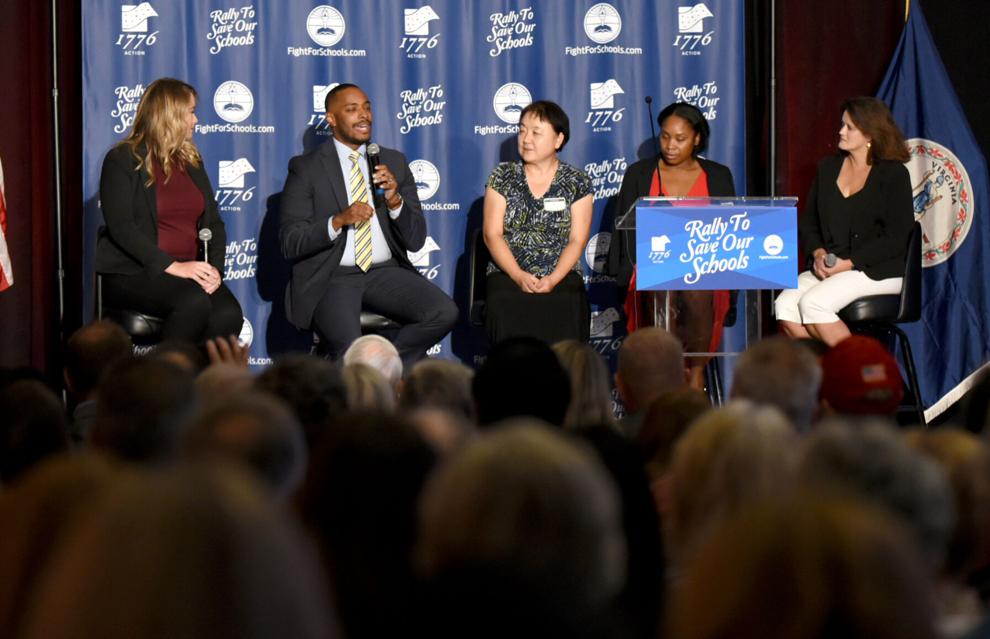 Xi Van Fleet — a Virginia resident who fled China during the Maoist Cultural Revolution and whose son graduated from Loudoun County High School — compared the teaching of critical race theory in schools to the educational system's "indoctrination" of students in China when she grew up there.
"I'm telling you, this is Communist — take over," she said. "CRT to me is a bunch of Communist tactics. We need to make CRT as toxic as possible, so that even the liberals can't defend it."
Loudoun County High School history teacher Monica Gill said she was "alarmed and appalled" at the use of "buzzwords" when the school district began equity, diversity and inclusion initiatives.
"I love these kids. I pour my life into them. I invest myself into them," Gill said. "To see what the county was doing — what they were pushing on teachers — and knowing that the real goal of what they were doing was to indoctrinate teachers and force this critical race theory, imposing it as a lens by which teachers are supposed to educate kids. I just knew this was wrong."
"The reality is that this is being extremely disruptive to our community," Gill said. "Our kids are being encouraged to discriminate against each other, and it is heartbreaking to watch this take place."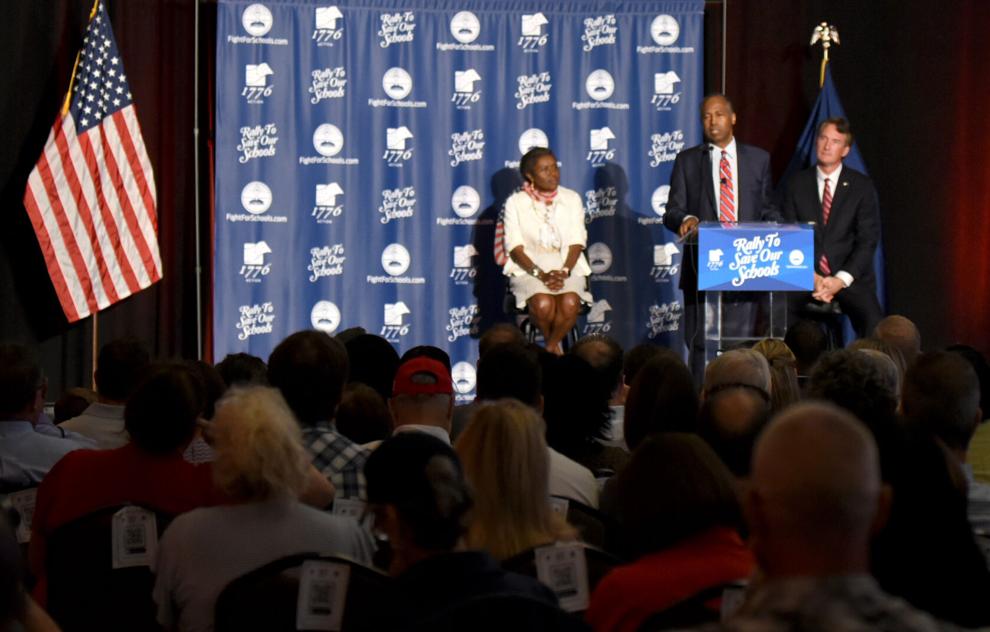 Conservative podcaster Joe Mobley also participated in the panel, referring to critical race theory and social justice issues as part of "so much bull crap that doesn't matter."
"If you think all white people are racist," he said. "You're not misinformed. You're not confused. You're stupid."
Mobley, who is Black, said, "If you want to be around Black people — Africa. There's like 28 countries over there. In our country, things are on the line."
There are 54 independent countries in Africa, according to the World Atlas.
In his remarks, Carson, a retired neurosurgeon, condemned both the use of masks in schools as a measure to combat COVID-19, as well as the purported stance that as part of critical race theory slavery and its consequences are viewed as a deterministic influence on Black Americans' lives.
"Can you imagine what it must be like to be a young child today?" he said to the crowd. "First of all, you got to wear masks. Okay, so you go to school. You don't get to see people's facial — you don't even know who they are. You don't get to correlate what they're saying with their facial expression."
Carson lambasted adults for telling children that if they were to contract COVID-19 at school and bring it home, the disease could end up killing elderly relatives.
Students are told they may have "some horrible fatal disease, even though it may not affect them, they may give it to their grandmother and she may die," he said. "Grandmothers do get old and they do die. But now we got this kid thinking they have something to do with it."
Of critical race theory, Carson said, "When I think of CRT and the 1619 Project, it sickens me, quite frankly." He said the authors of the 1619 project — produced by The New York Times Magazine in 2019 — "are trying to tell you the most important factor in your life ... is going to go on your externals — physical characteristics over which you have no control, and putting aside the thing that you do have control of, which is your character."
"I got a newsflash, they say white people are evil because of slavery," Carson said. "Newsflash. Where do you think they got those slaves from?"
"They were having tribal wars in Africa," Carson went on to say. "There would be conquest and the victorious tribes will either kill those, or enslave" those they spared.