Hospitals in Loudoun County are facing staff shortages and an increase in the number of COVID-19 patients being hospitalized amid a recent surge of new cases, according to remarks made to the board of supervisors Tuesday.
Health officials at two of the largest hospital systems in Loudoun told the Board of Supervisors at Tuesday's business meeting that they have recorded a new high in hospitalizations and staff levels have dipped because employees have contracted the virus despite being vaccinated.
"I've been with Inova for 24 years and this is probably the busiest I've seen all of our hospitals at any given point," said Susan Carroll, president of Inova Loudoun Hospital in Landsowne.
During the previous peak of the pandemic last winter, Inova Loudoun at one point had 58 COVID-19 patients being treated, according to Carroll. But on Tuesday, the hospital broke that record, with 59 COVID-19 patients hospitalized.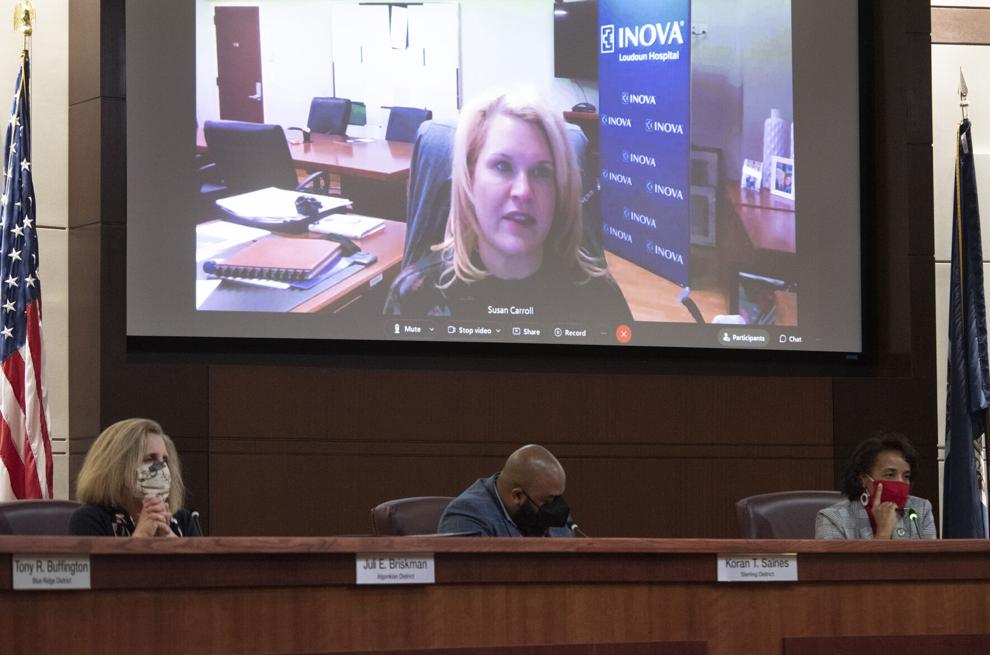 Further, the Inova president said the hospital has faced a testing positivity rate of more than 60% over the past few days, had an increase in emergency room wait times and had to stop accepting external patient transfers.
"We've always been a place where people transfer, and we've shut that down yesterday," Carroll said. "We really cannot take any external transfers from any neighboring states or neighboring counties right now."
Nathan Vooys, chief executive officer at of StoneSprings Hospital Center in Dulles, said the hospital is experiencing similar issues. Since mid-December, Vooys said the number of patients in emergency rooms continues to increase.
In the past two weeks, Vooys said about 15% of the hospital's workforce has contracted the virus. The hospital, he said, is following the CDC's recommendations, which permit employees to return to work in five days if they are not experiencing any symptoms.
"What we have found is that most of our employees are not able to return to work; they don't meet the criteria because they are still symptomatic and just not feeling well," Vooys said. "So that is unfortunately keeping our workforce out for probably seven to nine days on average … which creates a lot of operational issues."
Vooys said he appreciates the county opening testing centers, and supports even further outreach as people seek confirmation of whether they have contracted the virus.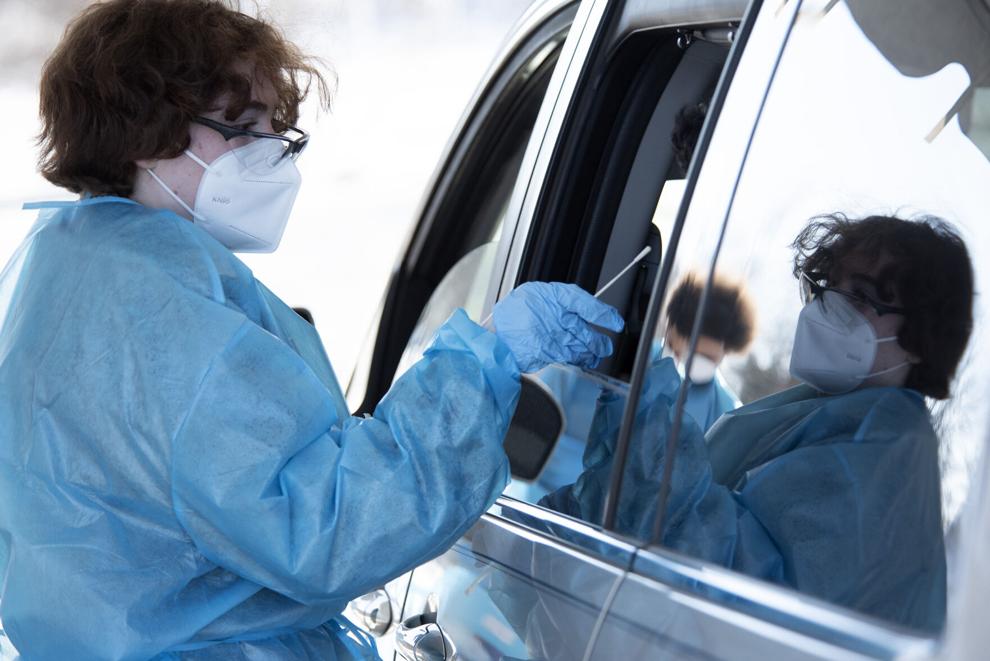 Dr. David Goodfriend, health director for Loudoun County, said at Tuesday's meeting that the county has increased the number of tests it is administering per week from 250 at the start of the pandemic to over 4,000. He said the county has already reached its lab capacity with the current vendor. Options for how to get tests to other parts of the county are being considered, Goodfriend said.
Goodfriend said during his report to the Board of Supervisors, the Virginia Department of Health (VDH) provides data on infections, hospitalizations and deaths by vaccination status, which are updated every Friday.
As of Dec. 25, 2021, more than five million Virginians had been fully vaccinated against COVID-19, according to the VDH.
"Fully vaccinated people are much less likely to get infected than people who are either partially vaccinated or are under-vaccinated," Goodfriend said. "We don't have the data specifically for Loudoun County, but we don't have a reason to think that the virus would behave differently in Loudoun and other parts of Virginia."
Christopher Chiantella, chief medical officer at Inova, urged Loudouners to continue exercising COVID-19 mitigation practices and follow treatment procedures set by their primary care physicians as infections in the county continue to increase dramatically.
Chiantella said Inova is seeing an upward trend of patients being admitted generally, whether undergoing treatment from COVID-19, or otherwise. He said the hospital likely has not yet seen the peak of hospitalizations for COVID-19 this winter, and attributes much of the increase in hospitalizations to people gathering over the holidays.
"Some of what we're seeing is still from people getting together over Thanksgiving," Chiantella said. "I don't think we've seen the peak from contagion during the last two weeks of the holidays." He added that he expects hospitalizations to peak within the next month.
Chiantella said residents who are asymptomatic and would like to be tested for COVID-19 or are experiencing mild symptoms should not turn to hospital emergency rooms as their primary source for care. He instead encouraged those individuals to frequent Loudoun's testing events, or consult their primary care physicians.
"We do not turn people away," he said. But "if you come to the emergency room and you say you're here to be tested, and you're here with mild symptoms, the triage process is going to put you at the back of the line. It's the sickest who are treated first."
"We're all in this together," Chiantella said. "Everything that affects the community affects us. We are here to provide quality, safe care and there are things we have to do to make sure that goal is attained. We have plans in place to manage whatever's coming."