Newton-Lee Elementary School in Ashburn is named for two Loudoun County residents who died when American Airlines Flight 77 crashed into the Pentagon on Sept. 11, 2001: Christopher Newton and Dong Chul Lee, according to the school's website.
The school opened its doors in 2005, and has been holding an annual 9/11 commemoration ceremony every year since 2013, principal Shawn Lyons told the Times-Mirror. Lyons said that in addition to a solemn commemoration, the ceremony marks an unofficial start to the new school year.
When Newton-Lee holds its eighth commemoration ceremony this year on Friday — last year's was cancelled due to the coronavirus pandemic, Lyons said — he and LCPS superintendent Scott Ziegler will be among the speakers.
Beyond honoring the school's namesakes, Lyons said the ceremony emphasizes that, "the work we're doing is bigger than just academics … we're trying to raise good citizens."
Students should rise through grade levels at Newton-Lee not only developing strong academic, social and emotional skills, but also "an understanding of history ... an understanding of what's happened here in the U.S., in our local area, and a general respect for ... everyone."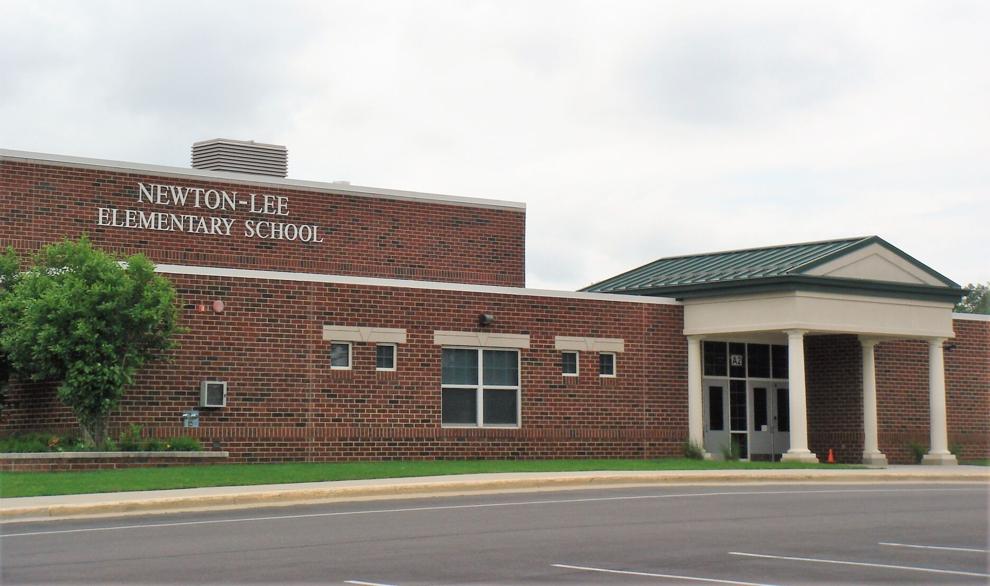 But Lyons and Ziegler won't be speaking at this year's ceremony as experienced academic instructors alone. Both men in fact harbor profound connections to the events of 9/11, and said they hope to instill a greater sense of responsibility in students as Americans.
Lyons said that on Sept. 11, 2001, he was teaching fifth grade in Westchester County, New York, in a school just two miles from the Hudson River.
"Very distinctly I remember one of ... the other teachers in the building, rolling a television cart into the staff room. And ... telling me that ... an airplane, just hit the World Trade Center," he said. "And, you know, I remember thinking that he was kidding, because he was a jokester … And then there was that sort of moment of disbelief."
Lyons recalled much of the rest of the day with that same element of disbelief. He said the skies around New York went completely quiet, and passenger aircraft were replaced by fighter jets in the air. Parents came to pick up their kids early from school that day, Lyons said, and radio towers and cell phones were inoperational.
"I remember that day very vividly," he said. "And I remember the confusion and fear and the mix, you know, the sadness, all of those emotions."
Lyons said he was in his second year as a teacher at the time, and he asked more experienced colleagues how to talk to students about what was happening. "And I remember one of the veteran teachers that I worked with saying, 'They'll talk to us about this. We just follow their lead.'"
And Ziegler was teaching 11th grade in Virginia Beach at the time of the attacks, he said. But in addition to his responsibilities as a teacher, he was serving as a police chaplain. He started teaching in 1993, and began volunteering as a chaplain the following year.
In the aftermath of the attacks, he said it was commonplace for police departments from across the country to send officers to New York and help with security around Ground Zero. Ziegler's stepmother was also serving as a chaplain just outside Philadelphia, and connected him with the Four Chaplains Memorial Foundation, which was organizing trips for chaplains to New York.
When he got to Ground Zero in December 2001, Ziegler said he was struck by, "the number of people from all across the country who had volunteered to come and respond and help with the cleanup." But also, "there was still smoldering remnants of the towers, left in place ... And they were still recovering bodies and remains from the World Trade Center site."
Ziegler said that whenever a new body was recovered from the wreckage cleanup crews would, "ring a bell, somewhere near the center of the disaster site and all work regardless of where you were in the in the control area would stop. And people would pay their respects by stopping their work, and taking a moment of silence for the deceased."
For weeks and months after the attacks, he said Americans underwent a profound period of setting aside personal objectives in favor of their communities.
"America came together as a community," Ziegler said. "We came together to support one another. We came together to look out for the safety of one another." He said that when Americans debated whether it was worthwhile to sacrifice individual freedoms in order to have increased security in planes and airports after the attacks, "America decided, absolutely, it was worth giving up some of our rights."
"If we can take one lesson from 911, ... that is community — coming together as a community for the betterment of all. For the safety of all," Ziegler said. "I wish we could continue in that spirit."