Concerns and complaints are mounting over Loudoun County Public Schools' treatment of students with special needs, particularly the system's use of isolation and seclusion practices.
A photo obtained by the Times-Mirror underscores the severe and seemingly painful tactics used in some schools, parents say.
Gigi Daniel-Zagorites was placed in a makeshift isolation area within a special needs classroom at Belmont Ridge Middle School in Lansdowne last September when she was photographed by another student with special needs. Daniel-Zagorites was trapped in an area with furniture blocking her exit as she clung to a drawer.
Daniel-Zagorites has a rare genetic disorder called Chromosome 22 Ring and is diagnosed as non-verbal. Her mother, Alexa Zagorites, describes her daughter's behavior as similar to a person with autism.
"My child has no voice," Alexa Zagorites said. "I was furious. This shouldn't happen to any human being … Just talking about it brings me to tears. She has no voice, no way of protecting herself. Children should have no fear in our public schools."
Although Gigi Daniel-Zagorites has a behavioral intervention plan, she doesn't have a crisis plan and is never uncontrollable, according to her mother, who was not informed about the incident until the photo came to light.
Alexa Zagorites said the school should have called her as soon as the incident occurred, not in retrospect.
"She could have pulled it over," Zagorites said, referring to the furniture surrounding her daughter. "The school put a puncture in my trust belt."
To Zagorites' knowledge, there were no notes recording the incident, and no one contacted her within a 24-hour period.
The photo at Belmont Ridge Middle School was taken by a student with special needs who uses an Ipad as a communication device. The photo was discovered by the picture-taker's mother, Umut Catron. Catron said she was horrified to come across the photo. She regularly clears her son's Ipad that is filled daily with pictures he took.
Catron's son's case manager visited Catron at home the same day the photo was discovered – a pre-scheduled visit that was not initially related to the photo. The case manager initiated a call to Child Protective Services, which contacted the school. Upon discovering the photo, Catron said she did not send her son to school that day.
Child Protective Services investigated the incident, as did the school system, and it was ruled that there was no evidence of physical harm.
"I wasn't even contacted to be part of the investigation," Alexa Zagorites said.
Both students have since been withdrawn from Belmont Ridge Middle School.
In a letter to Zagorites, dated Nov. 21, 2017, Dr. Ryan P. Hitchman, principal of Belmont Ridge Middle School, listed the findings of "an internal investigation into the alleged seclusion incident involving your child."
"No child was physically harmed by Belmont Ridge staff. Belmont Ridge Middle continues to review its processes, practices and procedures regarding the use of seclusion/restraint," Hitchman said in the letter. 
Better experiences elsewhere
Since the incident, Gigi Daniel-Zagorites has been moved to The Aurora School in Leesburg, which has been a refreshing experience, Zagorites said.
"Everything is documented, incident reports filled out," she said.
Catron, who viewed the investigation as insufficient, now home-schools her son who took the photo. He has autism and is "minimally verbal."
Catron moved to Loudoun from Arizona, where she said there was a "very poor public school system."
"But every child is included ... kids with disabilities are not included here. This is the worst county we have ever lived in. More training is needed to teach kids with disabilities here," Catron added.
Heidi Pirela, a Loudoun County mother, said "kids like my son with autism are being educated as second class citizens."
"Fraudulent reports, retaliation against parents, not notifying parents when a child screams the entire first half of the day, laughing at students because their files are so large, laughing about their abilities, and so many more disgusting actions are prevalent across the schools in our county," Pirela told the Times-Mirror. "If this was a private institution it would be shut down."
Stephanie Eskins-Gleason, a Sterling mother who has been involved with the Loudoun Education Alliance of Parents, has expressed concerns about student safety and the rights of students with disabilities to both the superintendent and School Board.
"I would ask, what type of learning is occurring, or is this some kind of restraint our county uses that is legal?" Eskins Gleason said.
Gigi Daniel-Zagorites' incident isn't the only case of isolation techniques being used in Loudoun County schools.
Troubles at Frederick Douglass
Alex Erkiletian, a parent of a 10-year-old boy with Aspergers Syndrome, said he became aware last year of a so-called "chill room" or "cool down room" in Frederick Douglass Elementary School in Leesburg. The room was separate to the "chill area" in the special education classroom used by his son and absent of any furniture, books or education materials.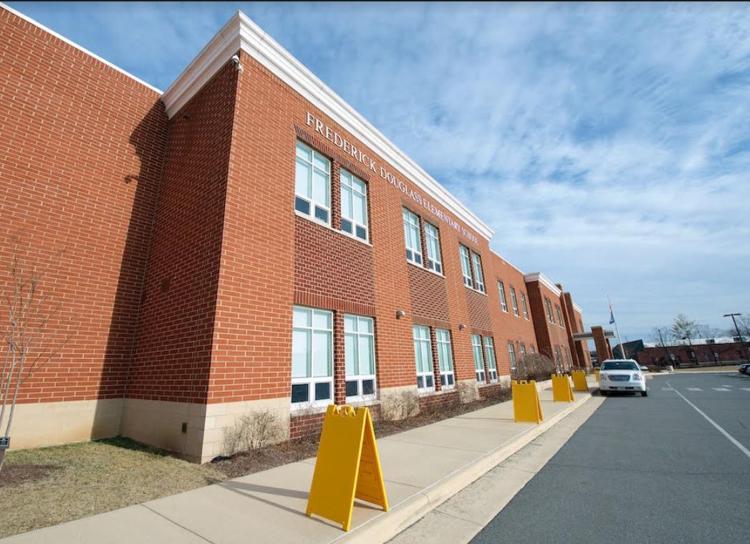 In February 2017, Erkiletian was called into the school after his son had been placed in the room for using foul language. Erkiletian was asked to come to the school because his son had made statements about not wanting to live, which led to staff attempting to complete a suicide screening.
When Erkiletian arrived, there were three members of staff standing outside the room with walkie-talkies while Erkiletian's son was lying on the floor. Erkiletian was told he should take his son to a local mental health hospital.
Instead, Erkiletian contacted his son's psychologist, who carried out an evaluation. The clinical assessment ruled he did not present a threat to himself or others, and the child reportedly made the not wanting to live statements because he was "emotionally overwhelmed … and does not meet criteria for in-patient hospitalization," Dr. Stacey Hoffmann said in the assessment.
"The teachers all insisted this is not punishment," Erkiletian said. "The room seemed to be presented as a reward. The kids were persuaded to go in there."
Two days later, Erkiletian checked in with a teacher to see how his son's day was going. He was told via email that his son had been in the "cool down room for the majority of the day due to being emotionally escalated and using very inappropriate language in the classroom. No academic work has been completed," the teacher added.
Erkiletian came to the school and took his son home. A follow-up meeting ensued, and the father asked the school to inform him if his son is again placed in the "chill room."
While in school for the follow-up meeting, Erkiletian said he went to the bathroom and passed the "chill room," where another child was inside. Erkiletian took a photo of staff holding "crash pads," seemingly blocking the exit to the room.
Erkiletian said he toured the school before his son's enrollment and was not shown the separate isolation room. He removed his son from Frederick Douglass last year.
LCPS policy on seclusion 
Loudoun County Public Schools guidelines on the use of physical restraint and exclusion for 2017-2018 contains a definition of seclusion.
"Our school spaces are designed to meet the needs of individual students," LCPS spokesman Wayde Byard said when asked how many schools had "chill rooms" or isolation areas. "All principals have the flexibility, as they identify needs, to designate spaces for certain uses, including opportunities outside the classroom to work in a more quiet environment. At some schools spaces are used for several purposes, including for students who need time away from the classroom."
According to school guidelines, "Seclusion is the involuntary confinement of a student alone in a room or area from which the student is physically prevented from leaving until the student no longer presents immediate danger to self or others or poses immediate threat of damage to property," the guidelines state. "This includes any time a student is involuntarily alone in a room and prevented from leaving regardless of the intended purpose or the name of the area where the student is secluded."
The document also contains "procedures for the appropriate use of seclusion." It states that seclusion should only be used in an emergency, with less "restrictive interventions" employed first. "Seclusion is not a teaching procedure or behavioral intervention and should NOT be administered as punishment or to address behaviors for non-emergency reasons, such as noncompliance, disrespect, disobedience, misuse of property, disruption, threats, etc." the guidelines state.
The seclusion area should be of "reasonable size permitting students to lie or sit down," according to the guidelines. It should have "adequate ventilation including heat and air conditioning as appropriate" and adequate lighting. The area should "be free of any potential or predictable safety hazards and permit direct continuous visual and auditory monitoring of the student. Seclusion must last only as long as necessary to resolve the actual risk of danger or harm while awaiting the arrival of other trained staff."
If seclusion is used, the student must be continuously monitored and the entire seclusion can be adequately viewed and a student must be seen by a "health clinic staff member."
The document also lays out who else should be contacted about the incident in the aftermath. This includes the principal, by the end of the day, and reasonable effort must be made to ensure direct contact with the parents of the student "immediately (within one calendar day)."
'Everyday she was isolated'
Another parent who spoke with the Times-Mirror, who asked to remain anonymous for fear of recriminations against her child, has a daughter who attended Frederick Douglass shortly after it opened. She said her daughter seemed to spend a lot of time in a so-called "settle area."
The mother said her third-grade daughter had a profound language-processing disorder despite being an advanced reader. By the second week of school, the girl was moved out of a general education class and placed in a fully self-contained autism class.
"I requested a one-on-one aide in the general education. They refused," she said. "Everyday she was isolated in a four-wall cubicle area within the self-contained classroom."
"Each of the students had a one-on-one aide," the mother continued. "My daughter ate lunch at a desk completely alone. She could not leave the classroom except for recess, which was with her aide at her side only. She is an outdoor girl. However, after only being allowed outside to walk around with the aide only at her recess, she began to decline the opportunity for recess. Walking around a schoolyard alone with an adult is not recess for a third grader. It was equivalent to walking a prison yard with a guard. Basically she had no curriculum instruction because she was constantly in the 'settle area,'"
An autism specialist visited the school and advised the school to tear down the "settle area," saying it wasn't a settle area but a punishment that was heightening the problem, according to the mother.
After numerous meetings, the student was moved from a self-contained autism class to an intensive behavior class at Frederick Douglass with two students who were diagnosed as emotionally disturbed.
"One day I was picking up my daughter at the end of the school day. As I was waiting in the auditorium with another mom and there was a rush of activity in the hallways, aides came running locking doors and with pads running down the hall … The other mother who was waiting with me for her 'normal child' said … 'I don't know what goes here, but every time I am here to pick up my child I see these aides running around locking doors, and they seem to be chasing kids or holding them, it just doesn't seem right.'"
The mother said her daughter still "has horrible memories and trauma relating to her experience at Frederick Douglass."
"Just this Christmas as we were watching 'A Christmas Story,' there was a scene where the teacher was scolding the students and saying, 'I am not going to punish you because the guilt of what you have done is enough,'" the mother recalled. "My daughter popped up and said, 'Wow teachers were way easy back then. Nowadays they hold you down and suffocate you with pads.' Devastating to hear that. Five years ago and still has effects."
***
Editor's note: Alex Erkiletian is a local freelance photographer. His work frequently appears in the Times-Mirror.