For Suhas Subramanyam, the silver lining of the COVID-19 pandemic has been more time to spend with a special new family member — his first child, Maya Peña.
Subramanyam and his wife, Miranda Peña, welcomed daughter Maya a few months after the new lawmaker became the first Indian and Hindu American to be elected to the Virginia House of Delegates in November.
While juggling being a new dad and his work as an attorney, the 34-year-old has also been navigating the challenges of being a freshman lawmaker, the duties for which include addressing concerns for a fast-growing district and learning the ins and outs of the Richmond process.
As if that wasn't enough, Subramanyam has also joined the Loudoun Medical Reserve Corps as part of the medical swabbing team that helps test people for COVID-19.
"I just want to do whatever I can to help our community as we're going through this crisis right now, and this is just one way of me using my skills to do that," Subramanyam told the Times-Mirror.
Oh yeah, Subramanyam also serves as a volunteer EMT and firefighter and is a member of the Loudoun Health Council.
Subramanyam says he initially shied away from elected office. While his parents always taught him that family and community are the two most important things in life, they also didn't view holding public office as a particular "noble profession" given the political climate of Virginia and the nation in recent years.
Subramanyam said his interest in civic service started with community projects at Tulane University in Louisiana and continued to evolve after college.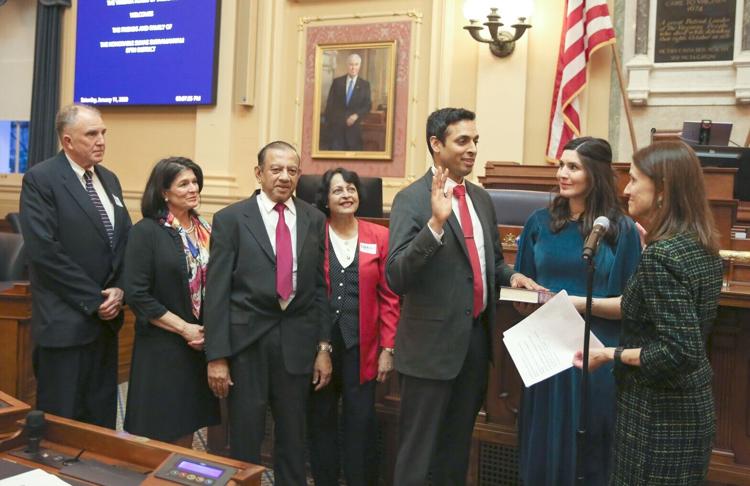 After the 2019 election, he succeeded fellow Democrat John Bell in the House of Delegates this year after Bell was elected to the Senate. Subramanyam's win came during a transformational time for the General Assembly, with Eileen Filler-Corn becoming the first female speaker of the House and Louise Lucas the first female pro-tempore of the Senate.
Embracing the "new commonwealth," Subramanyan joined forces with several lawmakers to create the Commonwealth Caucus designed to increase bipartisanship in the General Assembly. He was named the co-chairman.
"I represent everyone," Subramanyam said. "I don't just represent one community, but I think people want to see an example of someone in their community being able to have a seat at the table, because it makes them feel like they can do it too. I think that's important to see."
He chuckled recalling his first moments with fellow lawmakers. If legislators weren't discussing bills, their constituents or some of the Richmond process with him, Subramanyam said they were asking him about being a vegetarian — something that changed the cafeteria selection in the House of Delegates chambers. And for at least one lawmaker, Subramanyam was the first South Asian that person met in person, he said.
During his first session, Subramanyam worked to ratify the Equal Rights Amendment, address gun violence, ensure voter rights and oppose higher toll rates on the Dulles Greenway.
Subramanyam said he was disappointed some of his efforts to address criminal justice reform failed earlier this year, but he was optimistic about the special session that began Tuesday. He believes some of his colleagues may have been swayed by peaceful protests and the high-profile incidents of recent months. He said members in the General Assembly who wanted to "play it safe" are starting to embrace reform efforts following the death of George Floyd in Minnesota.
"I think people of color have endured quite a bit since the start of this country, and every time we think we've turned the corner, there's lots of evidence that we haven't completely gotten to where we need to be," Subramanyam said.
One piece of legislation the delegate was disappointed to see continued to next year was aimed at improving the bail process. In many instances, the delegate said, judges or magistrates don't set bail for people charged with a crime, and the suspects then have to wait in jail for certain misdemeanors. Subramanyam said not allowing people the opportunity to make bond can dramatically impact their lives and livelihoods. It's even worse if they didn't commit the crime.
"It disproportionately affects communities of color," Subramanyam said. "Virginia is one of the few states that has those types of rules in place and is one of the worst states when it comes to bail."
Overall, he's happy to see efforts made to improve policing as well as the mental health system.
"It affects everyone," Subramanyam said. "We need changes all across our criminal justice system, and I'm glad these protests have highlighted one important change, which is the treatment of African American people and other people of color."
Related to human rights and addressing racism, here are some of the actions the delegate said he will support:
• Declaration of racism as a public health crisis in the commonwealth: This would also include uncovering racial disparities.
• Comprehensive reform of the justice system: Priorities include automatic expungements, re-instituting parole for certain offenses, reforming solitary confinement, bail reform (HB 652) and good behavior sentence credits.
• Preventing excessive force: Banning the use of chokeholds, increasing accountability through the use of body cams, requiring police departments to obtain liability insurance, enacting a civilian review board, passing "Breonna's Law" to ban no-knock warrants and banning the use of tear gas on civilians.
• Replace law enforcement's role in certain areas with trained specialists: Unbundling/divesting from certain police functions and reapportioning/re-targeting their functions to crime prevention in hopes of preventing injustice.
"These are just some of the ways we can create a safer, more equitable law enforcement and criminal justice system for all people," Subramanyam said. "I hope we can take these significant steps forward this coming special session."