Update: 2:35 p.m.
The Loudoun County Public Schools worker who died as a result of the coronavirus has been identified as Susan Rokus.
"It is with great sadness that I relay the news that Susan Rokus, a longtime teacher and champion of our local schools, passed away last night," School Board member Jeff Morse (Dulles) said in a Facebook post Thursday. "Her service has been so broad and expansive, serving multiple generations of Loudoun Students at schools including the old Arcola, Little River, Liberty, and Pinebrook. Last year she was honored by Little River Principal Kevin Murphy as one of the core leaders of the school when it first opened 20 years ago. A teacher to many, a tutor to some, but a friend to the entire community, Susan's legacy will continue for generations to come."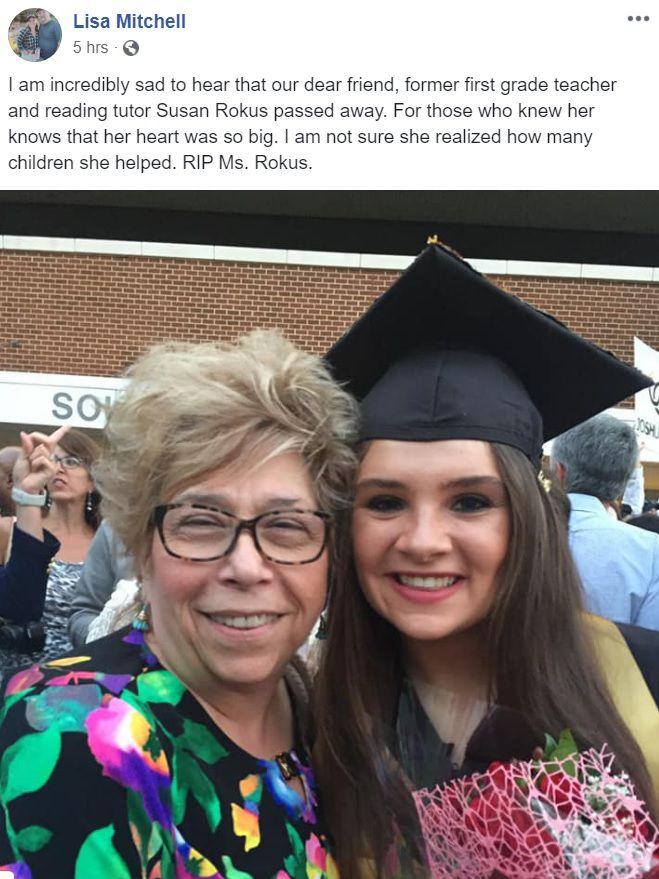 Social media tributes to Rokus have quickly splashed across social media.
"For those who knew her knows that her heart was so big. I am not sure she realized how many children she helped," wrote Lisa Mitchell.
________
Update: 1:09 p.m.
The deceased was an employee with Loudoun County Public Schools.
Superintendent Eric Williams sent an email to the LCPS community following word of the employee's death. 
"I am not sharing her name or specific remembrances because it is my sense that she would prefer it that way, but she is someone who loved and was loved," Williams said in a prepared statement. "She is someone who felt joy and sorrow. She is someone who poured her whole self into contributing to our community."
________
Original story: 12:35 p.m.
A woman who tested positive for the coronavirus in Loudoun County has died due to respiratory failure, county officials announced Thursday morning.
The patient was in her 70s. No further details about the deceased were released.
Loudoun County's confirmed cases of coronavirus stands at 28, an increase of eight from Wednesday, according to the latest figures released by the state.
"We are saddened by the first confirmed death of a Loudoun County resident due to COVID-19. Our hearts go out to her loved ones," Loudoun County Health Department Director Dr. David Goodfriend said in a prepared statement. "The health of our residents is our top priority, and we ask that everyone do their part to slow the spread of the virus in our community: practice social distancing, wash your hands, and cover coughs and sneezes."
Virginia and Loudoun County have both declared emergencies due to the pandemic. Virginia is reporting 460 cases statewide, including 10 new deaths from Wednesday afternoon, bringing the death total to 13 as of 12:30 p.m. on Thursday.
Loudoun County Public Schools on Wednesday reported a seventh staff member tested positive for the virus, including a second case at the Academies of Loudoun.
Additionally, as a result of the virus, the Board of Supervisors adopted temporary changes to its public meeting and hearing operations, and Purcellville has suspended its meals tax to support local restaurants and businesses.
_________
The latest updates from Loudoun County government on the coronavirus outbreak can be found at Loudoun.gov/coronavirus.