Loudoun County Treasurer Roger Zurn (R) on Wednesday published and quickly deleted a racially insensitive social media post following word that the Aunt Jemima brand will be discontinued.
Zurn, who is white and has served as county treasurer since 1996, posted on his personal Facebook page Wednesday morning: "Wondering if Aunt Jemima will change to Uncle Tom's?"
The post, a screengrab of which was sent to the Times-Mirror, was deleted minutes after it went live.
"It was an error in judgement," Zurn told the Times-Mirror.
One user in Zurn's network asked, "What were you thinking here?" Another followed up, "I was here wondering that too."
Zurn's post follows Quaker Oats' announcement Wednesday that Aunt Jemima's maple syrup and pancake mix will get a new name and image. The image of the "mammy" kerchief was branded on Quaker Oats products for years, and it has been seen as a racist stereotype dating back to slavery.
"Uncle Tom," meanwhile, is an offensive nickname for someone who desires to serve others aware of the servant's lower status, otherwise known as a "house negro." The stereotype was often used in minstrel shows that depicted black people as lazy, clownish and dumb.
"We advise Mr. Zurn and other elected officials that not everything needs a hot take or clever comment from them," Amanda Tandy, first vice president of the Loudoun NAACP, said. " ... listening to communities directly impacted by systemic racism, who we would remind them are also their constituents, would serve them better."
"We look forward to Mr. Zurn joining our [NAACP] meeting in July," Tandy said.
Zurn's Facebook post follows weeks of unrest across America. Advocates and everyday Americans are calling for racial equality and reform after George Floyd, a black man, was killed by a Minneapolis police officer last month. The incident, which involved the white officer kneeling on Floyd's neck for more than eight minutes, has sparked nationwide protests and renewed loud concerns over police brutality.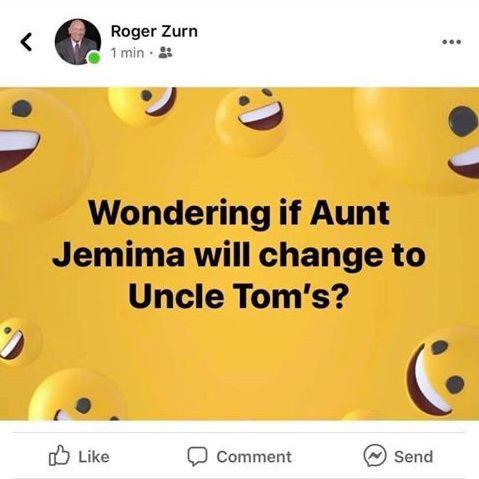 Loudoun County has responded with more than a handful of protests focused on police reform, improvements in education and the criminal justice system and addressing black oppression, systemic racism and racial insensitivity.
Loudoun is also facing the decision of removing the Confederate statue in Leesburg. Loudoun, like many other Virginia localities, will have the ability to remove, relocate or contextualize the monuments in their communities beginning July 1.
Within the last 30 days, Loudoun citizens have spoken out against racial insensitivity, including against a School Board member who stated, "It was worse for African Americans after reconstruction because they did not have the patronage of the master."
Loudoun has also responded to a business owner for hanging a T-shirt stating "Drunk Wives Matter," which plays on the "Black Lives Matter" movement.
On Friday, the nation will celebrate Juneteenth, or the "Black Fourth of July," which commemorates the end of slavery in the U.S. A march supported by the Loudoun NAACP is scheduled for Sunday in Sterling at 3 p.m. It is focused on criminal justice and policing reform.
Loudoun County will observe Juneteenth, but the county courthouse will be open.
On Tuesday, Virginia Gov. Ralph Northam (D) declared June 19 a holiday, prompting the change in Loudoun County's holiday schedule. Employees who staff essential 24-hour county operations and other essential services will work as scheduled.
Update: The Loudoun County Democratic Committee condemned Zurn's Facebook post in a statement Wednesday night. The statement, in part, reads:
"This is not the first time Mr. Zurn has posted racially discriminatory comments on Facebook. On March 27, Mr. Zurn posted 'China has released the names of the first two people to contract Coronavirus. Sum Ting Wong, Ho Lee Fuk.'
"It is fundamental for constituents to hold their elected officials accountable for explicitly racist actions. It is especially unbecoming of an elected official who is supposed to lead with the best interest of all of his or her constituents in mind. Uncle Tom is universally understood as a derogatory term for men of color, and it is unbecoming of any person to use this term. The names used in his March 27 Facebook post not only mocks the Mandarin language and dialect, but Chinese culture as well. Mr. Zurn's posts personally offended tens of thousands of his constituents and have erased any integrity that may have been associated with his position.
"As constituents of Loudoun County, we demand that there is an adequate response either from the Loudoun County government or Mr. Zurn himself. Without doubt, many constituents have lost confidence in Mr. Zurn's ability to execute the duties of his office without prejudice. Moreover, the party which Mr. Zurn affiliates and ran his campaign in coordination with, has yet to condemn or censure Mr. Zurn."