A Loudoun County Circuit Court Judge said Friday that he needed more time to decide whether to issue an injunction reinstating a suspended Leesburg teacher who had said publicly he would not refer to transgender students by their chosen names or pronouns.
Judge Jim Plowman said he would issue a ruling by the end of the day Monday in a case that has made headlines nationwide.
Leesburg Elementary School physical education teacher Byron "Tanner" Cross, made the remarks during the public comment portion of a recent school board meeting, challenging the school system's draft Policy 8040, "Rights of Transgender and Gender-Expansive Students."
Cross said he would "not affirm that a biological boy can be a girl, and vice versa," citing his Christian faith as his reasoning.
"I love all of my students, but I will never lie to them regardless of consequences," he added.
Plowman said there is a significant amount of material to review before announcing his opinion.
"It's hard not to see this as a public concern," the judge said during a nearly three-hour hearing.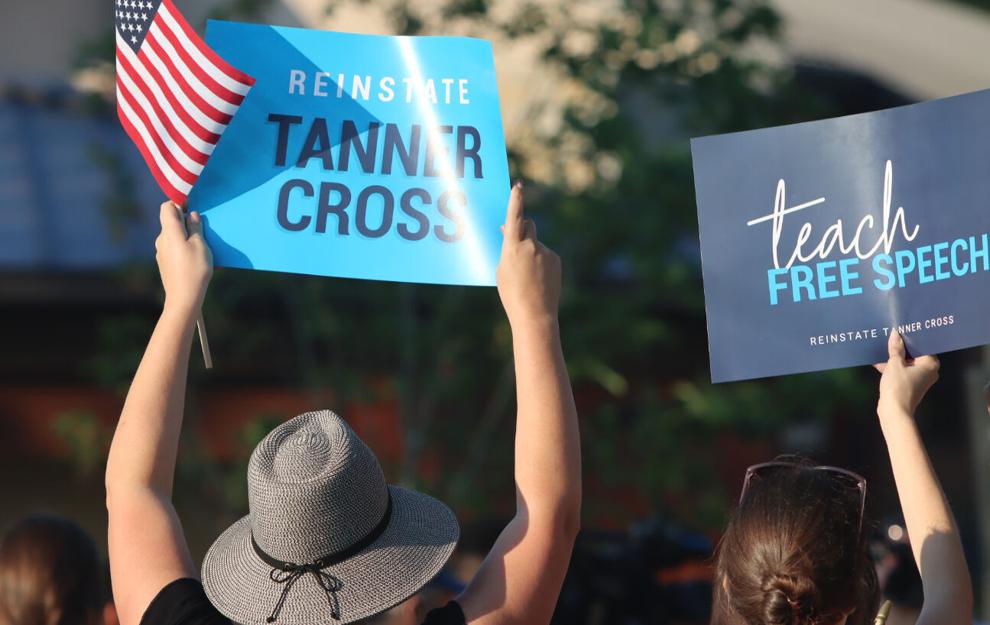 Tyson Langhofer, an attorney representing Cross, said "this is a case about what makes democracy possible," arguing that the school system was wrong to suspend his client based on his religious beliefs.
Stacy Haney, an attorney representing the school system, however, argued that "the action was based on interference of operation" — that is, that Cross' actions disrupted the educational setting — and not on his beliefs. She also presented testimony from school officials that the teacher's remarks had an adverse impact on the school and the system.
Judge Plowman asked Haney how the court is to weigh the level of disruption.
In a later response, Haney pointed to five parents who had contacted school officials by email requesting Cross have no engagement with their children. One such response came from a transgender parent.
"That is not sufficient for disruption," Langhofer said in a response to Haney's reasoning.
The attorneys agreed that there are about 391 students in the elementary school.
Earlier in the hearing, the judge denied Haney's motion challenging the lack of process for the emergency hearing. Haney said she her clients were not notified with a summons, but was instead directed to two law cases, the clerk's seal on the documents and case number assigned to the proceeding.
After the hearing, Cross met with supporters at Cornerstone Chapel in Leesburg, where he is a parishioner. Cross, a full-time physical education teacher, has been employed by Loudoun County Public Schools for eight years.
"It's incumbent upon us to stand with Tanner and with every other person that gets into a conflict with the Loudoun County Schools until they do the right thing by kids, by parents by taxpayers," said Mike Farris, president and CEO of Alliance Defending Freedom, a conservative Christian nonprofit advocacy group.
"I am taking a stand for my freedom, and I want to thank you for standing with me," Cross said to supporters after the hearing.
"From the bottom of my heart, thank you for your support."
__________________________